Sylvania Campus
12000 SW 49th Ave. Portland, OR 97219 | 971-722-6111
campus map | directions | TriMet | map of accessible building features

The Sylvania Library features the latest in learning resources while the nearby Performing Arts Center is a fully equipped theater and dance venue.
The Technology Classroom Building features an indoor garden courtyard that is passively cooled and heated by nature.
The diving and lap pool offers many programs, including Swim with Community Ed, a program that teaches youth to swim skillfully and safely.
The Sylvania Campus is located in southwest Portland between Tigard and Lake Oswego. As the oldest and largest of the PCC campuses, Sylvania has many unique features and specialized programs. An impressive fitness venue complete with swimming pool, a state-of-the-art theater facility (the Performing Arts Center), and an innovative MakerLab for students to create anything their minds can envision are just a few of the many amazing places to visit while on campus. Sylvania is the place for innovation, community collaboration and individual growth.
Sylvania by the numbers
85,496
Annual rides on shuttle to PSU
23,280
Students enrolled each year at Sylvania
1968
Sylvania's opening date
News from Sylvania
Having a Ball at 'Week of Welcome'

September 27, 2022
PCC is hosting a "Week of Welcome" at all of its comprehensive campuses -- Sylvania, Rock Creek, Cascade and Southeast

Dariana Granados is All-In on 'Big Give Day'

September 26, 2022
From noon on Tuesday, Oct. 4 to midnight on Wednesday, Oct. 5, the PCC Foundation will host its annual "Big Give Day" to raise more than $100,000 for scholarships, programs and aid
Campus map
Come visit PCC Sylvania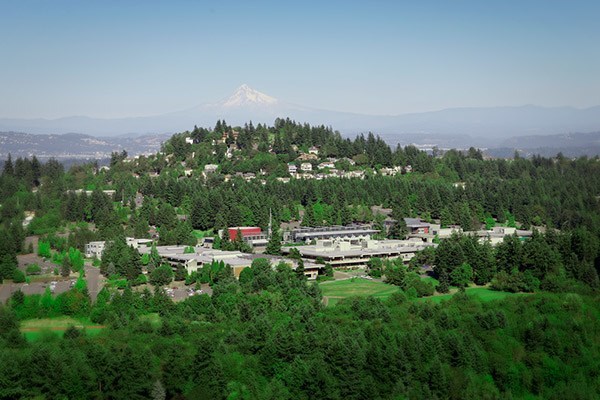 Thinking of enrolling at PCC and want to see the campus? Schedule a visit or attend a Preview Day: a full-day orientation event for high school students.
Community members can learn about renting our facilities.
Sylvania student resource centers
Unique programs at Sylvania
PCC has more than 100 academic programs –
see all programs
Things to do and see
At the North View Art Gallery:

Rochelle Nielsen Opening November 2022

September 7, 2022
Rochelle Kulei Nielsen | What Your White Mama Didn't Teach You About Indians opens on November 3, 2022.