PCC shuttles – No Winter term shuttle service this year.
Live shuttle tracking

Concerned about getting to class on time? Track your shuttle with our interactive map[opens in new window]. You can also follow PCC Shuttle on Twitter.
 You can see a previous year's 2019 Fall term printable shuttle schedule now.
Specific shuttle schedules:
We will make a decision about the Spring 2022 term shuttle schedule by March 1, 2022.  You can see the previous year's shuttle schedule at 2020 Winter term printable shuttle schedule.
Things to know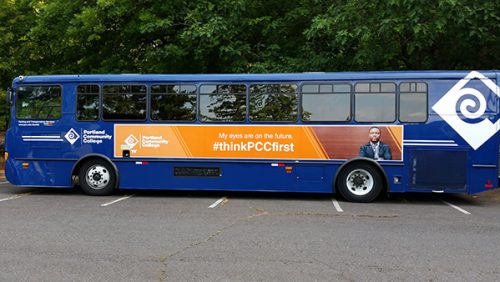 Shuttles are free for PCC students and staff!
Must show current PCC ID.
Be at the designated shuttle stop five minutes before scheduled pick up.
Due to time restrictions, drivers cannot make special stops.
Schedules show approximate departure and arrival times – the shuttles may be delayed due to traffic and weather conditions. Use Transit Tracker for updated information.
Capacity is limited: first come first served.
Shuttles do not run during weekends, holidays, school breaks or the summer term.
Remove all your garbage when you exit the bus.
Refrain from unnecessary conversation with the driver as this is a potential safety hazard.
Wheelchair lift available on most buses.
No cell phone use near driver area.
PCC idling policy requires buses to be turned off if stationary for more than 5 minutes. Transit Tracker is inoperative when buses turn off.
For your safety, don't run next to bus when it is pulling away.
For additional information and trip planning call 971-722-4242.
Bikes on the shuttle
Bike racks are available on all shuttles – availability is first come first served.
When loading your bike, remove water bottles and other loose items. Inform the bus driver that you will be loading your bike. You can load your bike from the curb or in front of the bus. Do not step into traffic.
As you approach your stop, inform the bus driver that you will be unloading your bike. Unload your bike from the front of the bus or the curb, not from the street.
Shuttle usage trends
Historical shuttle usage charts for 1998 – 2019 are available for your information.