Swan Island Trades Center
6400 N Cutter Circle, Portland, OR 97217
971-722-5650 | parking map | directions | TriMet | map of accessible building features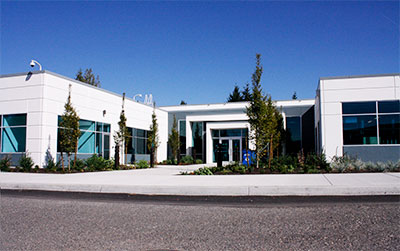 The Swan Island Trades Center is a 20,000-square-foot facility housing the college's Apprenticeship and Trades department (Facilities Maintenance Technology – HVAC/R, Electrical Trades/Apprenticeship and Fiber Optics). The Center and nearby Cascade Campus, along with expertise from PCC's CLIMB Center, coordinate continuing education, training, retraining and professional development for Swan Island businesses at this location.
Offered at Swan Island are the Facilities Maintenance Technology two-year degree; Facilities Maintenance Technology and HVAC Installers certificates; Millwright, Industrial Mechanics, Limited Maintenance Electrician, Manufacturing Plant Electrician and Stationary Engineer apprenticeships; and the Limited Building Maintenance Electrician training program.
PCC bought the former Oregon Motor Pool Facility in 2010 with a vision of creating a trades facility within the industrial core of Swan Island to meet the needs of the businesses in the area. In 2012, the State Legislature authorized $1 million to go towards construction of the PCC center in addition to the $7.3 million earmarked from PCC's 2008 voter-approved $374 million bond.
Swan Island news
January 23, 2020
The college has opened an online survey as part of its strategic planning process, and invited key internal and external stakeholders to participate
December 9, 2019
Leslie Smith chopped a culinary career to go where few women have gone before
November 15, 2019
PCC embarked on the strategic planning process this fall, to create a tangible path forward that ensures the college delivers on its commitment to opportunity and equitable student success for the students and communities it serve
Ready to become a PCC student?
Becoming a PCC student is easy! Just complete the steps for new students, starting with admissions.