CLIMB Center
1626 SE Water Avenue, Portland, Oregon 97214
971-722-2798 | parking map | directions | TriMet | map of accessible building features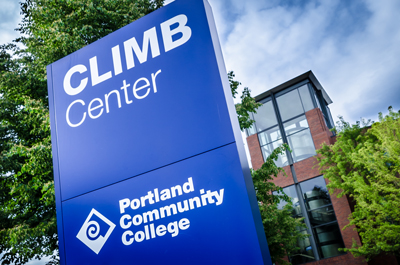 The CLIMB Center, formerly known as the Central Portland Workforce Training Center, is a 31,000-square-foot facility near OMSI in central eastside Portland. CLIMB, which stands for Continuous Learning for Individuals, Management and Business, is what used to be the Center for Business and Industry and offers training in computer education, customized and workplace training, health profession and small business to employers and employees alike. The center provides access to a broad range of training areas, facilities that meet the latest in industry standards and technical capabilities.
The three-story structure was built in 1996 for $4.4 million thanks to the passage of a bond measure in 1992. The facility has a 158-space parking lot and is near many of Portland's largest streets and freeways. The center houses a 100-seat auditorium and catering kitchen, which is set up for groups to hold meetings and seminars. The architects from the Zimmer, Gunsul, Frasca Partnership feature a design of expansive windows on the southwest side, which highlights an open, circular staircase, designed the red brick façade structure. The building, which overlooks the Willamette River in the city's industrial core, has been outfitted with the instructional technologies of modem- and delivered-instruction, interactive video classroom and teleconferencing.
The state-of-the-art center's location allows its programs to conduct business and education courses near many of the professionals it serves. CLIMB served 6,300 students in the 2012-2013 academic year.
CLIMB Center news
January 23, 2020
The college has opened an online survey as part of its strategic planning process, and invited key internal and external stakeholders to participate
November 15, 2019
PCC embarked on the strategic planning process this fall, to create a tangible path forward that ensures the college delivers on its commitment to opportunity and equitable student success for the students and communities it serve
October 14, 2019
The fall term marks the launch of PCC's Strategic Planning process, one that will offer a future forecast on both […]
Ready to become a PCC student?
Becoming a PCC student is easy! Just complete the steps for new students, starting with admissions.