Rock Creek Campus
17705 NW Springville Rd. Portland, OR 97229 | 971-722-6111
campus map | directions | TriMet | map of accessible building features

Boosted by Rock Creek's sustainability efforts, PCC has been Tree Campus USA certified since 2016.



Graduates of career technical education programs, like Caterpillar's ThinkBIG, are bridging the skills gap in Oregon's high-wage, high-demand fields.

Opened in 1976, Rock Creek serves approximately 18,000 students, primarily from Washington County, on its 260-acre campus.

The Landscape Technology program offers three degrees and two certificates to help students pursue a variety of career paths.


The Auto Collision Repair Technology program at Rock Creek is one of the largest and most reputable programs on the West Coast.


PCC Rock Creek, a critical resource for Washington County, is located 12 miles west of downtown Portland. Its 260-acre campus includes woodlands, wetlands and grassland, a diverse collection of farm animals, 14 career tech programs and a 3.6 acre Learning Garden. Approximately 66 percent of Rock Creek students enroll in the college transfer program and approximately 18 percent of students enroll in career/technical programs. Rock Creek serves approximately 20,000 students a year.
Rock Creek by the numbers
7,200
Square foot airplane hangar
214
Permanent art installations
1976
Rock Creek's opening date
News from Rock Creek
Finding Support

October 19, 2020
Student advocates like Tunyanit Khuankhruea are building awareness of PCC's strong support for abuse victims

PCC Recognizes Indigenous Peoples' Day

October 11, 2020
The resolution also acknowledges the United States' history of violence against Indigenous People, including forced migration, broken treaties and relocation.
Campus map
Come visit PCC Rock Creek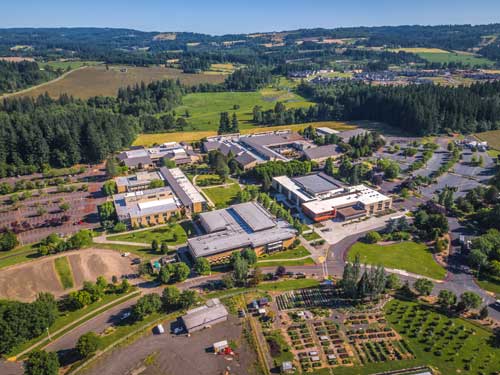 Thinking of enrolling at PCC and want to see the campus? Take a campus tour or attend a Preview Day: a full-day orientation event for high school students.
Community members can contact our Community Relations Manager, Alfredo Moreno, or learn about renting our facilities.
Rock Creek student resource centers
Unique programs at Rock Creek
PCC has more than 100 academic programs – see all programs
Things to do and see
At the Helzer Art Gallery:

Marjorie Dial

October 9, 2020
Marjorie Dial was born in Columbia, SC. She holds an MFA in Craft from Oregon College of Art and Craft […]