Bicycles
In addition to getting you where you need to go, biking is great for your physical and mental health, can save you money and time, and contributes to a cleaner, healthier environment. It also happens to be fun!
Whether you ride every day or once a week, PCC has a number of resources to support your bike trips to and from campus. Have questions, ideas, or concerns? Give us a call at 971-722-4554.
Bike racks and lockers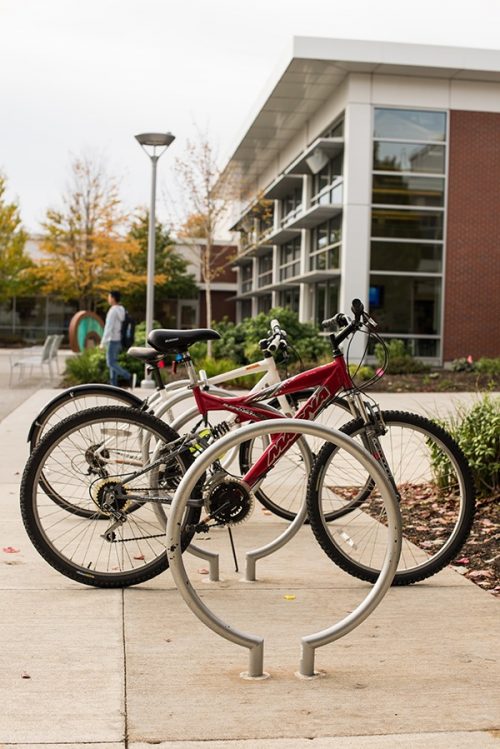 Covered and uncovered bike racks are available at all campuses and centers (see bike rack locations on the campus map).
Bike lockers are available at Sylvania and Southeast. At Sylvania, the lockers are located next to the HT Building and may be used by anyone on a first-come, first-served basis. At Southeast, the lockers may be rented: see more info on the ASPCC bike programs page.
Bicycles may not be brought inside any public areas at PCC and may only be secured to bike racks provided by the college. Securing bikes to handrails, light posts, signs, etc. is prohibited. Bicycles parked in violation of this policy may be impounded and the owner may be cited for violation of PCC policy.
Bike rentals
Looking for a bicycle to rent? PCC students can rent bikes for $15 per term from ASPCC at Cascade and Southeast. Bikes come with fenders, helmets, bells, locks and lights. They are available on a first-come, first-served basis. See how to apply on the ASPCC bike programs page.
Bike routes and maps
Portland has many tools to help you map your trip to campus and beyond:
Would you rather plan your route with an actual human? Contact us at: 971-722-4554.
Biking and transit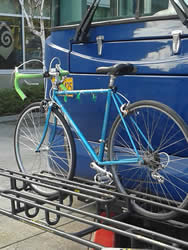 Combining a bike ride with a trip on the bus or MAX is sometimes the best way to get to PCC. TriMet provides detailed information about how to bring your bike on buses and trains. You can also bring your bike on PCC Shuttles.
Bike events and workshops
We celebrate biking to PCC all year round with events like Coffee for Commuters, the Bike Commuter Challenge in May, workshops on riding and bike maintenance, and informal rides to and from campus.
Cycling partners
Looking for someone to ride to PCC with? We have a solution! Log in to Get There and find someone whose route is similar to yours.
Showers
Locker rooms and showers are available at all campuses. Hours vary depending on school activities and breaks.
Safety on campus and theft prevention
If you commute by bicycle – and we hope you do – please remember that your bike is a vehicle. Make sure you follow all traffic rules when riding to and on campus. Auto drivers and pedestrians are depending on you to behave in expected ways, just as your own safety depends on them behaving in ways you expect.
No lock offers you complete protection from bike theft, but you can take steps to reduce the risk. Cable locks are easy to cut and shouldn't be your primary means of defense. Instead, use a U-lock or a reinforced chain lock that has been designed for bikes. Take accessories like lights off your bike before leaving it, and if you have a quick release on your wheels and seats make sure they are securely locked. If your bike and parts are stolen, or if you witness a bike theft, please call campus security at 971-722-4444.