Public transit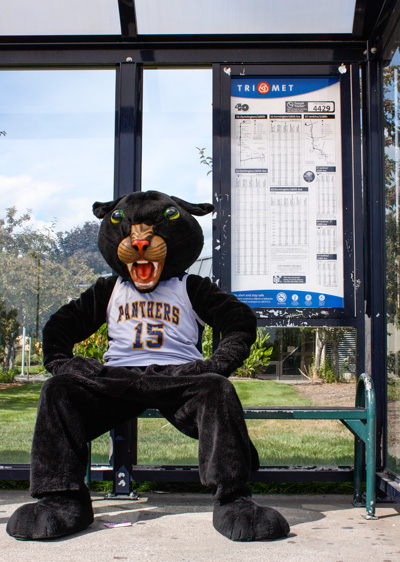 To promote and encourage riding public transit, PCC offers cost-saving programs for both students and staff. TriMet tickets and passes are also available for purchase at all campus bookstores.
TriMet Reduced Fare Program
Best Deal (Sold by TriMet and still available)
Get access to 50% off TriMet single-use tickets and day passes, and pay only $28 for monthly passes (72% savings) by joining the TriMet Reduced Fare Program. Individuals with an annual income at or below $24,980 can qualify. Similarly, a family of four with an income of less than $51,500 will also qualify. Full details on program qualifications can be found on the TriMet site.
TriMet is now able to verify your eligibility remotely on the TriMet website.
PCC Student Term Hop card
PCC Student Term Hop card sales (sold by PCC) have now ended for the Winter 2022 term.  Spring 2022 term Hop card pass sales will begin on Sunday, March 20, 2022, and continue through Sunday, April 10, 2022.  The PCC Student Term Hop cards will cost $150 which is a 50% discount from the retail price.
TriMet faculty and staff passes
All PCC faculty and staff (including casual employees) can purchase a monthly TriMet pass on a pre-tax basis. For the average employee, this would reduce the cost by approximately 22%. Individual savings will depend on your income tax bracket.
To sign up or cancel the program, complete a pre-tax payroll deduction application and submit the completed form to the Payroll Department. Applications and cancellations may be made at any time, but must be received by Payroll prior to the 15th of each month to become effective by the following month.
Note: Neither PCC nor TriMet will be responsible for any lost or stolen passes and passes will not be replaced.
Bus routes
TriMet offers a trip planner to help you find your way.
Sylvania: 44, 78
Rock Creek: 47, 52, 67, and Columbia County Rider Line 2
Cascade: 4, 44, 72, Max Yellow Line
Southeast: 2, 72
Portland Metropolitan Workforce Training Center: 72, 75
CLIMB Center: 4, 7, 10, 14, 31, 32, 33, 41 (Bus stop is one block north on the Hawthorne Bridge)
Washington County Workforce Training Center: 52, 59
Hillsboro Center: 46, 57 Max Blue Line
Willow Creek Center: 47, 48, 52, 59, 88, Max Blue Line, Columbia County Rider Line 2
For trip planning contact Michael Kuehn or use the TriMet trip planner
Newberg: Yamhill County Transit offers shuttle service from McMinnville to Newberg to Tigard on routes 44 & 45X.  Yamhill County Transit Route 7 services the PCC Newberg Center
Tigard Transit Center: Connects WES commuter rail to line 78.
Swan Island: 72, 85, or third party shuttle
Routes from Washington to Cascade Campus
Students: you can use your TriMet Student Select Pass on C-Tran to PIR/EXPO!
Ride C-Tran or drive to the PIR/EXPO Yellow Line light rail station and then take the Yellow Line to Killingsworth.  At Killingsworth, catch bus 72 to campus.