Homepage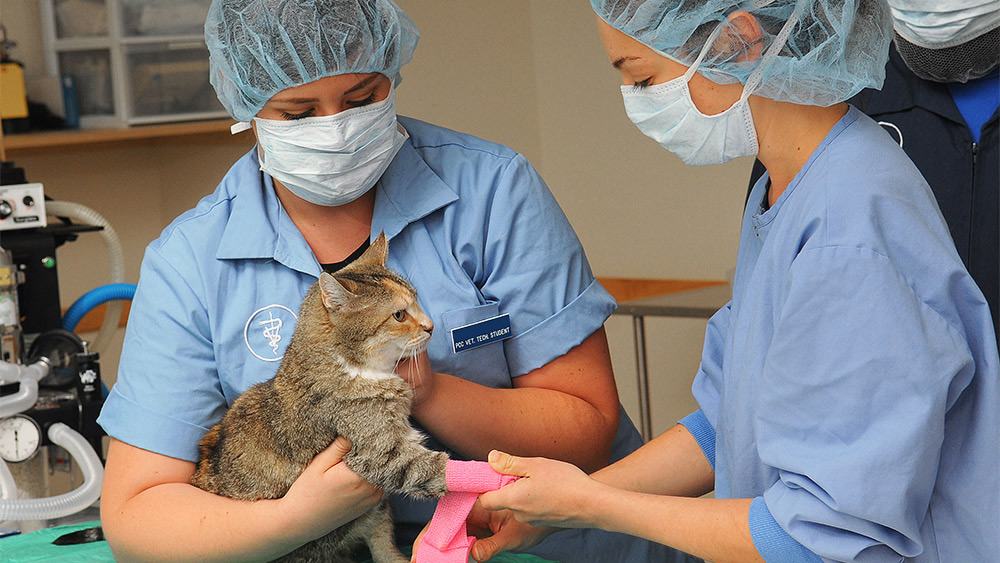 Becoming a veterinary technician provides you with the skills and knowledge you need to provide essential nursing care for all animals. Veterinary technicians work under the supervision of a licensed veterinarian to provide animal medical care as credentialed professionals in a wide variety of environments.
The Oregon Employment Department projects employment of veterinary technicians in the Portland area will grow 23.1% through 2029.
Why choose Veterinary Technology at PCC?
Salary
The Oregon Employment Department reports that Portland area veterinary technicians earn between $15.76 to $29.69 per hour. The average annual salary is $46,261. Graduates of our program typically earn around $25.00 per hour for an annual salary of around $52,000.
Learn more about our program
Portland Community College's Veterinary Technology program is one of only two programs of its kind in Oregon, and only one of five in the Pacific Northwest.
With access to a fully working farm as well as dogs, cats, and lab animals, right here on campus, you will receive abundant hands-on instruction throughout your time in our program. Additionally, you will complete three 160-hour externships in veterinary hospitals and clinics providing you with even more hands-on experience.
PCC's Veterinary Technology program has been fully accredited by the American Veterinary Medical Association (AVMA) since 1988.
PCC prepares you to become a certified veterinary technician and to take the Veterinary Technician National Exam (VTNE). Graduates of PCC's Veterinary Technology program consistently exceed the national average pass rate on the VTNE. Over the past three years 90% of our graduates pass the national exam, this is compared to a national average of 69% pass rate for the same time period:
Number of first-time candidates that have taken the VTNE: 82
Three-year VTNE pass percentage: 90%
(Yearly data averaged from July 1, 2020 – June 30, 2023)
Degrees and certificates
What will you learn?
Class information
Veterinary technicians are compassionate professionals dedicated to animal health care and well-being. Certified veterinary technicians are trained to fulfill a wide range of medical responsibilities. PCC's program provides training in the surgical, medical, laboratory, and interpersonal skills necessary for today's veterinary technician.
Learn more about the program on our overview page and in our frequently asked questions.
What will you do?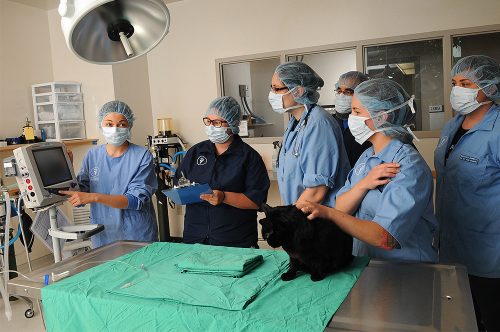 Veterinary technicians work in:
Animal shelters
Diagnostic labs
Research facilities
Veterinary clinics
Wildlife preserves
Zoos
Pharmaceutical companies
Pet food companies
What will I do on the job?
As part of your duties, you may:
Administer vaccinations
Administer anesthetic medications and monitor anesthetized patients
Assist scientists with research projects
Perform oral care, including taking dental radiographs and cleaning and polishing teeth
Collect diagnostic specimens
Assist with diagnostic, medical, and surgical procedures
Educate owners about animal behavior
Maintain safe and clean housing conditions for patients
Maintain hospital inventories of medications and supplies
Obtain and record patient information
Perform laboratory tests
Prepare and administer medications
Prepare patients for surgery and postoperative recovery
Perform wellness services for healthy animals
Provide post-operative care, including wound care and bandage changes
Take and develop radiographs
Who will hire you?
In general, there are four to five jobs available for every PCC Veterinary Technician graduate. The degree is very versatile and you could be hired by veterinary clinics, zoos, government agencies, laboratories, colleges and universities, or animal shelters, to name just a few.
Not quite ready to apply?
We can help you get the info you need.