Homepage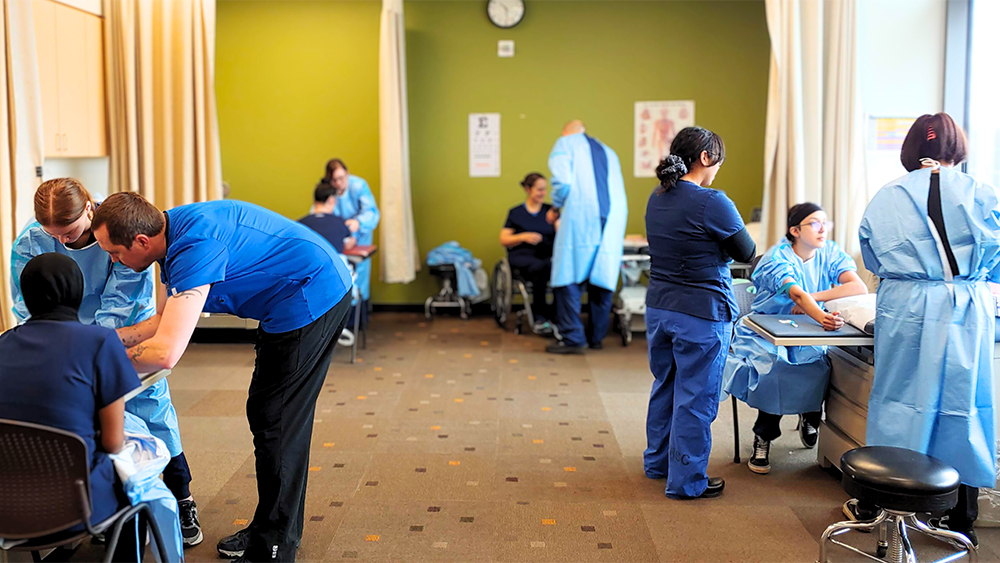 Medical Assistants (MA) work directly with patients and providers such as doctors, physician assistants and nurse practitioners. An MA is an integral member of the healthcare team. You can find MAs working within large healthcare organizations or small private practice clinics. They can work within a primary care or specialty setting.
The Oregon Employment Department forecasts that Medical Assistant job openings will increase by 23.3% through 2032.
Why choose Medical Assisting at PCC?
Salary
The Oregon Employment Department reports that Portland-area medical assistants wages range from $19.34 to $30.88. The average annual salary of $49,950.
More information
Here are some unique offerings that we provide for our students:
East and west site locations!
Flexible classes

In-person, hybrid, remote and online

9 month program
Guaranteed admissions process
A new cohort starts every term!
Instructors that have graduated from the program
Opportunities for paid externship

Get paid while completing clinical hours!

92% of our students are employed within a month after graduation
97% of our students pass their national exam
Our Fall 2022 graduates made an average starting salary of $46,380/year
Low total cost of the program

Approximately $7,200; less than six other MA programs in the area

Scholarships available for MA students!
Our focus is on helping our students become well rounded, competent and employable Medical Assistants. Instructors in the program have gone through the program themselves which allows for a different experience than you may find in other programs. We understand that success isn't always linear. We believe that every student that comes into the program can be successful. While we can't do the work for you, we can be there to support, mentor and guide you through.
We regularly assess the program for areas of improvement. We take into account emerging trends in healthcare, direct feedback from current students as well as input from healthcare organizations in the area.
Our program is well regarded for shaping high quality Medical Assistants. Employers note that they see a difference in our graduates compared to other programs. We believe this is due to our in-depth curriculum that focuses on person-centered care, the way we support and engage our students as well as the growth mindset we have as a program.
Nationally accredited
Our program is accredited by the Commission on Accreditation of Allied Health Educational Programs (CAAHEP) in collaboration with the American Association of Medical Assistants. Our graduates are eligible to take the CMA (AAMA) national certification examination, conducted by the Certifying Board of the American Association of Medical Assistants.
Successful graduates
PCC's Medical Assisting program places a high focus on student success. According to our 2022 Annual Report data, in 2020 over the height of the pandemic we had a 95% retention rate.
Degrees and certificates
What will you learn?
Class information
Clinical procedures
Such as venipuncture, blood pressure, EKG's, injections, wound care and much more!
Administrative procedures
Such as documenting in an electronic health record system (EHR), scheduling appointments, scrubbing a patient's chart and much more.
Communication Skills
Such as person-centered communication, working through communication barriers, trauma informed care, patient interviewing, culturally competent care and much more.
Employability Skills
Such as working on a team, professionalism, resume writing, interview preparation, national exam prep and much more.
What will you do?
The role of an MA can vary from clinic to clinic. However, at the core MAs are responsible for ensuring the clinic runs smoothly, whether that is providing care to a patient, assisting a provider during a procedure, managing referrals or performing inventory.
Who will hire me?
Graduates of PCC's Medical Assisting program work in a variety of clinics and healthcare settings, from small private practice clinics to large organizations. Partners that we work with for externship that also hire our graduates are:
Providence Medical Group
Kaiser Permanente
Legacy Medical Group
Oregon Health Sciences University (OHSU)
Women's Healthcare Associates
Virginia Garcia
Metropolitan Pediatrics
Northwest Minimally Invasive Surgery
Outside In
And many more!
Not quite ready to apply?
We can help you get the info you need.