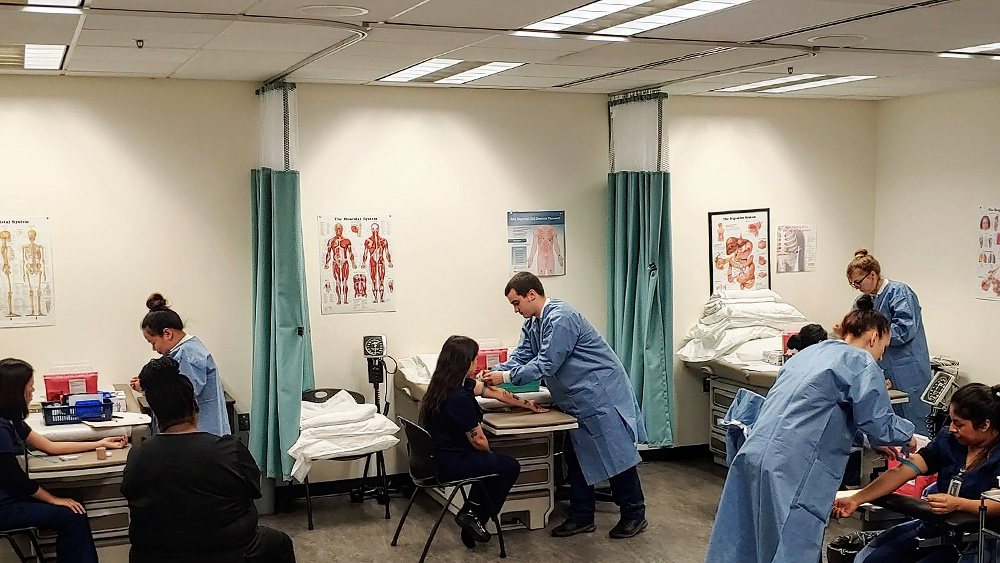 Medical assistants work directly with patients in small or large healthcare settings. Medical assistants ensure that patients receive the care they need while providing health professionals with vital patient information.
The Oregon Employment Department forecasts that Portland-area medical assistant job openings will increase by 29.9% through 2027.
Why choose Medical Assisting at PCC?
Salary
The Oregon Employment Department reports that Portland-area medical assistants earn an average annual salary of $45,278.
More information
Portland Community College's high expectations for our medical assisting students make you a more competent, more employable professional. Our program emphasizes soft skills and professional development. We are ahead of the curve in teaching the Patient-Centered Medical Home model and associated clinical quality measures. No other school currently teaches this model. Employers note they see a difference in our graduates compared to other programs.
Nationally accredited
Our program is accredited by the Commission on Accreditation of Allied Health Educational Programs (CAAHEP) in collaboration with the American Association of Medical Assistants. Our graduates are eligible to take the CMA (AAMA) national certification examination, conducted by the Certifying Board of the American Association of Medical Assistants.
Successful graduates
PCC's Medical Assisting program continues to support students in successfully completing our program, securing job placement, and obtaining their national credential. According to our 2021 Annual Report data, 2019 graduates of our program had a 98% retention rate, 92% employment rate, and 94% national exam pass rate.
Degrees and certificates
What will you learn?
Class information
PCC's program is designed to develop your skills in:
Communication
Teamwork and collaboration
Understanding data collection
Clinical procedures
Administrative procedures
What will you do?
You will be an essential part of the medical team. Duties may include:
Scheduling and receiving patients
Scrubbing medical records
Taking medical histories
Gathering patient data
Recording vital signs
Assisting with examinations and treatments
Performing diagnostic tests
Obtaining and processing specimens
Preparing, administering, and documenting medications
Maintaining instruments and equipment
Utilize electronic medical records system
Phone calls, correspondence, and reports
Collecting clinical quality measures
Processing data for insurance
Who will hire me?
Graduates of the PCC Medical Assisting program work for large and small outpatient medical facilities such as:
Legacy Medical Group
Providence Medical Group
Oregon Health Sciences University
Adventist Health
And many more
Not quite ready to apply?
We can help you get the info you need.