Homepage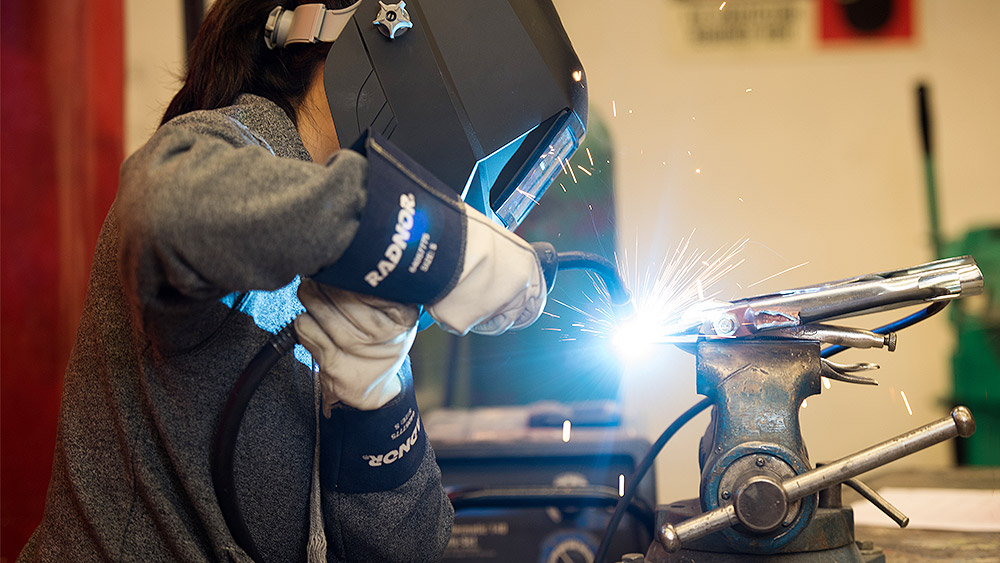 An auto collision repair technician is a skilled member in a respected and rewarding career field. Portland Community College puts you on the fast track to employment in the auto collision repair industry.
The Oregon Employment Department forecasts Portland area employment for auto collision repair technicians will grow 7.3% through 2027.
Why choose Auto Collision Repair Technology at PCC?
Salary
The Oregon Employment Department reports Portland area auto collision repair technicians earn from $18.33 to $29.42 per hour. The average annual salary is $61,186.
Real-world repair
PCC Auto Collision students have the opportunity to work on public vehicles needing repair. Learn more about repair work.
Since its establishment in 1970, Portland Community College's Auto Collision Repair program has grown into one of the largest and most reputable programs on the West Coast. Our class projects help you understand the most current industry practices. Class size ranges from 10 to 20 students, so you'll receive the one-on-one attention you deserve.
Facility
Our facility covers approximately 17,000 square feet. Our equipment meets current industry standards and includes:
Four frame benches and computer measuring systems
Two state-of-the-art downdraft paint booths
One prep booth
Resistance spot welders
MIG welders
Co-op classes and partnerships
The 2-year certificate and AAS degree-seeking students end the program with a co-op class where you work in a collision repair shop under the guidance of a master technician for 300 hours in the shop which usually turns into full-time employment. You will also earn I-CAR credits and Non-Structural Pro-Level 1 certification.
The Auto Collision Repair program features partnerships with agencies, companies, and training organizations to keep your learning relevant. Partners include:
I-Car
Local repair centers, equipment, and materials manufacturers
Chief Automotive, Inc.
National insurance companies
Our curriculum is approved by the Inter-Industry Conference on Auto Collision Repair (ICAR).
Degrees and certificates
What will you learn?
Class information
More information
Getting started (course planning, required tools, program costs, and textbooks)
We have streamlined instruction to provide you with the skills and knowledge to become a skilled repair technician or painter. Our Auto Collision Repair program develops your skills in:
Repair (structural and nonstructural)
Damage analysis
Welding
Metalworking
Painting repaired automobiles
Mechanics
Safety
Mathematics
Communication
Learn more about program costs, tools, and textbooks on our getting started page.
What will you do?
Your work will vary according to your employer. Duties and responsibilities may include:
Bolt-on parts replacement
Weld-on parts replacement
Auto frame measuring and repair
Repair damaged body panels
Damage analysis
Refinishing damage
Estimating repair cost
Welding

steel MIG
silicon bronze MIG
aluminum MIG welding
Who will hire you?
We prepare you to enter a large industry that includes:
Auto collision repair
Car restoration / hot rod shops
Equipment and supply companies
Insurance companies and appraisers
Aircraft repair and refinishing
Fleet maintenance
Truck and heavy equipment shops
Product manufacturers
Sales and technical reps
Yacht and boat repair
Graduates of the program have been hired by businesses such as:
Artistic Auto Body
Beaverton Honda
Gerber Collision & Glass
ABRA/Caliber Collision Repair
Kuni Collision Repair
Fix Auto
Mackin's Auto Body
Central Auto Body
McCollum Auto Body
Precision Auto Body and Paint of Beaverton
Next steps
Applying to PCC is free and only takes a few minutes.Apply now

Not quite ready to apply?
We can help you get the info you need.