Rock Creek WRC
Welcome to the Rock Creek Women's Resource Center!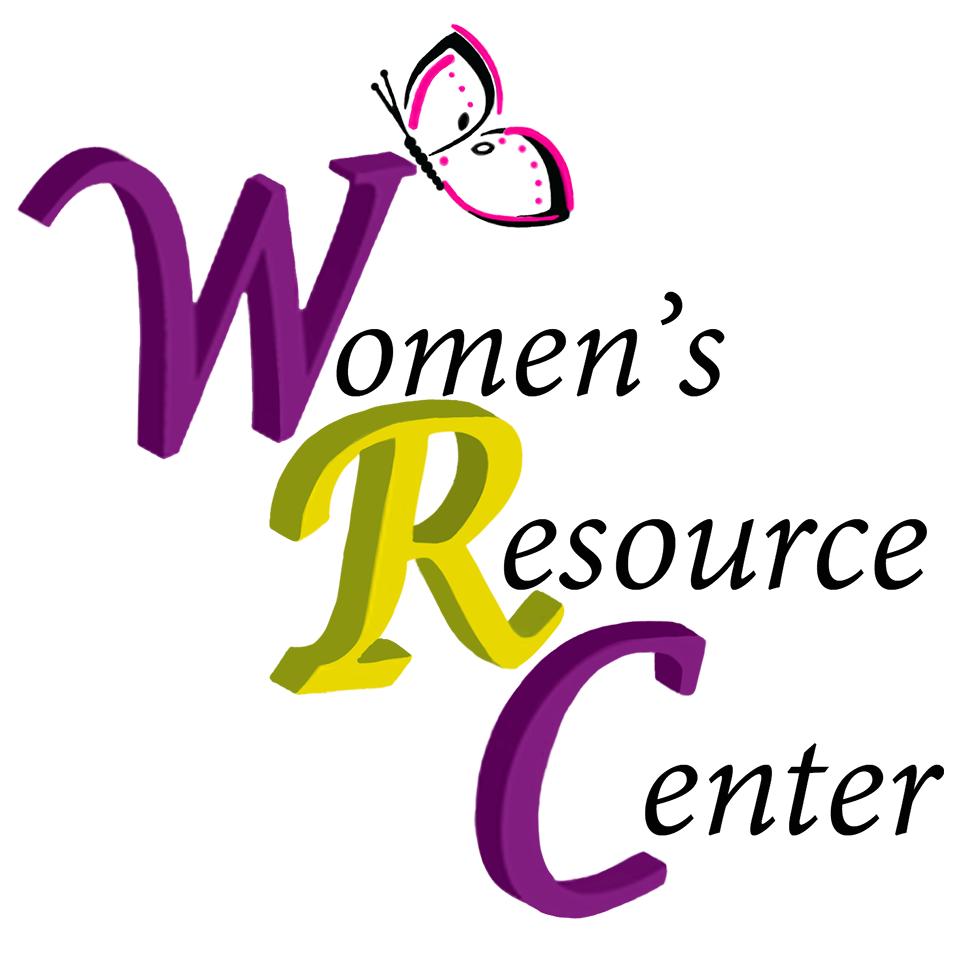 Our Mission
The Portland Community College's campus based Women's Resource Centers (WRC) apply the principles of intersectional, multicultural feminism to resist and dismantle sexism, racism, and other forms of oppression in order to support the success of women students at PCC.
Hours and location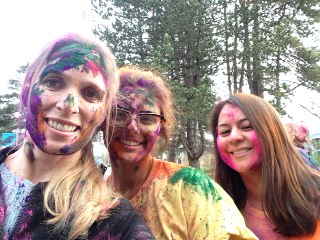 Rock Creek Building 7, room 119
Mondays, Tuesdays, Thursdays: 9am to 5pm
Wednesdays: 9am to 4pm
Fridays: 9am to 2pm
By appointment: To schedule an appointment, please call 971-722-7432 or email kristen.martin1@pcc.edu or alicia.gonzalez16@pcc.edu.
Upcoming Events
Wednesday, May 2: "Gender, Culture and the Venezuelan Beauty Pageant Industry"
11:00am – 1:00pm      RC WRC (7/119)
While millions of dollars are pumped every year into countless local and regional beauty contests and the powerful media interests that drive the industry forward invest massive resources in instilling the image of Miss Venezuela in the minds of young girls, essential services for women in the country are severely lacking, domestic violence is rampant, teen pregnancy is staggering, and deaths resulting from botched cosmetic surgeries are commonplace. Join us for the Film "To Be A MISS." Discussion to follow.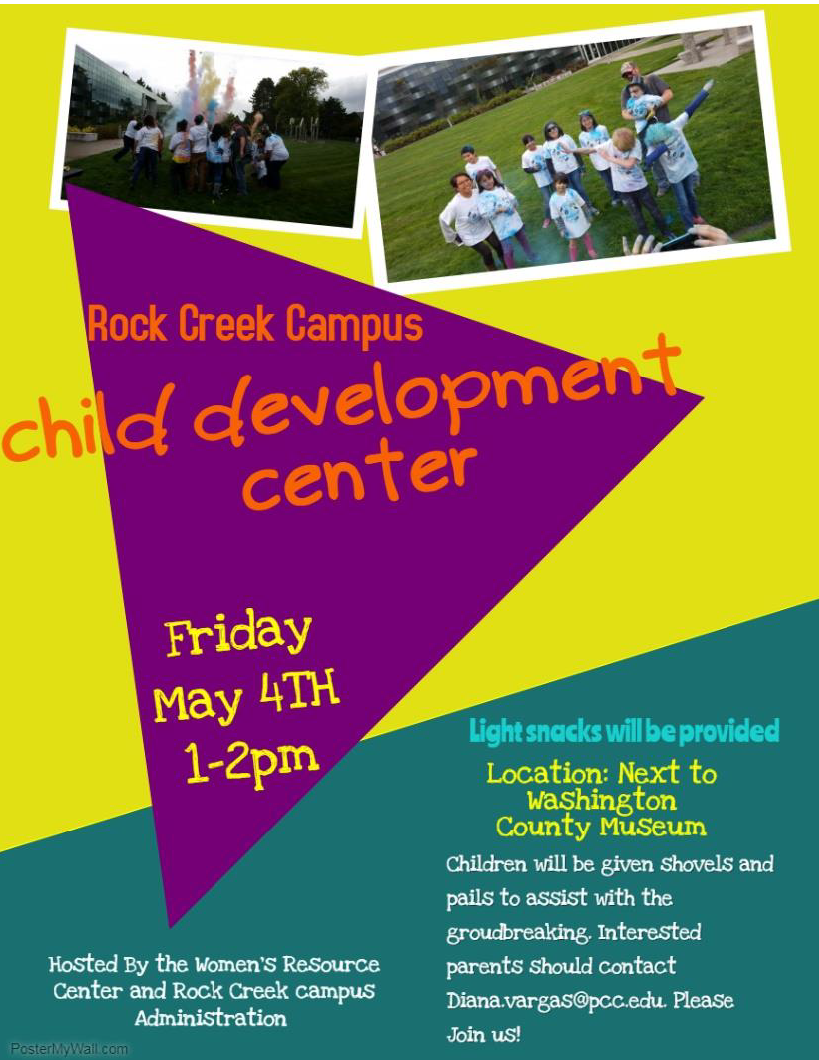 Friday, May 4: Rock Creek Child Development Center Kick Off & Groundbreaking  
1:00pm – 2:00pm    Location: Between THPRD fields & the Museum
See the blueprints and celebrate!
Friday, May 11th: Card & Bead Jewelry-Making Station
10:00am – 2:00pm.   RC WRC (7/119).
All Supplies provided.     Celebrate!
Monday, May 14th: The Correlation between Gender & Mass Shootings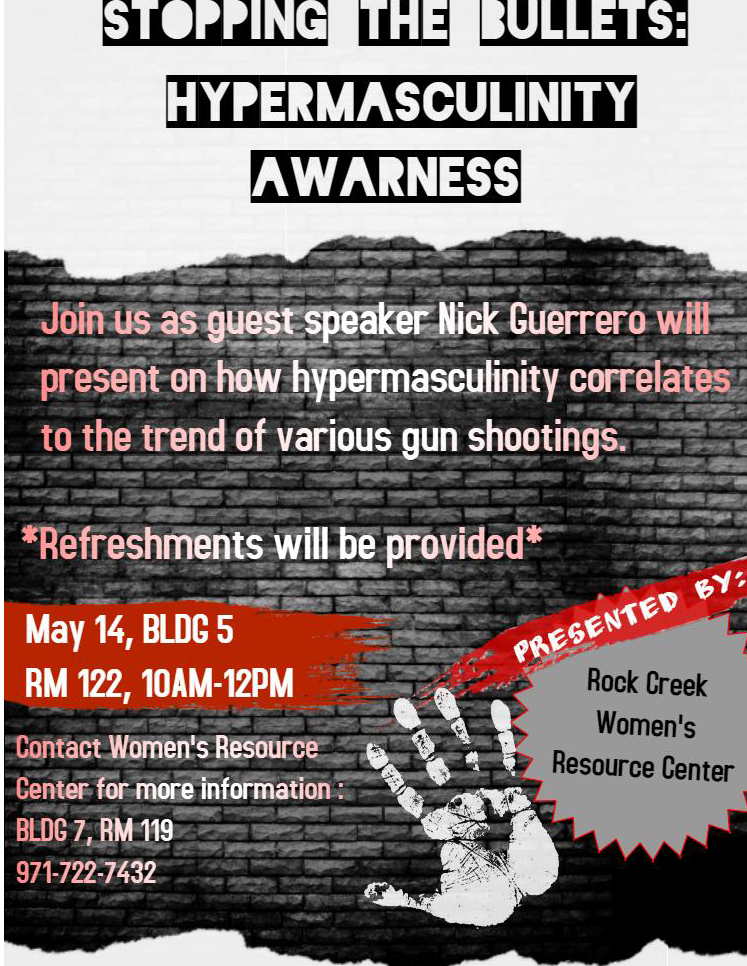 10:00am – 12:00pm         RC 5/122    What is going on with the world? Rick Guerrero from Raphael House will present on the data heavy correlation between gender, race and the increase of mass shootings around the country. Join us for an informative session. Snacks provide. Q & A to follow.
Wednesday, May 16th: "Re-Imagining Manhood" Panel
2:00pm – 4:00pm    Location: RC WRC (7/119)
"Be Strong." "Be a Man." "Man Up." "Don't Cry."  The social norms around this narrative shape the belief that men are to be intimidating, controlling and aggressive if they want to be respected.  While cultural differences exist, the social education of becoming a man transcends diverse communities.  The wealthy, the middle class, the poor, every race, color, and creed, no one is exempt from the pressures to conform to this construct of masculinity. It's not a stretch to understand how, if left unchecked, these norms include learning to use violence and a willingness to be violent. How do we support and encourage the men who think and act otherwise?
"Spring Fun Day:  GO FLY A KITE"           Kids and families welcome!

Tuesday, May 22nd, 2pm-6pm – Courtyard between Building 7 & 9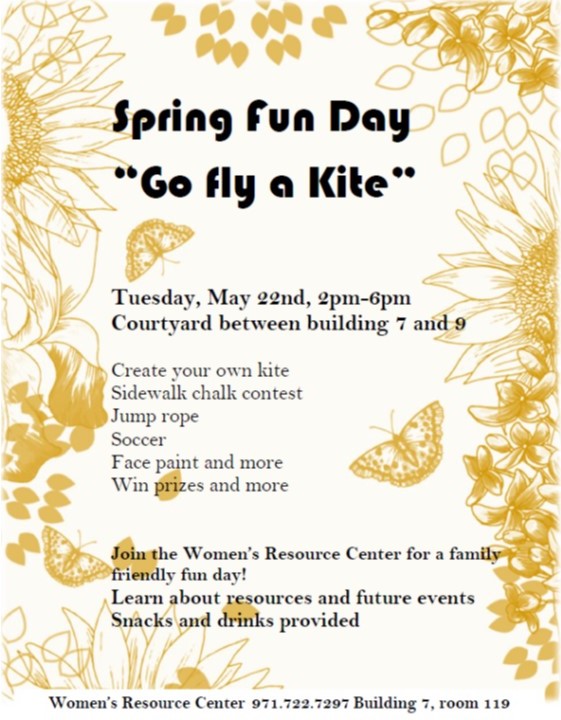 Create your own kite!
Sidewalk chalk contest, music…
Jump Rope, Volleyball, Soccer fun…
Face painting,  prizes and more!
Tuesday, May 29th: "DOLORES."  Join us in watching this biography/historical documentary. "Raising 11 children while wrestling with gender bias, union defeat and victory, and nearly dying after a San Francisco Police beating, Dolores Huerta bucks 1950s gender conventions to co-found the country's first farmworkers union". Discussion to follow.       WRC 7/119       3:00pm – 5:00pm
                                Women & Gender Equity Awards Luncheon
Thursday, June 7th     Rock Creek Event Center    11:30am to 1:30pm
Our Women's Resource Center student advocates are planning their final event for the year and are very excited to invite each of you to join us. We will be recognizing the outstanding contributions that students, staff and faculty who identify as gender minorities (including women, transgender, non-binary and genderfluid folks) provide every day that make such a significant difference to our students and community. We'd also like to invite you to nominate staff and faculty who identify as gender minorities at Rock Creek for their above and beyond support of our students and/or for their continued advocacy of gender equity work.
Each person nominated will receive their name in the event program, a rose, and a certificate of recognition. Nomination forms are available in the RC WRC (7/119) or via this link:https://docs.google.com/forms/d/1yRv5j4qRLLYbQuHA_zJhiMZLHsWftI78V2Oe4JuF-p4/edit?ts=5b0dddc4
We are honored to welcome our Keynote Speaker Rosa Escobedo, ESOL Navigator at Rock Creek, who will share her journey from a young female migrant farm worker in Eastern Oregon where, at the age of 14, she started a walk out against the harsh working conditions in the fields. She dropped out of high school to help her family and married young. At the age of 38, she enrolled as a student parent at PCC to complete her GED and continue her dream of a college education which has led to her current professional career preparing ESOL students to succeed at PCC.
Additional recognition to include '17-'18 Transiciones Oeste Cohort Graduates, '17-'18 New Directions Program Graduates, Women's Studies Focus Award Recipients, Social Justice Focus Award Recipients, and Women's Resource Center Student Advocates.
RC WRC
Error: The image above does not have Alt Text

Rock Creek WRC Coordinator: Kristen Martin 
Rock Creek WRC Assistant Coordinator: Alicia Gonzalez
Main office: 971-722-7432
RC Building 7, Room 119