Virtual WRC
WRC staff are here to offer connection, resources, and advocacy to support the success of all women and gender minority students. All genders welcome.
Looking for WRC staff or want to contact a particular WRC staff person? All WRC staff contact info is below.
Are you in need of additional resources?
If you have experience harm resulting from domestic violence, dating/intimate partner violence, sexual violence, harassment, or stalking, or have questions and want to talk to someone, please contact the following support services:
PCC resources
Campus Outreach & Advocacy Project
The Advocacy Project provides confidential supportive services to students who have experienced harm. This includes:
Safety planning
Case management – ongoing check ins/support
Provide and explain reporting options and advocacy around making a report
Attend Title IX interviews/meetings with student
Assistance with protection order application and advocacy around filing
Assistance with Address Confidentiality Program paperwork
Assistance with Crime Victims Compensation
TANF (Temporary Assistance for Needy Families)
SNAP (food benefits) application
Short term emotional support
Other services based on need
The Advocacy Project Response Lead, Hayley Hayes, is available Monday – Friday, 8am-4pm at hayley.hayes@pcc.edu or 503-619-7041.
External resources
Call to Safety
Call to Safety provides a comprehensive 24/7 crisis line, follow-up advocacy for survivors, support groups, community outreach and education, and sexual assault medical advocacy. We can support crisis line callers in any language through our international language bank, and connect survivors to local culturally-specific resources or co-advocacy.
Crisis Line: 1-888-235-5333
Oregon Coalition Against Domestic and Sexual Violence
Hosts an online database of services relating to intimate partner and sexual violence across the state of Oregon.
Clark County WA – YWCA Clark County
Hosts both a domestic violence/intimate partner violence program and a sexual assault program.
More online resources
What we offer
Support for accessing and navigating campus and community resources.
Free college credit academic success programs, including a program fully in Spanish.
Help with reporting discrimination and harrassment.
Involvement in events, clubs, and projects related to social and gender justice.
Access to trained, certified Confidential Advocates who are available to support students affected by relationship and/or sexual violence, harrassment, or stalking.
And so much more!
Upcoming events
Ongoing – Free Menstrual Products
The Menstrual Project is providing FREE reusable menstrual products through the Eco Social Justice Grant to help students and PCC reduce their waste and lower the amount of money used on menstrual products. Free to all PCC students!
Check back soon for more events!
Clubs
PCC Asian Pacific Islander Club
Are you an API student at PCC looking to connect with community and get support? Interested in joining a new PCC API Club? Sign up and I'll send you info as it becomes available! Signing up just lets me know that you might be interested in coming to meetings or events – you don't have to do anything and there's no big commitment.
My name is Huai, and I work at the PCC SE Women's Resource Center. As part of my leadership work I am starting a PCC API Club, and I hope other PCC API students will join.
Our draft mission statement: "The mission of the PCC API Club is to engage PCC API students in getting connected to one another, supporting one another, and getting access to on and off campus resources. We want to use a social justice approach to our work. This includes putting on programming and events that center our complex identities, confronts colonialism and white supremacy, and advocates for equitable access to education at PCC.
Questions? Email Huai at huai.ciang@pcc.edu.
Returning Women's Club
Join in for support from other women returning to college or starting college at a non-traditional age. Build community, share resources, get support connecting to campus! Questions? Email sewrc@pcc.edu.
Story Time with the WRC Parenting Club – starting November 16
Mondays beginning November 16
6:30pm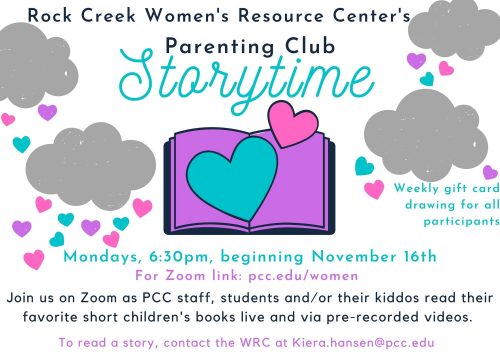 Join us on Zoom as PCC staff, students, and/or their kiddos read their favorite short children's books live and via pre-recorded videos.
Weekly gift card drawing for all participants!
To read a story live or submit a recorded version, email kiera.hansen@pcc.edu.
Feminist Majority Leadership Alliance Club
Join in for conversation on feminist issues, open mic events, book group, and more! To sign up email sewrc@pcc.edu.
Past event recordings
Creating Feminist Futures Conversation Series
Want to catch up on past offerings in this series? Here are the recordings, courtesy of the PSU Women's Resource Center:
Programming and offerings
Each campus also has slightly different programs and resources. Visit the campus WRC page of your choice below to find out what's available at your campus!