bullhorn
Recruiting NOW for Winter through Spring Terms 2021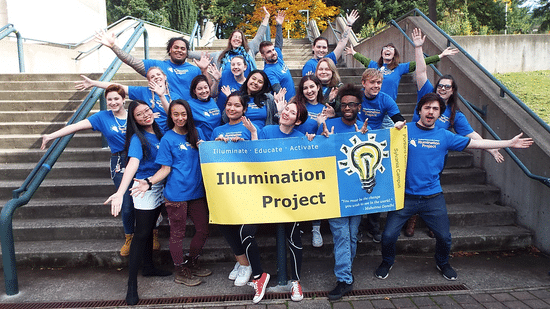 The Show Must Go On!
The Illumination Project has made our scripts, videos of staged readings, Education Booklet, Study Guides, and more available on our Virtual Performance Materials Page!
The Illumination Project (IP) is Portland Community College's innovative student leadership and education program designed to foster a climate of equality, compassion, justice, and respect for all people in the PCC academic community and the community-at-large.
The Illumination Project uses interactive social justice theater as a venue for Student Educators and audience members to join together to rehearse ways of solving problems. Interactive theater, with its capacity to engage diverse learning styles and members of a community, is an ideal way to challenge racism, sexism, heterosexism, and other forms of oppression. In performances, audience members enter a scene and dynamically change its outcome. In this way, the Illumination Project challenges the viewpoints of both the audience and the actors/Student Educators in a performance.
The Illumination Project is a program of the Sylvania Women's Resource Center and finds additional support from the Sylvania Multicultural Center, Queer Resource Center, Sociology Department, and Theater Department.
Current Topic and Events
Due to COVID-19, Spring Term 2020 performances are canceled. Scripts and supplemental materials are available on the performance page linked below.
View a detailed schedule of performances »
Related pages