Homepage
Mission
The Portland Community College Queer Resource Centers provide advocacy, education, leadership development, programming, and retention services for students with marginalized genders and sexualities to create an inclusive and intersectional campus climate promoting gender justice, sexual liberation, and equity for all people.
Vision
The Queer Resource Center's envision Portland Community College as a nationally recognized community college leader that affirms and celebrates students of all genders and sexualities with their intersecting identities, advances equity, and dismantles all oppressions for students, staff, faculty, and community.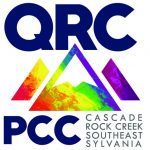 View the QRC history timeline.
*Queer is an umbrella term used to be inclusive of all sexual and gender identities that challenge the norm.
COVID-19 updates
Are you in need of additional resources due to COVID-19?
Programming and offerings
Each campus also has slightly different programs and resources. Visit the campus QRC page of your choice below to find out what's available at your campus!
District-wide efforts
In addition to campus-specific offerings, the QRCs work together to create district-wide opportunities and events.