Southeast Queer Resource Center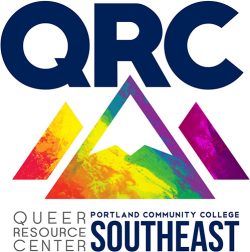 Location: MTH 149 (closed during remote operations)
Hours: Mon, Tues, Thurs 12-4pm, Wed 10am-2pm
Southeast QRC Coordinator: Nico Judd (they/them)
Email: pccseqrc@pcc.edu
Zoom: Virtual Help in MyPCC (find the QRC under Student Life)
We've gone digital!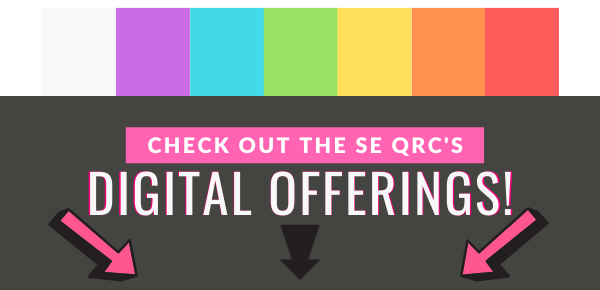 Spotlight on PCC's Queer and Trans Students
One of our very own SE QRC Student Advocates, Dakota Abercrombie, has put together a series of interviews entitled, "Student Profile Stories- What it is Like Being a LGBTQ+ Student at PCC During a Global Pandemic."
Read this fantastic article series on PCC's queer and trans students!
QRC Community Agreements
Click here to read our Remote QRC Community Agreements that guide engagement in our Virtual Room.
QTBIPOC (Queer and Trans Black, Indigenous, and People of Color) Club
This club focuses on creating a safer space for queer and trans People of Color to socialize or make connections with other QTBIPOC folks, and to have a space to talk about issues that they experience as people who have multiple and intersecting identities. We hope to achieve a place where everyone can enjoy themselves, make friends, and have access to resources if they need or desire them.
Club meetings will be held Wednesdays every week from 1:30-3:30pm via Google Hangouts.
Interested in becoming a part of QTBIPOC?
Contact Student Coordinator Miguel Soriano Sanchez at miguel.soriano1@pcc.edu (he/him) or join through Panther Hub. Once approved, you will receive a link to the virtual chatroom.
Queer Movie Club (QMC)
The Queer Movie Club provides a space to watch and discuss queer-themed movies as a community. People from all sexual orientation backgrounds are welcomed!
Club meetings will be held every Thursday from 2-5:30pm on Zoom.
1st and 3rd Thursdays: Film Night hosted by Ottoi (he/him, they/them)
Interested in becoming a part of Queer Movie Club?
Contact Student Coordinator Otto Norton at otto.norton@pcc.edu or join through Panther Hub. Once approved, you will receive a link to the virtual chatroom.
One-on-one crisis support
For queer and trans-identifying students who are in need of support navigating emotional, social, academic, and challenges, the QRC is here for you.
Contact us to schedule a 30-minute video or phone appointment today:
LGBTQ+ quarantine resource list
There are many different resource lists floating around right now, but the awesome SE QRC staff has compiled a list of resources specifically for the LGBTQ+ community here in the Portland Metro area. Feel free to send any new resources suggestions to nico.judd@pcc.edu.
Follow us on social media
pcc.edu_577u4grfamqptpr7l25c3q8hd0@group.calendar.google.com
The QRC is dedicated to:
Advising, advocacy, mentorship, and support for LGBTQ-identified students
Development of student knowledge and leadership skills
Promotion of awareness and visibility for the LGBTQ community on campus
Providing networking and social opportunities for the LGBTQ and allied campus community
Training students, staff, and faculty about gender and sexual equity, in order to foster a welcoming and inclusive campus environment
Advocating for change in policies, practices, and procedures across the campus to be more equitable to LGBTQ individuals
What will you find in the QRC?
A safe space to hang out and be yourself, free computer use, free coffee, tea and snacks, queer books and magazines to read, monthly movie nights, queer-related events, supportive peer advocates and staff (who can talk with you about anything from coming out to how to be a better ally to your queer friends), family and community, safer sex supplies, leadership opportunities, referrals to all campus resources (such as career advising, counseling, and more.)