Cascade Queer Resource Center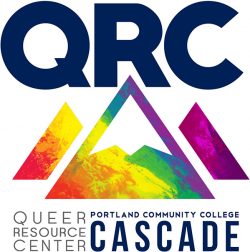 The PCC Queer Resource Centers provide advocacy, education, leadership development, programming, and retention services for students with marginalized genders and sexualities to create an inclusive and intersectional campus climate promoting gender justice, sexual liberation, and equity for all people.
Student Advocate jobs
Looking for the 2020-2021 QRC Student Advocate job announcement? We are delaying our hiring process for the next academic year while we figure out the best way to move forward. To be the first to know when our application opens, join our newsletter!
COVID-19 update
We are aware that PCC's physical closure may cause additional stress for many of you, and our priority is the safety and health of our community.
All QRC staff, including student advocates, are providing services remotely. We are currently working hard to figure out the best way to continue building community and offering support during this time, and we are open to your ideas and suggestions so we can best meet your needs!
If you need information about resources, support, or would just like to check in and chat, please feel more than welcome to reach out.
Receive updates from the Cascade QRC
As they become available, we will update this list with further engagement opportunities.
PCC and external resources
See the QRC homepage for additional PCC and external COVID-19 resources.
If you need help finding a resource, please reach out to us, and we will do our best to support you in meeting your needs. Take care, community. We'll see you again soon, and in the meantime, we look forward to connecting with you virtually.
What does the CA QRC offer?
Education and events
The QRC provides intersectional training opportunities and events programming for the PCC campus community about issues pertaining to marginalized sexual and gender identities.
Our activities include but are not limited to trans, gender expansive, lesbian, gay, bisexual, queer, asexual, intersex, pansexual, and polyamorous communities. These trainings and events serve the purpose of increasing knowledge, understanding, and empathy for diverse sexualities and genders.
Advocacy
The QRC advocates for institutional equity on behalf of Queer and Trans students, staff, and faculty. The QRC is available for departmental or individual consultations about creating inclusive and welcoming and environments for these populations.
Support
As a diversity retention center, the QRC student advocates and coordinator provide support, resources, and referrals to Queer and Trans students with the ultimate goal of supporting students to achieve their academic goals.
Help reporting discrimination and harassment at PCC
Diversity Retention Center staff can assist you the process of reporting discrimination and support.
Video created By Elizabeth Guzman-Arroyo, Assistant Coordinator, Multicultural Center Cascade Campus
Volunteer opportunities
Join the QRC Programming Team, Lounge Support Specialists, or Education program. Contact the QRC at qrccascade@pcc.edu for more information.
Additional resources