Sylvania Queer Resource Center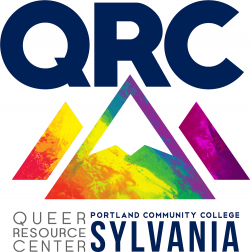 Location: CC 228
Hours: Tues-Thurs 10am-3pm (open all instruction days – closed finals and breaks)
Coordinator: Lo Denmon
Email: qrc@pcc.edu
Phone: 971-722-8515
Chat: QRC chat
Zoom: Available by appointment or by starting in Chat
The PCC Sylvania Queer Resource Center is located in CC 228, near the Multicultural Center and Women's Resource Center. Stop by often for the latest news, information, and upcoming community events and celebrations!
Receive updates from the Sylvania QRC
What will you find in the QRC?
A welcoming and safer space to hang out and be yourself. We offer free computer use, free coffee and tea, books and magazines to read, queer-related events, supportive peer advocates and staff, safer sex supplies, leadership opportunities, referrals to other campus resources (such as career advising and counseling), and more.
Contact qrc@pcc.edu for more information.