Sylvania Queer Resource Center
bullhorn

We're Hiring!

Make college more than a classroom! Get paid while you engage, represent, and advocate with your peers at Portland Community College (PCC). Apply to be a QRC Student Advocate Today! Learn more.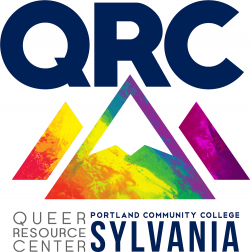 The PCC Sylvania Queer Resource Center is located in CC 228, near the Multicultural Center and Women's Resource Center. Stop by often for the latest news, information, and upcoming community events and celebrations!
COVID-19 update
The QRC is continuing to provide services remotely. Our virtual doors are open!
We are continuously working hard to figure out the best ways to build community and offer support during this time, and we are open to your ideas and suggestions so we can best meet your needs! You can share your ideas here.
Join us: Virtual Help Page (find the QRC under Student Life). You can also find us on Instagram, through email, and on our Facebook page.
If you need support, information about resources, or would just like to check in and chat, please reach out.
Receive updates from the Sylvania QRC
PCC and external resources
See the QRC homepage for additional PCC and external COVID-19 resources.
If you need help finding a resource, please reach out to us, and we will do our best to support you in meeting your needs. Take care, community. We'll see you again soon, and in the meantime, we look forward to connecting with you virtually.
What will you find in the QRC?
A welcoming and safer space to hang out and be yourself. We offer free computer use, free coffee and tea, books and magazines to read, queer-related events, supportive peer advocates and staff, safer sex supplies, leadership opportunities, referrals to other campus resources (such as career advising and counseling), and more.
Contact mae stephenson, Sylvania QRC Coordinator, for more information. You can also email syqrc@pcc.edu.
Q Club
For more information Q Club meeting times, please contact syqrc@pcc.edu or sign up to receive email updates. Q Club operates Fall, Winter, and Spring terms.