Sylvania WRC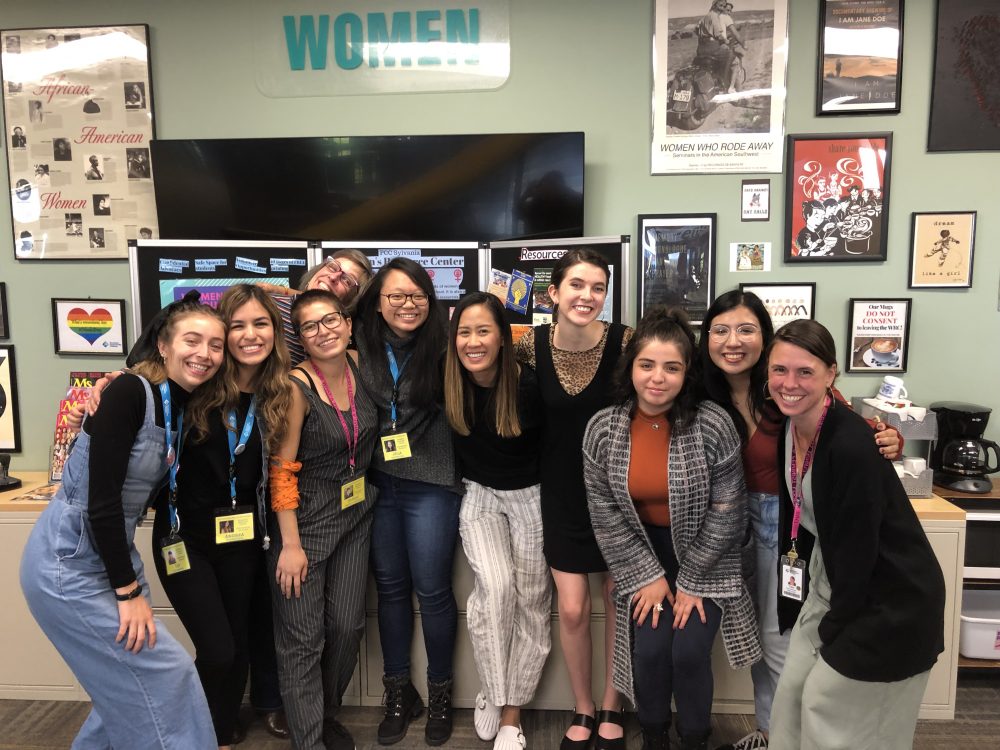 bullhorn
The Sylvania WRC is Now Accepting Applications for the 2020-2021 Academic Year
PCC Student Development has launched a Common Application for all Student Leadership positions across the district. Select the Sylvania Campus option for the Women's Resource Center so we receive your application!
For best consideration: Apply by Oct 9th (application will remain open until all Sylvania Women's Resource Center positions are filled).
These are strange and challenging times. We know that our community is strongest when we come together, and we are here to provide support in any way that we can.
As you have likely heard, PCC has made the decision to close its doors through Winter Term 2021: however, the WRC is committed to serving students during this time.
We are aware that PCC's physical closure may cause additional stress for many of you, and our priority is the safety and health of our community.
Please be patient with us. We are currently working hard to figure out the best way to continue building community and offering support during this time.
Use our Virtual Room to reach WRC district staff:
Available 10:00 am – 2:00 pm Monday – Thursday
…OR reach us via our social media:
….OR email our full-time staff:
As they become available, we will update this announcement with further information.
If you need help finding a resource, please reach out to us, and we will do our best to support you.
Take care, community. We'll see you again soon, and in the meantime, we look forward to connecting with you virtually.
– The Sylvania WRC Team
The PCC Sylvania Women's Resource Center (WRC) was founded in 1995 by Deborah Evind and was created to provide a central location for services that support the academic achievement of women, while working to increase access to education for women, improve the retention of women students at the college, and encourage women's leadership development.
Hours and location
We are closed along with the rest of campus in response to COVID-19. Please see Community Resources listed on this page. We are working on solutions to support students remotely beginning March 30. This website will be updated as information and resources become available.
Sylvania Campus, CC 232 on the Upper Mall
Hours:

Monday, Tuesday, Thursday: 9am-4pm
Wednesday: 9am-2pm
Hours may vary based on staffing availability.

Closed Finals Weeks, Winter Breaks, Spring Breaks, and Summer Quarters.
To make an appointment: call 971-722-8101 or email wrc@pcc.edu
Looking for Advocacy Support?
PCC specific resources
Campus Outreach & Advocacy Project: The Advocacy Project provides confidential supportive services to students who have experienced harm. This includes:
Safety planning
Case management – ongoing check ins/support
Provide and explain reporting options and advocacy around making a report
Attend Title IX interviews/meetings with student
Assistance with protection order application and advocacy around filing
Assistance with Address Confidentiality Program paperwork
Assistance with Crime Victims Compensation
TANF (Temporary Assistance for Needy Families)
SNAP (food benefits) application
Short term emotional support
Other services based on need
The Advocacy Project Response Lead, Hayley Hayes, is available Monday-Friday between 8-4pm.
Community Based support and 24/hr access for Oregon and Southwest WA
Call to Safety: Call to Safety provides a comprehensive 24/7 crisis line, follow-up advocacy for survivors, support groups, community outreach and education, and sexual assault medical advocacy. We can support crisis line callers in any language through our international language bank, and connect survivors to local culturally-specific resources or co-advocacy.
Crisis Line: 1-888-235-5333
Oregon Coalition Against Domestic and Sexual Violence: Hosts an online database of services relating to intmate partner and sexual violence across the state of Oregon.
ocadsv.org/find-help
Clark County WA – YWCA Clark County: Hosts both a domestic violence/intimate partner violence program and a sexual assault program.
ywcaclarkcounty.org
For more online resources please check out
At the Portland Community College Sylvania Women's Resource Center (SY WRC) we apply the principles of intersectional multicultural feminism to resist and dismantle sexism, racism, and other forms of oppression in order to support the success of women students at PCC. We welcome students of all genders.
What we offer
Clubs and events related to gender and social justice
Dress for Success – come learn from experts how to present yourself to potential employers
Community resource referrals
Crisis intervention and problem solving
A place to connect with other students
Confidential advocacy, support, and friendship in a caring environment
Lactation Room
Looking for advocacy support and the WRC is closed?

Make an appointment at the Counseling Center by calling 971-722-8153 or visiting the Counseling Center in CC 210
Contact Call to Safety (open 24 hours a day) at 503-235-5333.
For immediate safety concerns or to make a report visit our online reporting site (includes anonymous), contact SY Public Safety in CSB 320, or call 971-722-4444.

Hours:

Monday-Friday: 6am-10:45pm
Saturday: 6am-9:45pm
Sunday: 7am-6:45pm

Visit pcc.edu/safe for info on PCC policies and services.