Maritime Welding Training Center
5555 N Channel Ave, Portland, OR 97217
971-722-5284 | directions | TriMet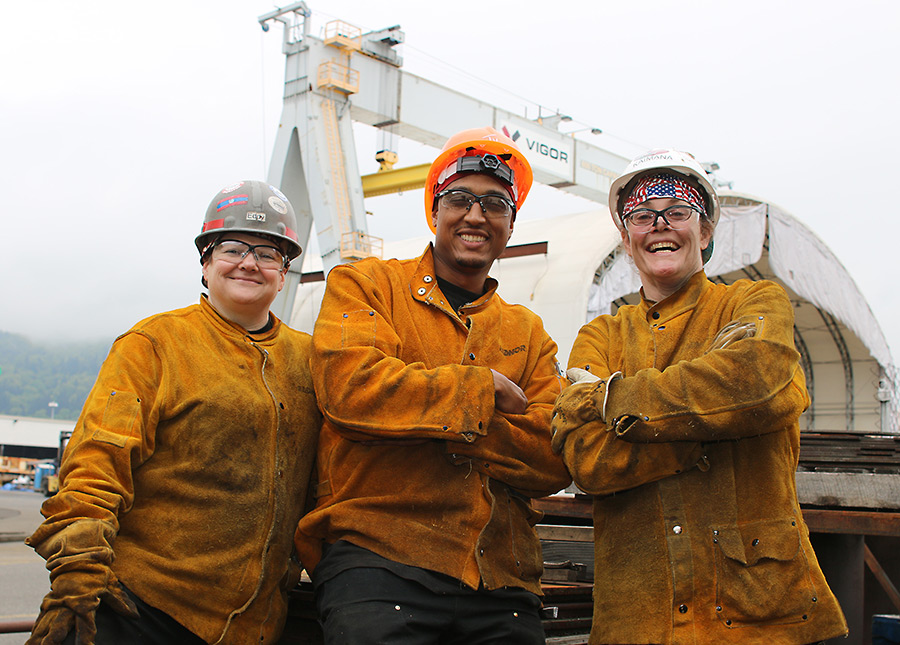 The Vigor and PCC Maritime Welding Training Center is a 4,000-square-foot facility next to the Swan Island shipyards at the Willamette River, where students advance in the art and craft of welding.
Vigor Industrial is the region's leading provider of shipbuilding, ship repair, ship conversion and complex industrial fabrication. PCC is Oregon's unrivaled educational entry point to training, skills-building and opportunity, and widely recognized for the excellence of its programs. Together, Vigor and the college offer students unparalleled, hands-on education under the expert guidance of diverse and student-centered faculty. For certificate and degree information, see Welding Technology.
The center exemplifies Vigor and PCC's shared commitment to equity and inclusion. In 2017-2018, 27 percent of welders in the Maritime Welding Training Center were female-identified or non-binary. Both institutions are second-chance employers helping people overcome histories of incarceration.
Contact us to learn more about opportunities at the Maritime Welding Training Center.
Maritime Welding Training Center news
October 23, 2020
Portland Community College's Strategic Planning process launched more than a year ago, and since then, its Steering Committee has weathered […]
October 11, 2020
The resolution also acknowledges the United States' history of violence against Indigenous People, including forced migration, broken treaties and relocation.
June 1, 2020
It's time to update the College's Climate Action Plan, and we want to hear from you! While significant progress has […]
Ready to become a PCC student?
Becoming a PCC student is easy! Just complete the steps for new students, starting with admissions.