Maritime Welding Training Center
5555 N Channel Ave, Portland, OR 97217
971-722-5284 | directions | TriMet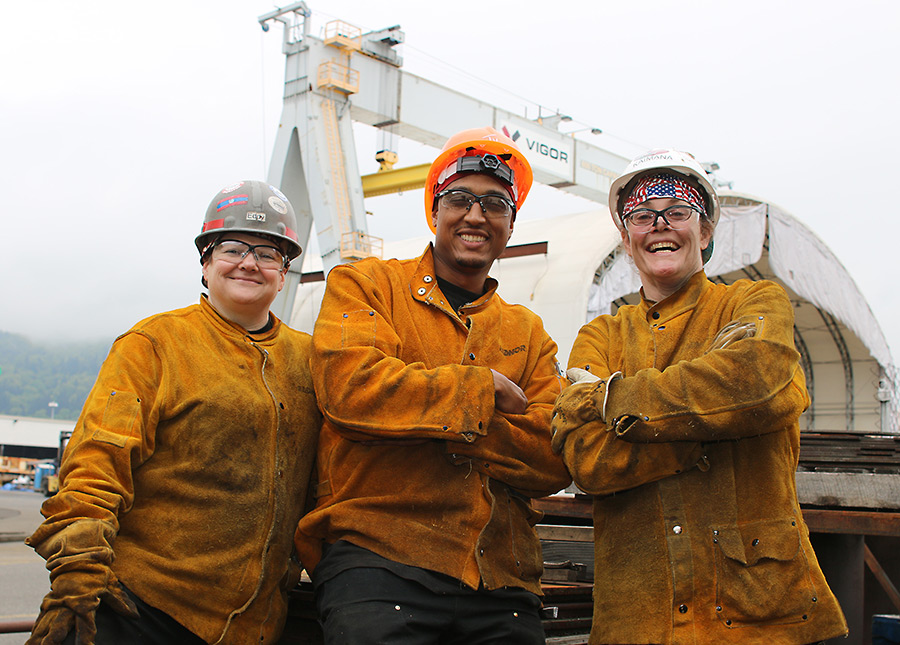 The Vigor and PCC Maritime Welding Training Center is a 4,000-square-foot facility next to the Swan Island shipyards at the Willamette River, where students advance in the art and craft of welding.
Vigor Industrial is the region's leading provider of shipbuilding, ship repair, ship conversion and complex industrial fabrication. PCC is Oregon's unrivaled educational entry point to training, skills-building and opportunity, and widely recognized for the excellence of its programs. Together, Vigor and the college offer students unparalleled, hands-on education under the expert guidance of diverse and student-centered faculty. For certificate and degree information, see Welding Technology.
The center exemplifies Vigor and PCC's shared commitment to equity and inclusion. In 2017-2018, 27 percent of welders in the Maritime Welding Training Center were female-identified or non-binary. Both institutions are second-chance employers helping people overcome histories of incarceration.
Contact us to learn more about opportunities at the Maritime Welding Training Center.
Maritime Welding Training Center news
January 23, 2020
The college has opened an online survey as part of its strategic planning process, and invited key internal and external stakeholders to participate
December 9, 2019
Leslie Smith chopped a culinary career to go where few women have gone before
November 15, 2019
PCC embarked on the strategic planning process this fall, to create a tangible path forward that ensures the college delivers on its commitment to opportunity and equitable student success for the students and communities it serve
Ready to become a PCC student?
Becoming a PCC student is easy! Just complete the steps for new students, starting with admissions.