Sylvania Campus – Capital Improvements
Health Technology building and site improvements
Cross sectional of renovated HT building
Rendering of HT level 3 student collaboration area and critique space
Rendering of all-user restrooms at HT level 3
Rendering of academic office entry at HT level 2
Rendering of the open collaboration space outside the Nursing suite on HT level 2
Rendering of nursing patient simulation area on HT level 2
Rendering of HT level 1 student areas and access to stairs
Rendering of multi-purpose room at HT level 0
Aerial photo of Sylvania Campus looking north
Feedback Fair on April 9, 2019, photo courtesy of PLACE
Conversation update in October 2019
Students, staff and faculty gathered for information at the February 4, 2020 Share Fair
The renovation of Sylvania's Health Technology (HT) building is the largest project in the 2017 bond. Built in the late 1960's, HT currently houses STEAM and health professions classrooms.
While the massive building is divided into three main sectors (east, west and diving/lap pool), this renovation will focus on the east side of the building with plans to upgrade the remaining areas in the future. The project includes the build out of several departments including Architecture, Interior Design, Nursing, Medical Imaging/Radiography, Physical Education, Exercise Science, and a series of support and collaborations spaces throughout.
While construction takes place, the existing programs on the east side of the building will need to be relocated. Some programs will move temporarily and some permanently in order to provide a better educational synergy for students. In addition to the large renovation for the HT building, P&CC has identified about 20 smaller renovation projects on the campus to accommodate all the departments being displaced during construction. Through diligent coordination and planning, the majority of these smaller renovations will be permanent improvements to the Sylvania campus even after the main HT renovation is complete.
This plan also includes adding some temporary structures onto campus during construction to alleviate some of the needed swing space.
This project has been characterized by its heavy approach to stakeholder engagement. With the help of users and the campus community, the project concluded the predesign phase and is wrapping up the schematic design phase. During predesign, the design team worked extensively with the college to catalogue all of their needs, wants, and must haves for incorporation into the design. During the schematic design phase, numerous test fits have aimed to maximize the efficiency of each program's area within the existing floor plate and structure. The plans show evidence of the HT project goals of increasing wayfinding, accessibility, and inclusivity while also adding to the college's sustainability goals.
The renovation also includes site improvements to enhance campus safety, accessibility, transit, and connectivity. Campus sustainability will be improved with increased landscaping and stormwater retention. Additional trees will extend the campus tree canopy, which can help cool temperatures in parking areas.
Overview
Project manager: Gary Sutton
Design team: Hacker Architects
Contractor: Lease Crutcher Lewis
Budget: $78,000,000
Square footage: Approximately 100,000
Timeline: December 2018 – May 2023
Funding: 2017 bond
Update
Timeline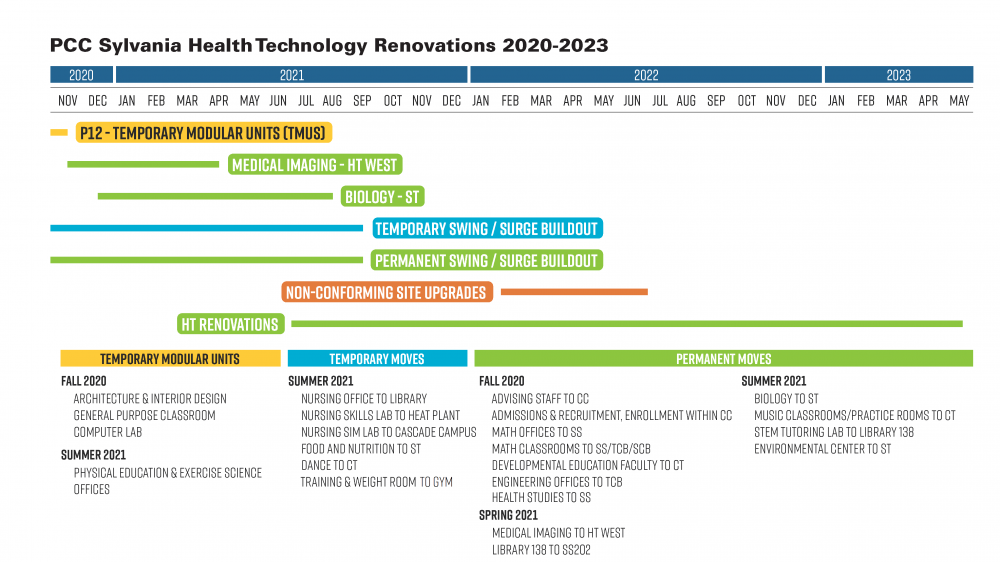 Download HT project graphic schedule
December 2018 – April 2019
HT renovation Schematic Design phase: Visioning and architectural meetings (programming) with user groups
Spring – Summer 2020
HT renovation Design Development design phase
Swing space planning
Temporary Modular Units (TMUs) planning and design with user groups
Biology planning and design with user group
Medical Imaging planning and design with user group
August 2020
Construction of Temporary Modular Units in parking lot 12 starts
November – December 2020
HT renovation Construction Documents phase
Construction of Medical Imaging new suite starts in HT west side basement
Programs in several buildings in Sylvania move:

Temporary move to TMUs:

Architecture & Interior Design
General Purpose Classroom
Computer Lab

Permanent moves:

Advising Staff to CC
Admissions & Recruitment, Enrollment within CC
Math offices to SS
Math classrooms to SS/TCB/SCB
Developmental Education Faculty to CT
Engineering Offices to TCB
Health Studies to SS

Construction of Biology areas in ST start
Spring 2021
Construction of Medical Imaging suite is complete

Permanent moves:

Medical Imaging moves to HT basement
Library 138 moves to SS202
Summer 2021
Programs in east side of HT building move out to allow construction:

Temporary move to TMUs:

Physical Ed. & Exercise Science offices

Temporary moves:

Nursing office to Library
Nursing Skills lab to Heat Plant
Nursing Simulation Laboratory to Cascade Campus
Food and Nutrition to ST
Dance to CT
Training & Weight Room to TBD

Permanent moves:

Biology to ST
Music Classrooms/Practice room to CT
STEM Tutoring Lab to Library 138
Environmental Center to ST

Construction in east side of HT starts
February 2022
Non-conforming site upgrades work starts
Spring 2023
Construction of HT renovation is complete
Programs move back to their permanent, renovated areas in HT building
Floor plan
The plans for the renovated HT building include the following programs and areas:
Level 3: Architecture and Interior Design (classrooms, computer labs, materials library, and support/critique spaces), several general-purpose classrooms, meeting rooms, student collaboration areas, all-user restrooms and elevator.
Level 2: Nursing Department (skills labs, patient simulation suite, and various support spaces), consolidated offices suite, student collaboration area, all-user restrooms, elevator and existing gym.
Level 1: Physical Education (weight training space and fitness center), Exercise Science (two teaching labs with four consultation rooms), a large multipurpose group exercise space, student collaboration area, all-user restrooms, elevator and existing locker rooms.
Basement: Medical Imaging Department (large lab with new training stations, computer lab, seminar room, x-ray rooms, and support spaces), a general-purpose classroom, conference room, four new single user restrooms and the existing IT spaces.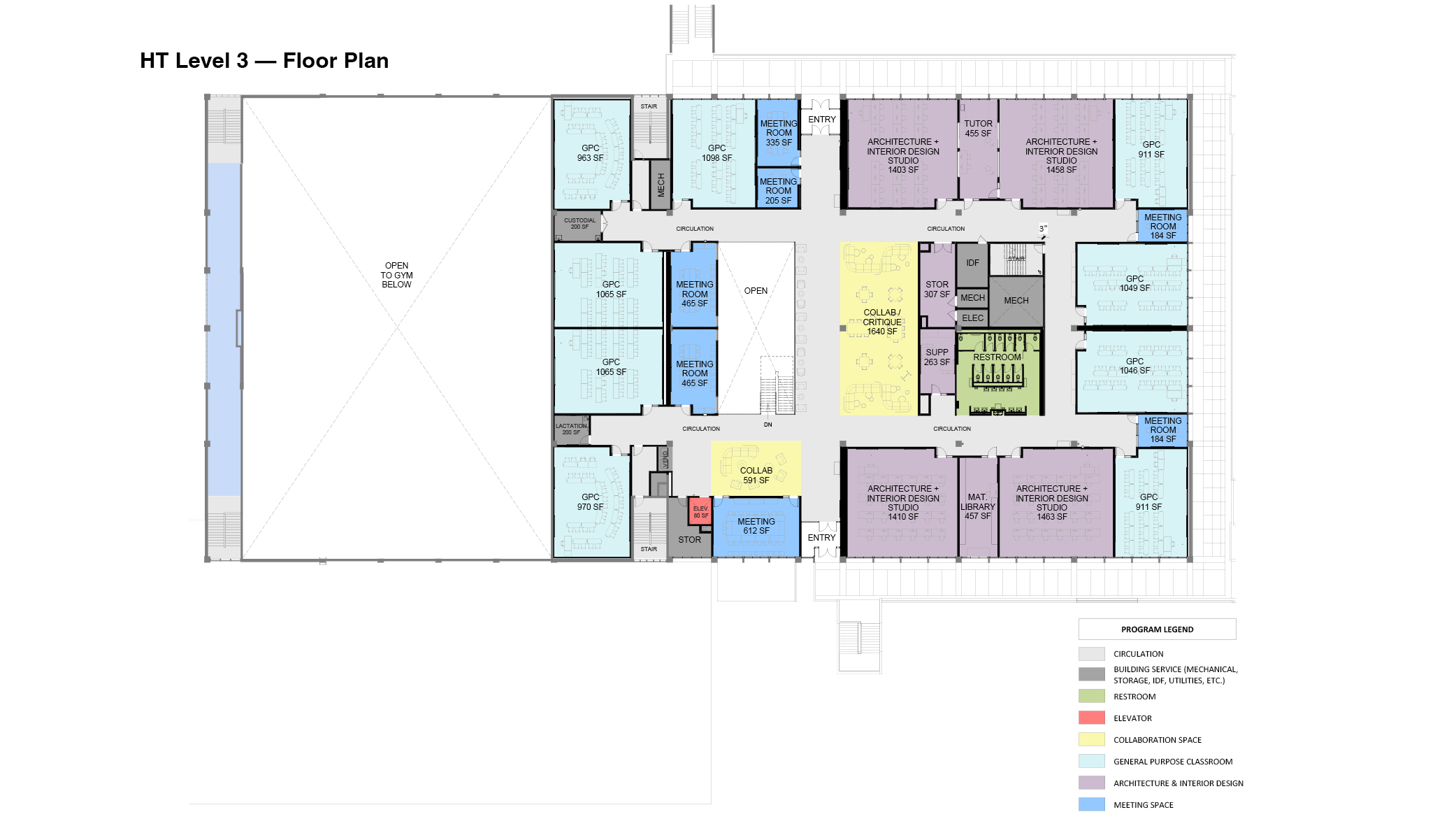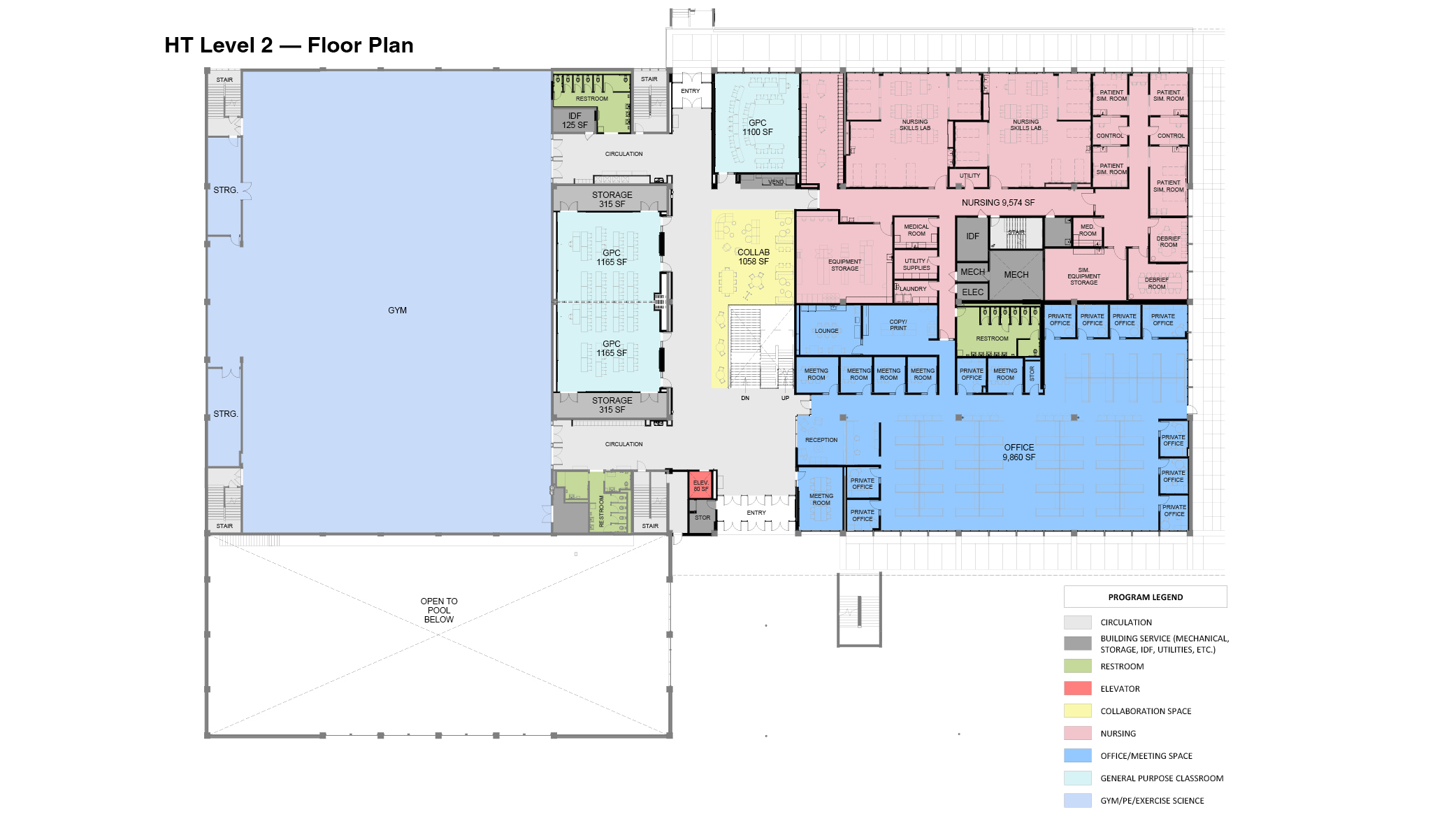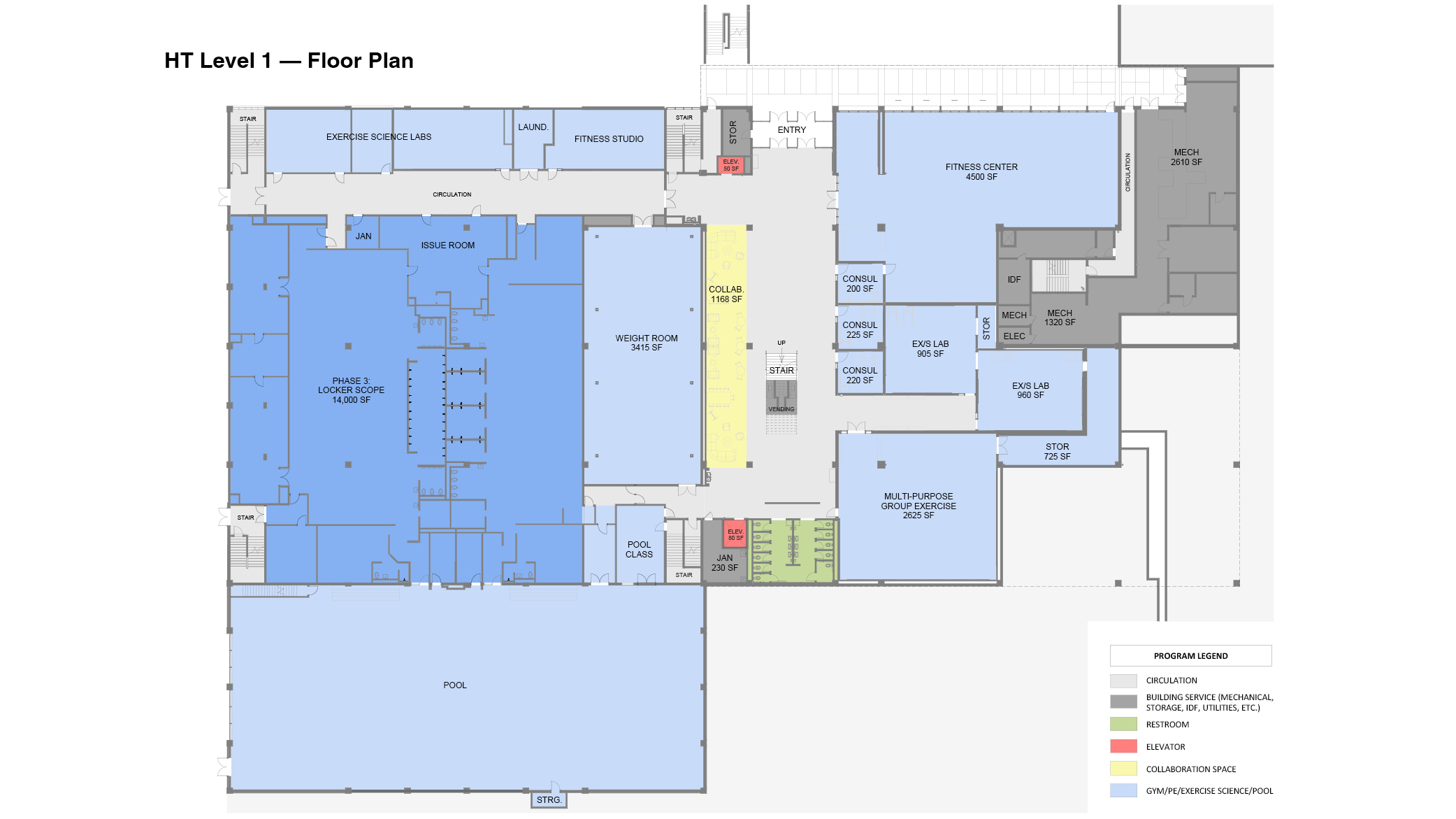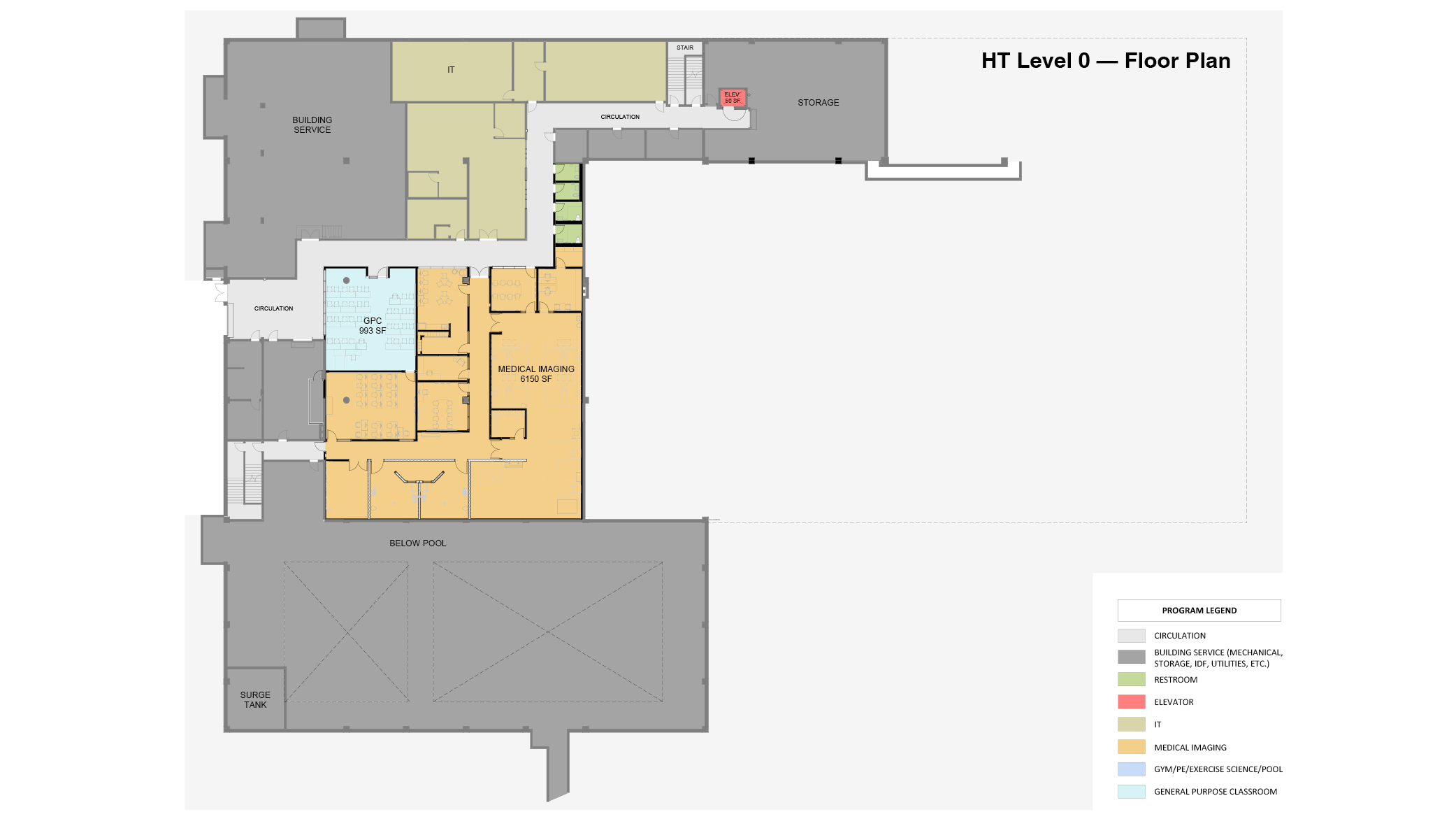 Outreach
These opportunities are offered to project stakeholders. Staff, faculty, and students are encouraged to become involved.
All-user Locker room Input Session:

May 25, 2021
Study and Collaboration Areas and All-user Restrooms, Winter 2021 Survey: February – March 2021
Collaborative Spaces, Flexible Learning Classrooms and All-user Restrooms Student Focus Groups: November 13, 17 and 18, 2020
HT Conversations with Q&A for Students, Staff and Faculty: October 27 and 29, 2020
All-User Restrooms, All-User Locker rooms and Pool Access Student Focus Group: March 11, 2020
Share Fair: February 4, 2020
Sustainability Workshop: January 15, 2020
Sustainability Workshop: January 17, 2020
Project Update with Q&A for Students, Staff and Faculty: October 24 and 28, 2019
Far SW Neighborhood Association Presentation: October 22, 2019
All Sylvania Students Critical Race and Spatial Theory Workshop: October 9, 2019
Students of Color Critical Race and Spatial Theory Workshop: October 8, 2019
Campus In-Service session: September 17, 2019
West Portland Park Neighborhood Association Presentation: September 12, 2019
SWNI Presentation: June 17, 2019
User focus groups: May, June, and July 2019
Feedback Fair II: May 28, 2019
Feedback Fair I: April 9, 2019
Visioning Open House: March 14, 2019
Visioning Workshops: February 25 and March 11, 2019
FAQs
What is the scope of the HT building renovation?
The HT Building is functionally separated into two halves over 3 and 4-floor levels respectively: the east side contains instructional spaces, offices, and open atrium circulation space. The west side contains the gym, pool, and other fitness-associated spaces. The HT building renovation will occur mainly on the east side of the HT building. A portion of the HT basement, which sits on the west side of the building, is also part of the renovation and will house the Medical Imaging department.
There are plans to include west side renovations for the first floor of the HT building as part of the next bond. Currently these west side renovations under consideration include a new all-user locker room, Exercise Science & Physical Education spaces, and operational areas for the locker room and pool.
How will programs be accommodated while construction in the HT building takes place?
Exercise Science and Physical Education will maintain some of the westside instructional areas such as the Gymnasium on the second floor, where the Fitness Center has been relocated (during HT Building construction). Instructional areas to remain open on the first floor include the pools, locker rooms, and the Exercise Science Labs.  A swing plan was developed for the departments and classes that are required to move due to the construction. Some programs will move permanently, while other programs will move temporarily to wait for the construction.
What programs will come back to the HT building when renovation is complete?
The renovation will deliver spaces in the HT building as outlined below.
Level 3: Several General Purpose classrooms and Architecture and Interior Design instructional spaces and labs, and support/common space.
Level 2: Nursing teaching areas and laboratories, the consolidated offices suite, (2) all-user restroom locations outside of the existing Gymnasium, and Exercise Science instructional space.
Level 1: Physical Education & Exercise Science and Dance instruction space.
Basement: Medical Imaging instructional space and a General Purpose classroom, and additional all-user restrooms. IT offices will remain in the building.
How long will construction last?
Construction of some of the enabling projects started in fall 2020, which included the installation and construction of the Temporary Modular Units (Modulars) in Sylvania's parking lot 12. The Modulars provide space for Architecture and Interior Design offices, Physical Education & Exercise Science offices, and several general-purpose classrooms while construction takes place. Construction of the Medical Imaging project in the basement of HT started in December 2020. The next large project after the Medical Imaging project is the construction of the Biology department offices and laboratories on the second floor of the ST building, which started in winter 2021. The bulk of the construction on the east side of the HT building is slated to begin in summer 2021 and it will last until spring 2023.
Is there a chart showing when and where the programs will move?
Yes. The chart can be found in this link. 
Why is Biology moving out of the HT building?
Several factors were considered early in the planning process when determining the final location of the Biology department. The investment in a temporary location for laboratories that can offer students, faculty, and staff safe and comfortable learning spaces was extremely expensive. In addition, the college considered how Biology fit with other programs on campus in alignment with the Academic and Career Pathways. The design team has worked closely with the Biology department to develop spaces that can support quality, experiential, and hands-on education for the next 50 years. Biology  will be located in the ST building along with other science program spaces.
The decision to relocate Biology to the second floor of ST was predicated on the relocation of the Architecture and Interior Design classrooms and offices, as well as Math and Engineering offices. Architecture and Interior Design will be moved into HT once the renovation is complete. In the meantime, their temporary classrooms and offices can be found in the new Modulars located in the P12 parking lot. During the last weeks of December 2020, the P&CC team successfully moved the Math offices to SS, and Engineering offices were moved to their new home in the TCB. 
Do all the programs that were operating at the HT building stay at Sylvania Campus during construction?
Programs will stay at Sylvania Campus with the exception of classes taught at the Nursing Simulation Lab, which will be offered out of the Cascade Campus. A brand-new space for the Nursing Simulation Lab is currently in the design phase and will be built within the existing Cascade Campus Public Services Education building (PSEB). When construction at the HT building is complete, the Simulation Lab will become home to the Cascade Campus' EMT program.
The Dental Program moved out of the HT building to their new location on the third floor of the Vanport Building (formerly known as the Fourth and Montgomery Building) in downtown Portland. 
Will there be access to the HT building and functioning restrooms while construction happens?
There will be access to the basement of the building where the IT department has its offices, and where the Medical Imaging laboratories and teaching areas will function. Part of the basement renovation includes the addition of several all-user single occupant restrooms. These restrooms should be fully functional and complete when construction starts on the east side HT. The former fitness center (HT 02) has been temporarily moved to the Gym. During construction of the east side of HT, there should still be access to the Gymnasium, locker rooms, exercise science teaching spaces, and the pool. In addition to the new restrooms in the basement of HT, there will also be new restrooms available to use during construction located just outside the Gym on the second floor. When campus opens back up, please be sure to read all signs while near any area of construction. As construction progresses, routing around the site will change. Please follow all signage as it is there to keep everyone safe.  
Will the HT building's floors open in stages or would the entire building open at once?
Once the construction of the Medical Imaging suite is finished, the entire basement will open. The Gymnasium on the second floor will also be open for PE programming and to accommodate the Fitness Center swing space. After that, all construction activities will need to be completed for the building to open for staff and students.
Where will the gym equipment go that used to be in the basement HT02 and HT08?
The Fitness Center (HT 02) equipment has been moved to the Gymnasium on the second floor temporarily until the new Fitness Center space is opened in 2023. The Weight Training Room equipment (HT 118) will be relocated to the Gymnasium as well. The group exercise programming that normally occurs in room HT 08 will be relocated to a new swing space within the AM building. The Engineering department is agreeable to let the Physical Education department utilize the AM 125 and 126 rooms. The current plan is to remove the demising wall between these spaces to allow for group exercise activities. Once the HT renovation is complete and PE moves into their new spaces, the AM 125 and 126 will be converted into one large classroom for Engineering. This has been a great partnership between programs at the college to meet the short term needs of one group, while also fulfilling long term goals for another group. 
Will there be fitness classes during the construction of the HT building?
Yes, there will. The Physical Education & Dance program will continue to offer a variety of courses utilizing the Gymnasium, Pool, Outdoor Sports Fields, Track, and Group Exercise Swing spaces.
The Exercise Science program will continue to offer their full program of classes.  
What are the plans for restrooms in the HT building?
Early in the design process the project team identified the need to incorporate restrooms on all floors of the HT building. All the restrooms planned for this building will be all-user restrooms. This is in line with the college's initiative to increase gender inclusive spaces.
What are the all-user restrooms going to look like?
All-user restrooms (also known as all gender) are facilities that anyone can use regardless of their gender. The HT renovation will include single restrooms and multi-stall all-user restrooms. All restrooms will have fully accessible options.
Single all-user restrooms are private rooms with a toilet, sink, and in some cases a shower. 
Multi-stall all-user restrooms will have shared sink areas for all users. The individual toilet compartments will have full height walls, doors with frames, exhaust fans, and locks that indicate open/occupied. These restrooms benefit everyone including parents with children of a different gender, people with disabilities who may require assistance of a person of a different gender, transgender and gender diverse people. Baby changing stations will be available in some restrooms.
Are the HT locker rooms planned to be remodeled?
The HT locker rooms are not in the scope of this current renovation project for the east side of the building. However, there is a plan to completely remodel the locker rooms during the next phase of work for the west side of the HT building as part of the next bond. The locker rooms are planned to be designed for all users to feel welcome by incorporating private shower stalls including a dry area for dressing, private dressing rooms, private toilet compartments and lockers in a shared area.
Is COVID a consideration in planning for the HT building renovation?
The project team is designing for spaces with a pre-COVID framework. Depending on when the college decides to open back up for in-person instruction, there will be a number of operational considerations that will be implemented to ensure everyone's safety such as restricted paths of travel and room capacity in each space. These changes would be district-wide and not specific to the HT building alone. 
What is the thinking behind the consolidated offices in the renovated HT building?
The consolidated office is occurring to maximize the areas in the HT building. This is different from the current structure, where each of the HT departments have their own private spaces. The consolidated offices option was selected because it provides a number of benefits. The consolidated offices provide a centralized location for students to connect with faculty and programs. This arrangement will increase student access to support services because of the overlapping work hours from support staff. In addition, users of the space will benefit from the efficiencies of shared assets, such as meeting rooms, storage, office equipment, and a break room. The consolidated office suite also allows for the other programs and uses of the building to gain more square footage by avoiding redundancies.
What types of spaces are included in the consolidated office in HT?
The consolidated office in the HT building combines all the different departments' office spaces into one, large 10,000 square foot area. Plans for this suite include a reception area, small group meeting rooms, a medium size conference room, faculty workstations, private offices, departments' storage, a shared break room, and a shared copy/supply room. The main entry for the consolidated office suite is located off the central atrium space along a prominent corridor to ease wayfinding.  
What will be the set up for the new classrooms in the building?
The HT team was tasked by the college to determine how contemporary, student-centered, and culturally responsive teaching methods can shape the design of PCC classrooms. The HT building general-purpose classrooms will be the pioneers of a new design. To plan for these spaces, the base consideration is general-purpose classrooms that incorporate furniture and technology to encourage different types of teaching and learning modalities. Design and stakeholder input continues into Winter term.
What are the plans for outdoor improvements?
The current plans call for several changes which continue to be studied. To begin, there are plans to remove the southeastern concrete "bunker" of restrooms outside of HT (between HT and CC). Removing the structure and adding a lawn area opens and renews the connection between HT and CC. Also, it creates a new accessible outdoor area. Additionally, landscape and furniture are planned that will encourage outside activities, such as teaching, playing, relaxing, and studying. A few permanent outdoor tables with seating areas and different locations for benches are in the plans. Raised planter beds are located on the southeastern side of the open area. In between HT and CC there are also plans to include some hard paved areas that can be used by programs for instructional space.
How can students become part of the design process?
Since early stages of the design, the project has sought student involvement via targeted events, focus groups, workshops, and invitations to campus wide open houses and feedback fairs. There are opportunities underway during Winter 2021 to participate in focus groups to review plans and provide input regarding collaboration areas, classrooms, and all-user restrooms. A campus-wide survey is planned to go out during Winter term 2021 to capture comments and feedback. The project team also invites students to review updates on the project webpage, and reach out with questions and comments.
How is stakeholder input incorporated into the project?
This project required, sought, and continues to look for opportunities to learn from students, faculty, and staff. Extensive stakeholder efforts were pursued during visioning, programming architectural meetings, and focus workshops. Input continues to contribute and shape design of the spaces. The project team documents input and comments received from each meeting and works with the Planning & Capital Construction team to incorporate what is feasible and within budget into the plans.
Not all the input received is incorporated into the project plans. This project scope has its limits and it must work within time and budget constraints, as well as create a project that can be maintained and properly staffed when it is handed over to Campus and Facilities Management Services.
What are the guiding principles for the design of the HT project?
The principles are framed by learning-centered for student success. The principles were formulated with input from all campus stakeholders during the pre-design phase. The principles that help guide the decisions and the inspiration for design are below.
Welcoming all while representing program missions.

Making equitable spaces for inclusive teaching and learning.

Nesting specialized programs in a collaborative environment.

Centering on health and wellness in a sustainable manner.
In addition, principles of Critical Race Theory (CRT), Universal Design, and Sustainability & Resiliency guide the process and the approach to design.
How will the HT construction project promote construction equity and access?
Construction has historically been a male dominated and relatively racially homogenous industry. With a workforce shortage looming, the need to build a workforce that better reflects the community is critical. PCC understands that shifting workplace culture and building the skills of diverse workers leads to economic prosperity and a stronger workforce. The HT project will model PCC's commitment by asking construction contractors to achieve 20% BIPOC trades workers (black, indigenous, people or color), 15% tradeswomen, and 20% apprentice hours in each trade. Additionally, minority, women, emerging and disabled veteran-owned businesses should be performing 20% of the subcontracting work. PCC will work closely with contractors to track and achieve these goals in our commitment to equitable access to high-wage construction careers. In addition, there is heavy emphasis on all PCC projects to foster respectful workplaces in alignment with the Safe From Hate Pledge.
What sustainability considerations are included in the plans for the renovation?
The project is pursuing LEED for Building Design + Construction certification and WELL Building Certification. Some of the initiatives that support the project's sustainability and resiliency goals are:
replacing the roof, providing space for photovoltaic array (also known as solar panels) to offset the environmental impact of electrical use;

planning for the updated mechanical system to bring cool night time fresh air into the building, technique often referred to as night flushing, by regulating the percentage of outside air intake throughout the day and night to reduce energy consumption during peak cooling hours;

installing new windows with low-e glazing to increase energy efficiency and improved daylighting at interior spaces, contributing to healthier learning environments;

saving the existing concrete structure which reduces the embodied energy needed for the project (the energy required for the extraction, processing, manufacture and delivery of building materials to the building site), while taking advantage of the building's thermal mass;

incorporating a new air handler unit and ductwork that will provide more efficient heating; and improved indoor air quality;

installing efficient, low flow water fixtures to conserve water;

using low VOC sealants, paints, carpets and wood products to preserve the quality of life of the building occupants; and

installing new LED lights throughout the building which will reduce energy consumption.
HT – Health Technology building
ST – Science and Technology building
CT – Communications Technology building
CC – College Center building
SS – Social Science building
Medical Imaging suite
New non-energized training equipment
Students practicing upright x-ray positions with the new equipment
New radiology lab
Students practicing x-ray positions helped by faculty
Energized equipment
Twin x-ray room console
Equipment taking a x-ray
General purpose classroom
Computer lab
An enabling project in preparation for the HT east side renovation delivered transformed spaces for the Medical Imaging Program in the basement of the HT building. The new spaces designed for medical imaging students training include a radiology lab used for practicing positioning, twin x-ray rooms with a console, a computer lab, a modest kitchenette and student lounge area and meeting rooms. The HT basement also gained a general purpose classroom and four single user restrooms with this renovation. The medical imaging learning spaces are complemented with technological upgrades such as new non-energized training equipment. 
Overview
PROJECT COMPLETED
Project manager: Tim Kremer
Design team: Hacker Architects
Contractor: Lease Crutcher Lewis
Square footage: 7,500
Timeline: March 2020 – July 2021
Funding: 2017 bond
Biology suite
Sylvania's ST building second floor new student collaboration areas
Student area at the north side of ST second floor
Student area with white board wall in ST second floor
Until 2021, the biology labs used to be nested in the HT building. As part of the planning for the renovation of the HT building, these labs were identified as one of the most complex projects to swing ahead of the construction schedule. The Sylvania Campus Science & Technology (ST) building presented program synergies as well as an opportunity to expand the program square footage to meet its current and future needs. The biology suite built in the second floor of the ST building was completed during fall 2021 offering six brand new science laboratories: two general biology labs, two anatomy and physiology (A&P) labs, one microbiology lab, and one flexible lab. Each of these labs features state-of-the-art lab stations. The build out also includes a large stockroom, office space and unique student areas.
Overview
PROJECT COMPLETED
Project manager: Tim Kremer
Design team: Hacker Architects
Contractor: Lease Crutcher Lewis
Timeline: March 2020 – September 2021
Funding: 2017 bond
Automotive & Metals building upgrade
Interior rendering of renewed classroom at AM building
Exterior photo of Automotive & Metals building
Based on extensive evaluations of the existing AM building and its systems, construction started in June 2021 to address several deferred maintenance items and deliver improved areas. The work includes upgrades to the existing mechanical system; a new exhaust system for the Makerspace equipment; replacement of the electrical gear; and the remodel of existing classrooms 125 and 126 into one large temporary swing space to accommodate PE classes during the HT renovation. Once the HT Renovation is complete, this space will be fitted out as a large new classroom for the Engineering department.
Exterior scope includes accessible parking and sidewalk upgrades in the parking lot east of the AM, new site lighting, and restriping of the existing lot. This project is pursuing the percentage for Green Grant with the City of Portland. This funding would allow extending the existing Sylvania Falls stormwater treatment facility at the entry of the P5 lot. This will not only continue the college's sustainability and environmental efforts on the campus, but will also act as an educational component for the college and surrounding community.
Overview
Project manager: Tim Kremer
Design-Build team: Fortis Construction/Woofter Bolch Architecture
Budget: $3,000,000
Square footage: 70,000
Timeline: November 2019 – December 2021
Funding: 2017 bond
College Center roof replacement –  Phase I
Skylight section of the roof completely replaced
Torch applied cap sheet on the roof areas
Phase I of this project replaced the raised roof areas directly over the central mall of the College Center. While there is a plan for replacing the entire CC roof in the coming years, this work is intended to address immediate needs and resolve existing leaks.
Overview
Project manager: Tim Kremer
Contractor: Garland Company
Budget: $250,000
Timeline: June 2019 – November 2021
Funding: 2017 bond
Campus Wayfinding
The project will enhance the existing wayfinding signage throughout the Sylvania Campus. The work will include an initial assessment of existing signage and through engagement with the different stakeholder groups during the different phases of design, improvements to wayfinding will be made centering accessibility. Updates to signage will target for example building identification, entrances, vehicular wayfinding, and campus maps to name a few.
Overview
Project manager: Megan Saari
Consultant team: TBD
Budget: $750,000
Timeline: October 2020 – June 2023
Funding: 2017 bond
Geographic Information System (GIS) buildout
Two existing general purpose classrooms were remodeled to accommodate a new GIS computer lab and space for student collaboration. Thanks to work that entailed new lighting, podiums and finishes along with new furniture & computers, GIS is able to use these new areas.
Overview
PROJECT COMPLETED
Project manager: Gary Sutton
Design team: Hacker Architects
Contractor: Lease Crutcher Lewis
Square footage: 1,800
Budget: $200,000
Timeline: March – September 2021
Funding: 2017 bond
College Center roof assessment
The assessment of the Sylvania Campus College Center's roof helped with the planning and design of the roof replacement. The investigation confirmed as-built plans, design assumptions, and verified the existing roof composition through a series of roof samplings. The College Center roof assessment helped identify priorities to be addressed by the college.
Overview
PROJECT COMPLETED
Project manager: Tim Kremer
Contractor: Kirby Nagelhout Construction Company
Budget: $40,000
Timeline: June 2019 – September 2020
Funding: 2017 bond
Child Development Center
The new, state-of-the-art Child Development Center (CDC) at Sylvania Campus opened Fall 2019. The innovative center was designed to support the educational mission of Sylvania's Early Childhood Education program, which uses the CDC as a practicum site. At this facility, PCC staff will continue to provide high-quality care and education for young children while their parents study or work on campus. The new facility plans allowed for the campus to increase the number of children it serves from 46 to 74. The center features more than 14,000 square feet of light-filled classrooms and programming spaces, as well as 8,000 square feet of landscaped, naturalistic playgrounds with a water feature and real logs and boulders.
Overview
PROJECT COMPLETED
Project manager: Gary Sutton
Design team: GBD Architects
Contractor: Howard S. Wright Construction Company
Budget: $9,217,051
Square footage: 14,263
Timeline: January 2018 – September 2019
Funding: 2008 bond
Outreach
Open House/Ribbon Cutting ceremony: September 17, 2019
Bookstore rooftop HVAC
The Heat Ventilation Air Conditioning unit was replaced in the Sylvania Bookstore. The crew  finalized the work by balancing and cleaning up the control systems.
Overview
PROJECT COMPLETED
Project manager: Laura Ward
Consultant: Glumac Engineering
Budget: $250,000
Timeline: August 2019 – April 2020
Funding: 2017 bond
Utility tunnels
The project team conducted core tests of the existing tunnel structure as well as inspected the existing piping to determine current tunnel status. This information has been turned over to the engineering team for assessment and future recommendations.  No further work is expected during this bond cycle.
Overview
PROJECT COMPLETED
Project manager: Gary Sutton
Consultant: Lease Crutcher Lewis
Budget: $113,500
Timeline: May 2019 – November 2020
Funding: 2017 bond
Dive Pool repair
The current plans are to replace the pool lining during summer 2020. The dive pool is expected to be operational in fall 2020.
Overview
PROJECT COMPLETED
Project manager: Tim Kremer
Design team: Terracon
Contractor: Lease Crutcher Lewis
Budget: $350,000
Timeline: September 2019 – October 2020
Funding: 2017 bond
Fuel tanks Assessment
Inici/EVREN Northwest inc. were hired to assess the condition of existing fuel tanks at Rock Creek, Swan Island and Sylvania to provide the college with a set of recommendations based upon their findings. Recommendations will include potential increases/decreases in capacity based on existing use, potential decommissioning, relocation, disposal, or sale of the existing tanks and their contents. The assessment reported that the Sylvania tanks are in good condition. There is no further action required at this time.
Overview
PROJECT COMPLETED
Project manager: Tim Kremer
Consultant: Inici/EVREN Northwest Inc.
Budget: $46,063*
Timeline: March 2019 – January 2020
Funding: 2017 bond
*District-wide budget
Contact
If you have questions about the project or would like to learn more about it, please contact Gina Valencia at gina.valencia@pcc.edu or 971-722-8416.