Sylvania Campus – Capital Improvements
Health Technology building and site improvements
Feedback Fair on April 9, 2019, photo courtesy of PLACE
Conversation update in October 2019
Students, staff and faculty gathered for information at the February 4, 2020 Share Fair
The renovation of Sylvania's Health Technology (HT) building is the largest project in the 2017 bond. Built in the late 1960's, HT currently houses STEAM and health professions classrooms.
While the massive building is divided into three main sectors (east, west and diving/lap pool), this renovation will focus on the east side of the building with plans to upgrade the remaining areas in the future. The project includes the build out of several departments including Architecture, Interior Design, Nursing, Medical Imaging/Radiography, Physical Education, Exercise Science, and a series of support and collaborations spaces throughout.
While construction takes place, the existing programs on the east side of the building will need to be relocated. Some programs will move temporarily and some permanently in order to provide a better educational synergy for students. In addition to the large renovation for the HT building, P&CC has identified about 20 smaller renovation projects on the campus to accommodate all the departments being displaced during construction. Through diligent coordination and planning, the majority of these smaller renovations will be permanent improvements to the Sylvania campus even after the main HT renovation is complete.
This plan also includes adding some temporary structures onto campus during construction to alleviate some of the needed swing space.
This project has been characterized by its heavy approach to stakeholder engagement. With the help of users and the campus community, the project concluded the predesign phase and is wrapping up the schematic design phase. During predesign, the design team worked extensively with the college to catalogue all of their needs, wants, and must haves for incorporation into the design. During the schematic design phase, numerous test fits have aimed to maximize the efficiency of each program's area within the existing floor plate and structure. The plans show evidence of the HT project goals of increasing wayfinding, accessibility, and inclusivity while also adding to the college's sustainability goals.
The renovation also includes site improvements to enhance campus safety, accessibility, transit, and connectivity. Campus sustainability will be improved with increased landscaping and stormwater retention. Additional trees will extend the campus tree canopy, which can help cool temperatures in parking areas.
Overview
Project manager: Krista Phillips
Design team: Hacker Architects
Contractor: Lease Crutcher Lewis
Project budget: $75,000,000
Square footage: Approximately 100,000
Timeline: December 2018 – March 2023
Bond program funding: 2017
Update
Timeline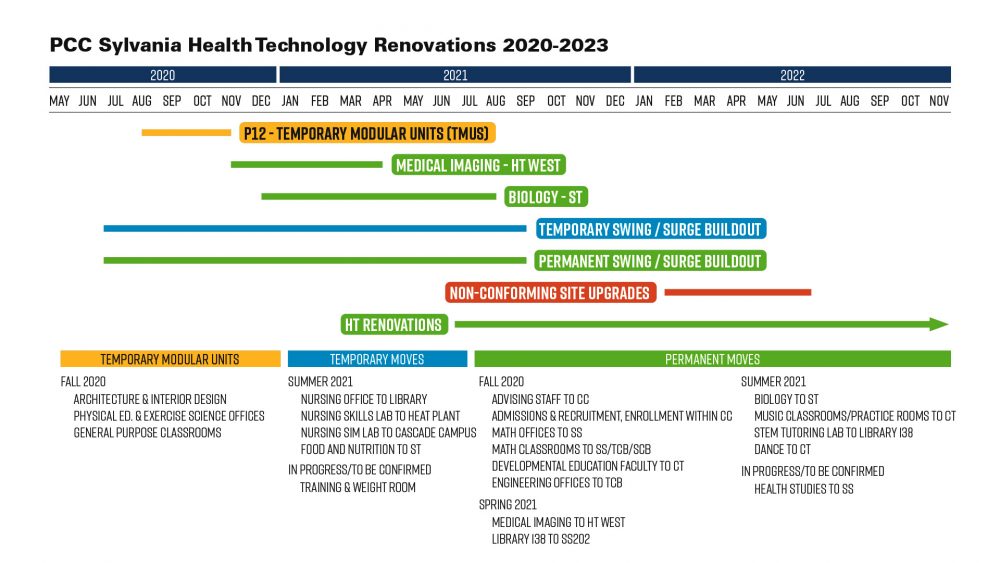 Error: The image above does not have Alt Text
Download HT project graphic schedule
December 2018 – April 2019
HT renovation Schematic Design phase: Visioning and architectural meetings (programming) with user groups
Spring – Summer 2020
HT renovation Design Development design phase
Swing space planning
Temporary Modular Units (TMUs) planning and design with user groups
Biology planning and design with user group
Medical Imaging planning and design with user group
August 2020
Construction of Temporary Modular Units in parking lot 12 starts
November – December 2020
HT renovation Construction Documents phase
Construction of Medical Imaging new suite starts in HT west side basement
Programs in several buildings in Sylvania move:

Temporary move to TMUs:

Architecture & Interior Design
Physical Ed. & Exercise Science offices
General Purpose Classrooms

Permanent moves:

Advising Staff to CC
Admissions & Recruitment, Enrollment within CC
Math offices to SS
Math classrooms to SS/TCB/SCB
Developmental Education Faculty to CT
Engineering Offices to TCB

Construction of Biology areas in ST start
Spring 2021
Construction of Medical Imaging suite is complete, Medical Imaging moves to HT basement
Library 138 moves to SS202
Summer 2021
Programs in east side of HT building move out to allow construction:

Temporary moves:

Nursing office to Library
Nursing Skills lab to Heat Plant
Nursing SIM Lab to Cascade Campus
Food and Nutrition to ST
Training & Weight Room to TBD

Permanent moves:

Biology to ST
Music Classrooms/Practice room to CT
STEM Tutoring Lab to Library 138
Dance to CT
Health Studies to SS (to be confirmed)

Construction in east side of HT starts
February 2022
Non-conforming site upgrades work starts
Spring 2023
Construction of HT renovation is complete
Programs move back to their permanent, renovated areas in HT building
Floor plan
The plans for the renovated HT building include the following programs and areas:
Level 0: Medical Imaging, current IT offices
Level 1: Pool, locker rooms, PE and Dance, Exercise Science
Level 2: Gym, Nursing program, office suite, General purpose classrooms, collaboration areas
Level 3: General purpose classrooms, Architecture and Interior Design, collaboration areas
Get involved
These opportunities are offered to project stakeholders. Staff, faculty, and students are encouraged to become involved.
All-User Restrooms, All-User Locker rooms and Pool Access Student Focus Group: March 11, 2020
Share Fair: February 4, 2020
Sustainability Workshop: January 15, 2020
Sustainability Workshop: January 17, 2020
Project Update with Q&A for Students, Staff and Faculty: October 24 and 28, 2019
Far SW Neighborhood Association Presentation: October 22, 2019
All Sylvania Students Critical Race and Spatial Theory Workshop: October 9, 2019
Students of Color Critical Race and Spatial Theory Workshop: October 8, 2019
Campus In-Service session: September 17, 2019
West Portland Park Neighborhood Association Presentation: September 12, 2019
SWNI Presentation: June 17, 2019
User focus groups: May, June, and July 2019
Feedback Fair II: May 28, 2019
Feedback Fair I: April 9, 2019
Visioning Open House: March 14, 2019
Visioning Workshops: February 25 and March 11, 2019
Child Development Center
The new, state-of-the-art Child Development Center (CDC) at Sylvania Campus opened Fall 2019. The innovative center was designed to support the educational mission of Sylvania's Early Childhood Education program, which uses the CDC as a practicum site. At this facility, PCC staff will continue to provide high-quality care and education for young children while their parents study or work on campus. The new facility plans allowed for the campus to increase the number of children it serves from 46 to 74. The center features more than 14,000 square feet of light-filled classrooms and programming spaces, as well as 8,000 square feet of landscaped, naturalistic playgrounds with a water feature and real logs and boulders.
Overview
Project manager: Gary Sutton
Design team: GBD Architects
Contractor: Howard S. Wright Construction Company
Project budget: $9,345,000
Square footage: 14,263
Timeline: January 2018 – September 2019
Bond program funding: 2008
Get involved
Open House/Ribbon Cutting ceremony: September 17, 2019
College Center building roof
The assessment done in 2019 showed the need for a major roof renovation. This project is in the initial planning stages. Due to several of the surrounding buildings being of similar style and vintage, the HT design team has been tasked with developing a roofing solution/design standard that can be applied to HT and the surrounding buildings. This approach will ensure a standard level of construction quality and efficiency for future projects.
Overview
Project manager: Tim Kremer
Contractor: Kirby Nagelhout Construction Company
Project budget: $5,000,000
Square footage: 130,000
Timeline: June 2019 – October 2021
Bond program funding: 2017
Automotive & Metals building upgrade
The project team developed two separate evaluations of the existing building. The initial evaluation will identify the immediate repairs and upgrades necessary for maintaining the building functionality and academic programs within the next five years. These repairs/upgrades are targeting for the fall of 2020. The second evaluation will outline future potential changes based on current building conditions and academic programs, and their anticipated needs. This effort will help reduce construction costs by considering long term solutions.
Overview
Project manager: Tim Kremer
Contractor: Fortis Construction
Project budget: $6,000,000
Square footage: 70,000
Timeline: March 2019 – August 2021
Bond program funding: 2017
Bookstore rooftop HVAC
The Heat Ventilation Air Conditioning unit was replaced in the Sylvania Bookstore. The crew will finalize the work by balancing and cleaning up the control systems.
Overview
Project manager: Laura Ward
Consultant: Glumac Engineering
Project budget: $370,000
Timeline: August 2019 – April 2020
Bond program funding: 2017
Utility tunnels
The project team is conducting core tests of the existing tunnel structure as well as inspection of existing piping to determine if replacement is necessary.
Overview
Project manager: Gary Sutton
Consultant: TBD
Project budget: $100,000
Timeline: May 2019 – September 2020
Bond program funding: 2017
Diving Pool repair
The current plans are to replace the pool lining during summer 2020. The diving pool is expected to be operational in fall 2020.
Overview
Project manager: Tim Kremer
Design team: Terracon
Contractor: Lease Crutcher Lewis
Project budget: $250,000
Timeline: May 2019 – September 2020
Bond program funding: 2017
Fuel tanks above and below ground
Inici/EVREN Northwest inc. were hired to assess the condition of existing fuel tanks at Rock Creek, Swan Island and Sylvania to provide the college with a set of recommendations based upon their findings. Recommendations will include potential increases/decreases in capacity based on existing use, potential decommissioning, relocation, disposal, or sale of the existing tanks and their contents. The assessment reported that the Sylvania tanks are in good condition. There is no further action required at this time.
Overview
Project manager: Tim Kremer
Consultant: Inici/EVREN Northwest Inc.
Project budget: $250,000*
Timeline: June 2019 – March 2020
Bond program funding: 2017
*District-wide budget
Contact
If you have questions about the project or would like to learn more about it, please contact Gina Valencia at gina.valencia@pcc.edu or 971-722-8416.