Opportunity Center at 42nd Avenue – capital improvements
June 2022 Main entrance mass timber assembly
June 2022 First structural beams
June 2022 Site seeing from Killingsworth
April 2022 Aerial view of the site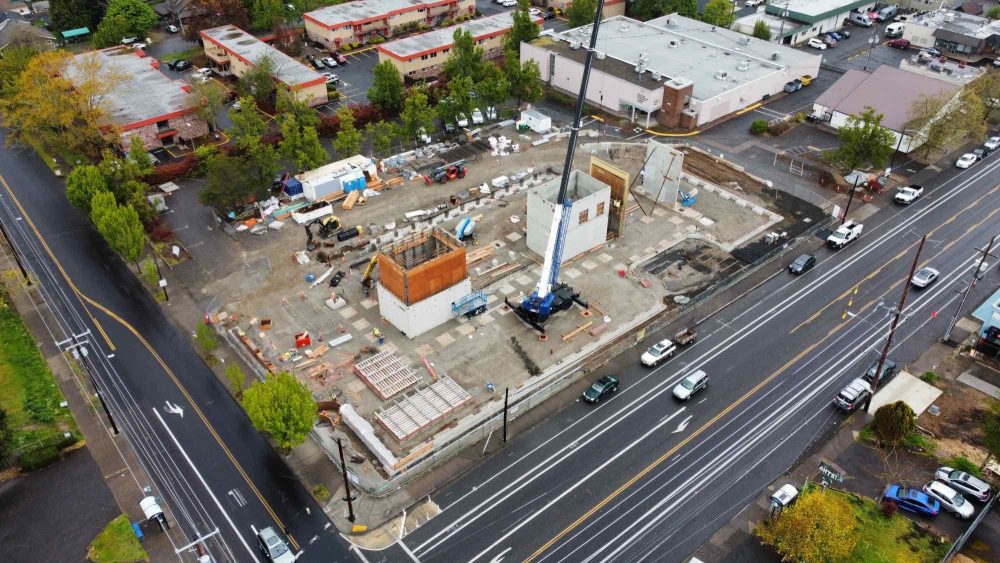 April 2022 Aerial view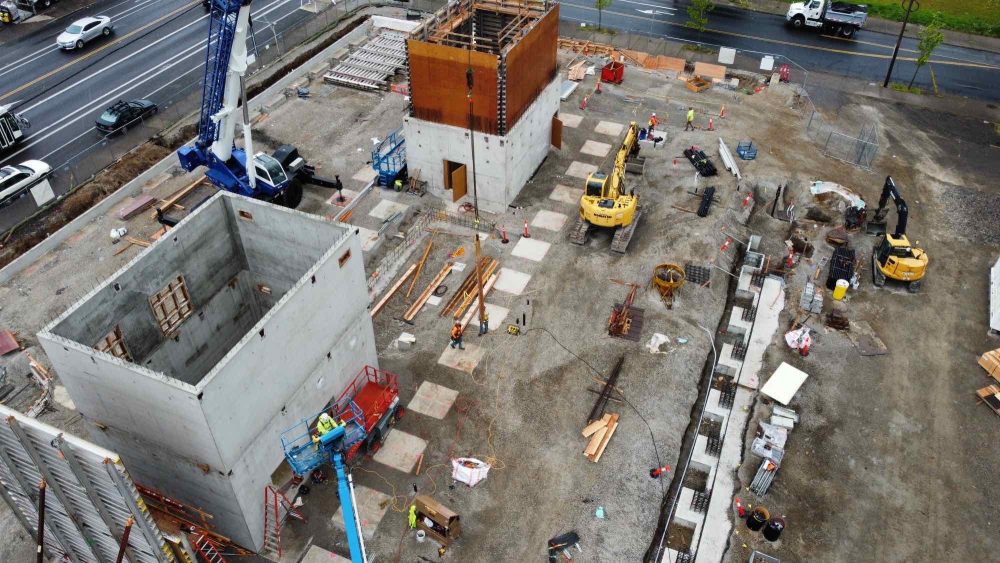 January 2022 Staff breaking ground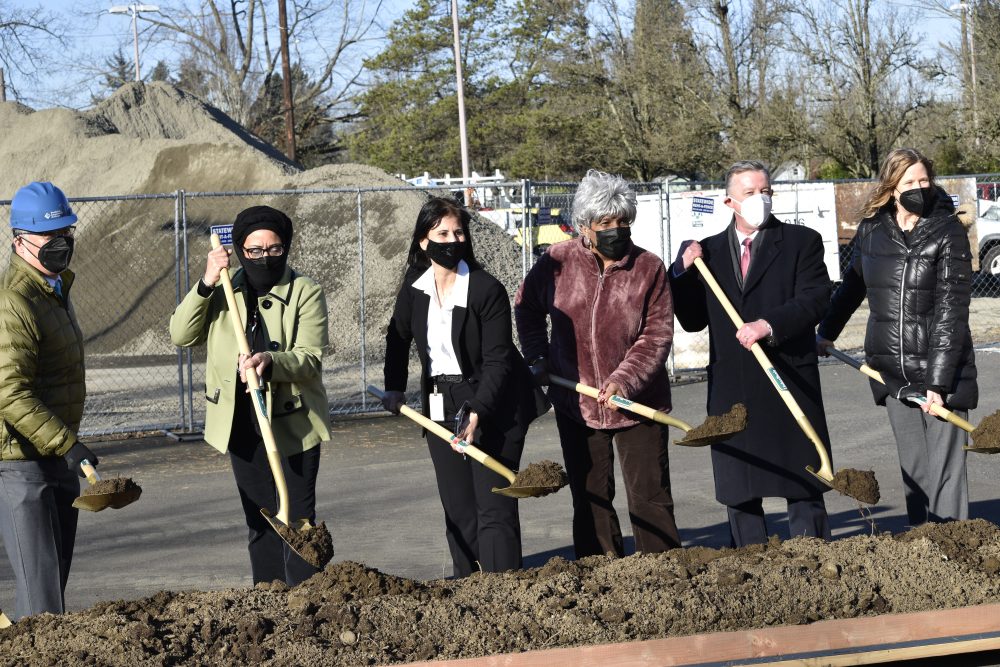 January 2022 Groundbreaking ceremony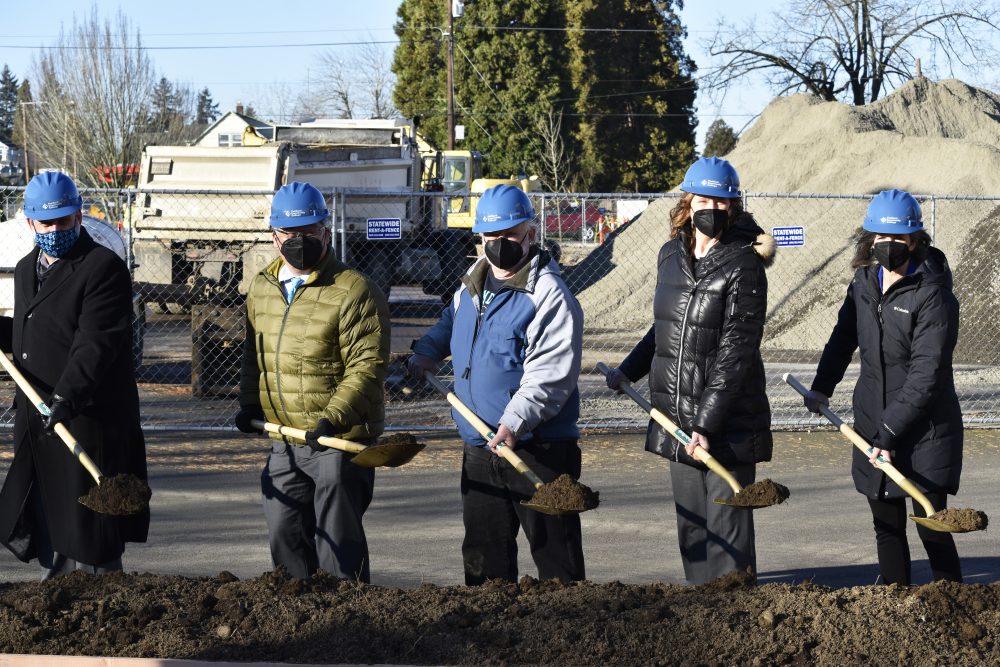 Exterior rendering of the building entry
Exterior rendering - SW corner of the building
Exterior rendering - SE view of the building
Exterior rendering looking into the community room
Interior rendering of the community room
Interior rendering of the community room
Interior rendering of building lobby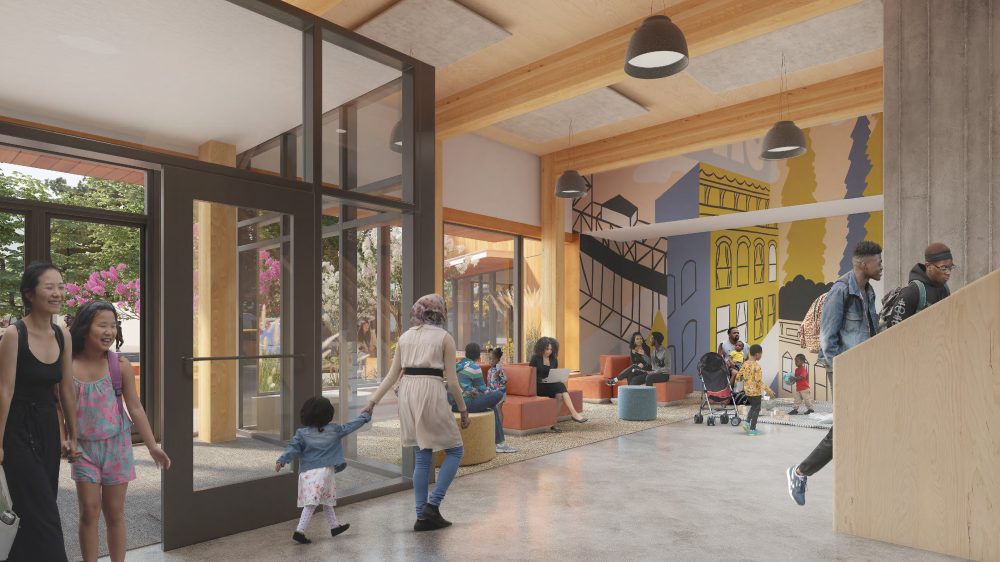 Interior rendering of office areas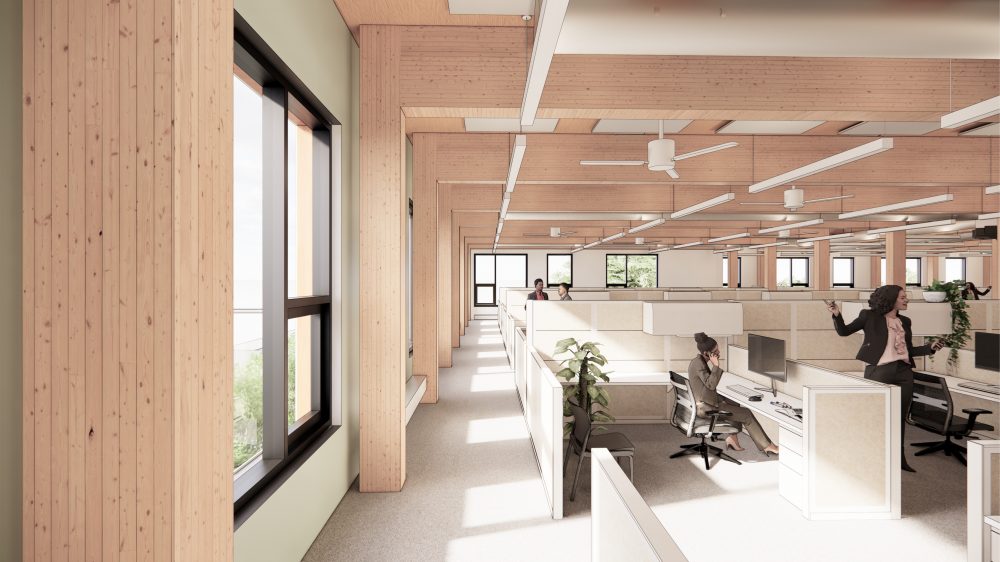 Neighbors shared their thoughts on services and amenities for the site
Staff joined community members to discuss the future of the center
Living Cully staff and volunteers collected surveys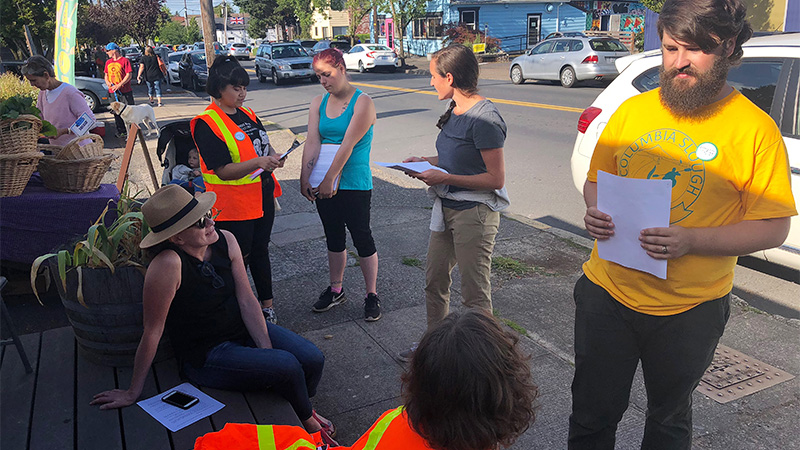 Focus group participants mapped out spaces in their neighborhood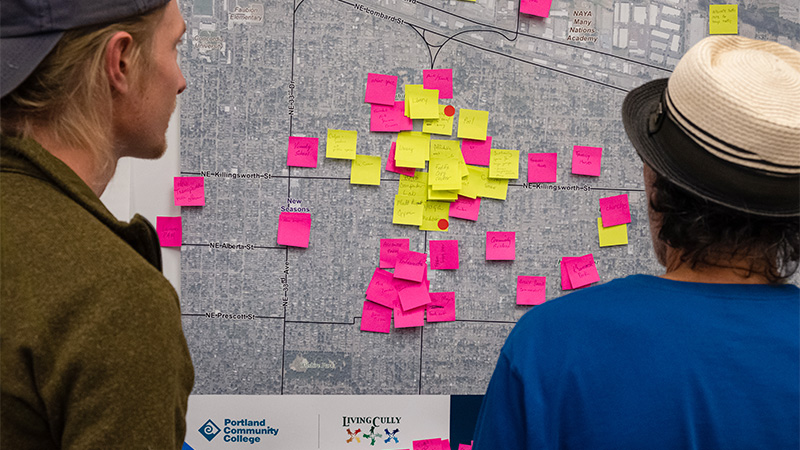 The Community Open House promoted strong interaction for participants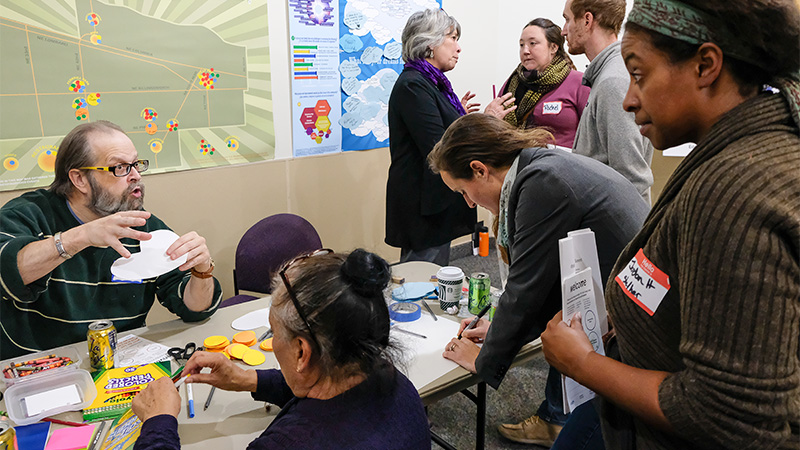 Staff members continue to actively inform programs and design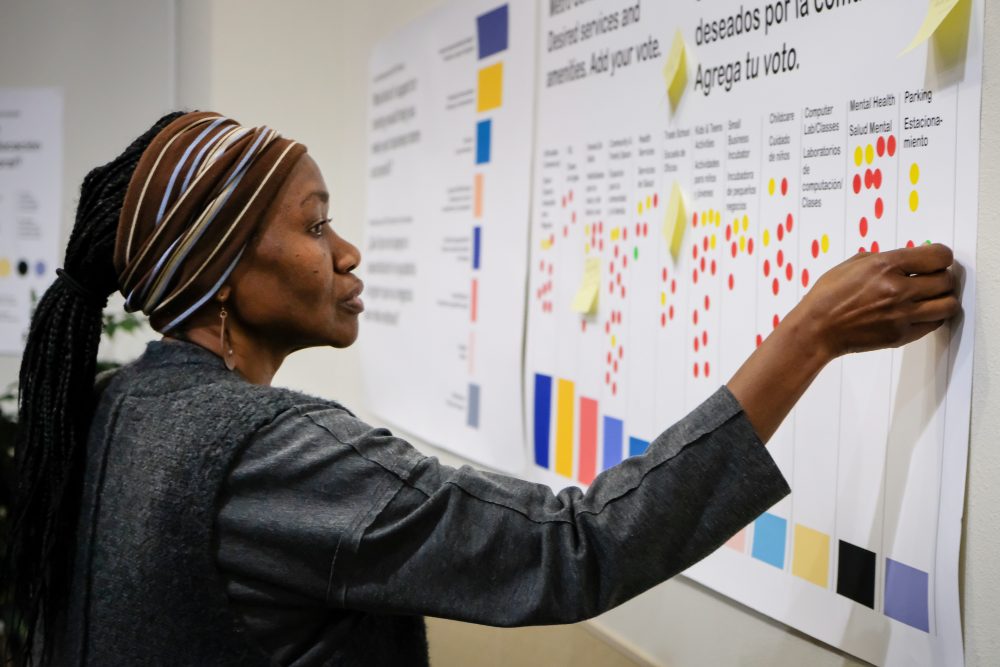 Neighbors chatted in a friendly way at the Community Open House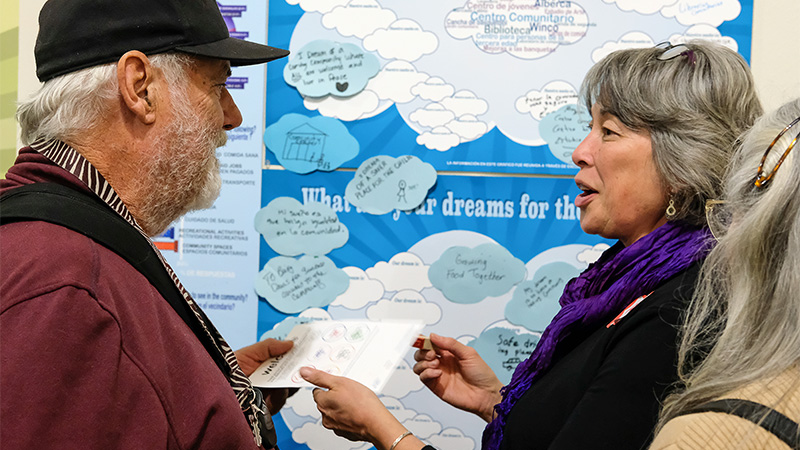 Project manager: Dusty Hoerz
Design team: Bora Architecture & Interiors
Contractor: Andersen Construction Company
Project budget: $36,000,000
Square footage: 50,000
Timeline: June 2019 – June 2023
Bond program funding: 2017
With funding from the 2017 bond measure, the Opportunity Center at 42nd Avenue (previously the Portland Metropolitan Workforce Training Center (PMWTC)), is being redeveloped. A new two-story facility will be built with classrooms, offices, and meeting rooms for both PCC staff and community partners such as the Oregon Department of Human Services. The redeveloped facility will support the programmatic goals of this center. The Opportunity Center at 42nd Avenue will continue to offer the existing programs and will add to those following an opportunity center model. Additionally, PCC is introducing affordable housing on the property in partnership with Home Forward.
By spring 2020, the design team completed the programmatic architectural meetings with the users of the building to capture their needs for space. In addition, the initial site determination was reached including the location for all the elements of the site (building, housing, parking, and open space). By the end of 2020, the Opportunity Center at 42nd Avenue redevelopment finalized its design development phase. In 2021, the project moved towards construction documentation.
This project broke ground in January 2022 and aims to complete construction by summer 2023.
Updates
Owner architect contractor meetings
Spring 2021 update – available in two languages
Summer 2020 update – available in four languages
Spring 2020 and winter 2020 updates
For comments on the information presented, please contact bond@pcc.edu.
Timeline
June – November 2019
Living Cully outreach to neighboring communities
November 2019 – March 2020
Project team training
Architectural programming phase with users
Site development planning phase
April – June 2020
July – November 2020
December 2020 – April 2021
Construction documents phase
May – December 2021
January – February 2022
Site preparation
Contaminated soil removal
Underground utilities
March – July 2022
Concrete footings and foundations
Timber frame erection
Structural steel erection
Public underground utilities
August – November 2022
Exterior wall erection
Building dry in
Exterior cladding completion
Begin interior framing
Begin MEP rough-in
December 2022 – February 2023
Complete MEP
Begin interior finishes
Continue underground utilities
March – June 2023
Complete finishes
MEP commissioning and testing
Complete underground utilities and site light
Site landscape work
Site furnishing install
Interior furniture install
Summer 2023
Close-out for the project
Users move-in
Floor plans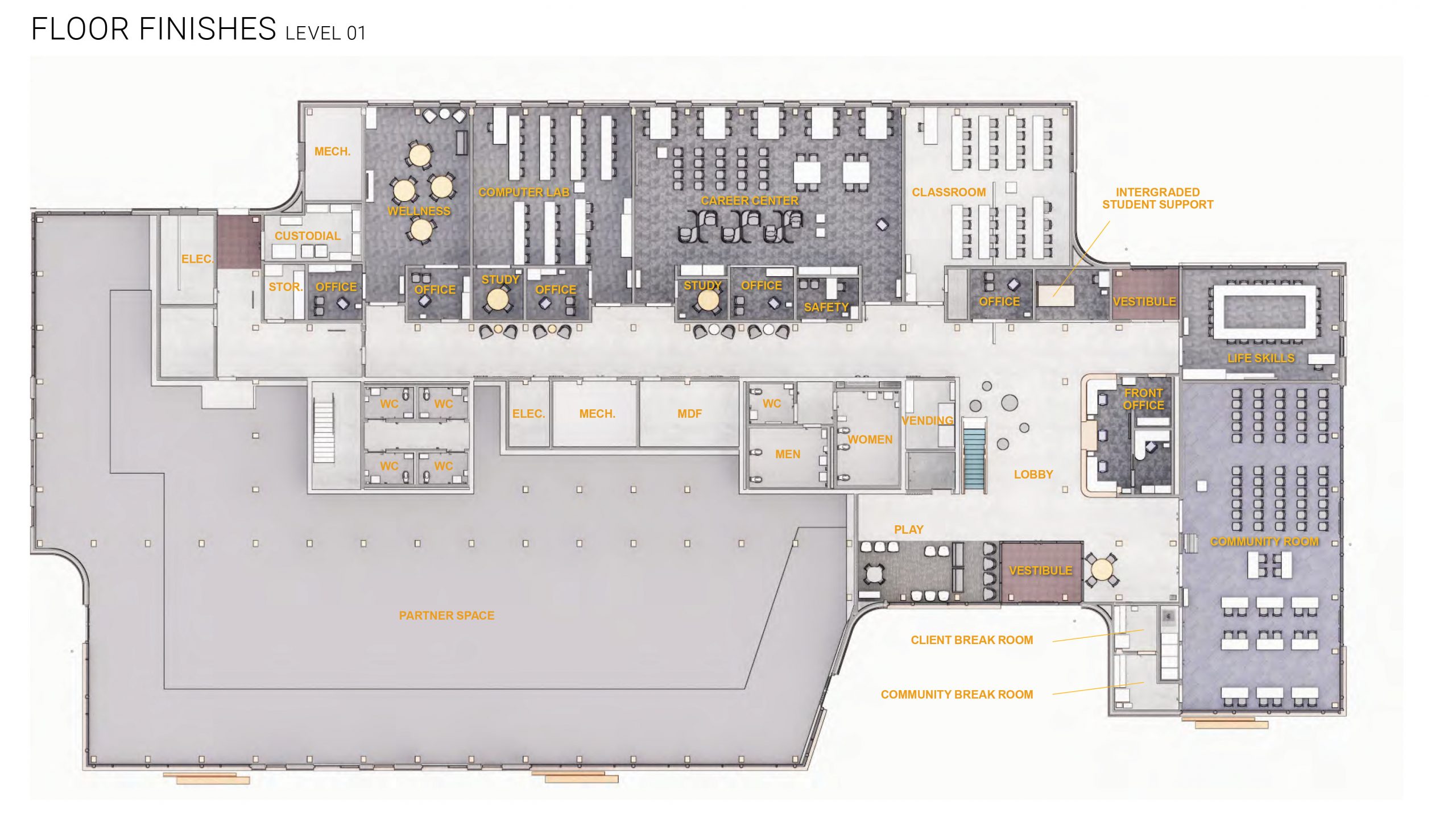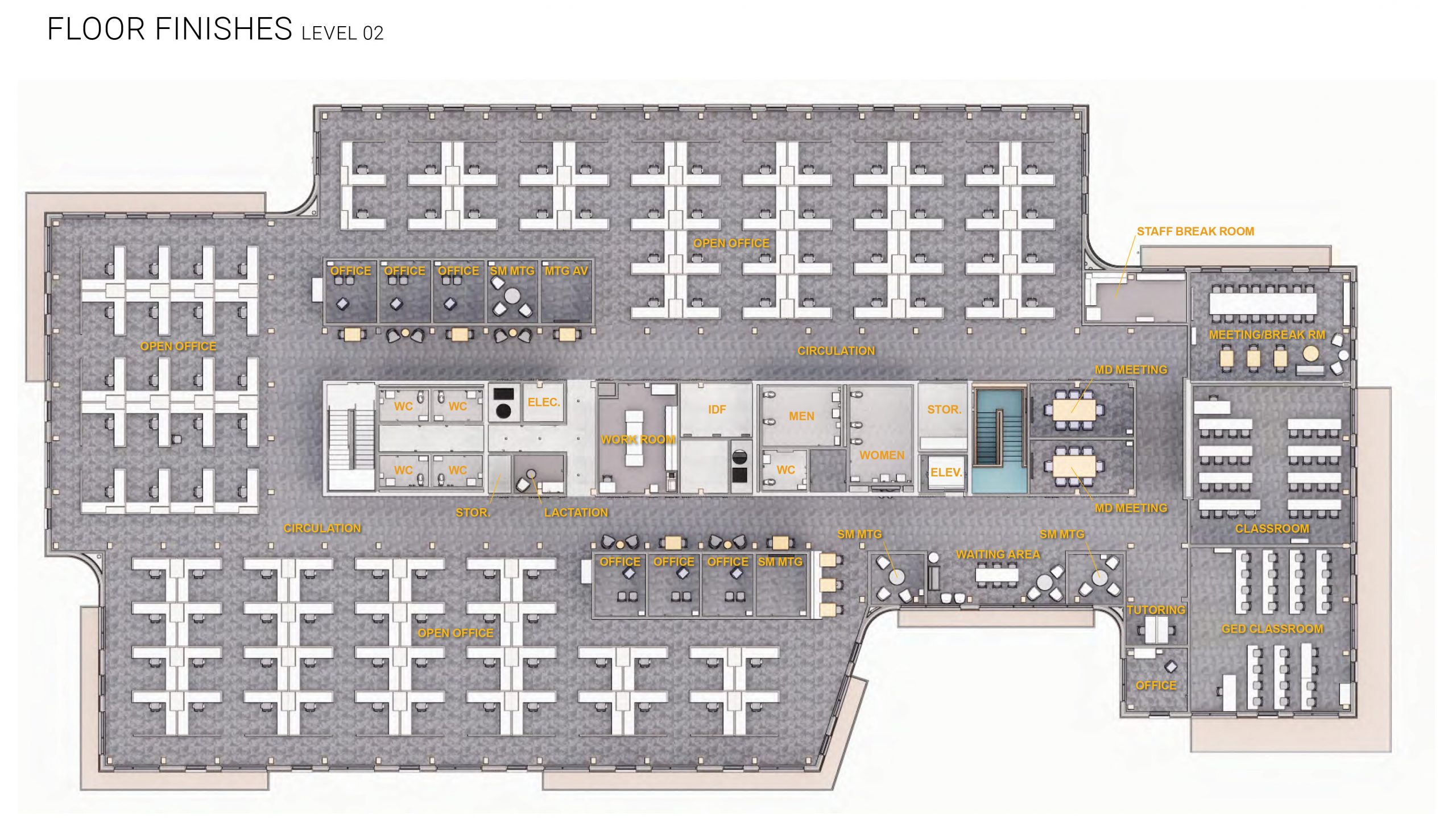 The layout of the two-story, 50,000-square-foot building includes:
Lobby and reception area
Large community room
Classrooms
Computer laboratory
Career center
Conference and meeting rooms
Office areas
Common areas
Partner space (10,000 square feet)
Outreach
Fall 2020 community virtual focus groups
During Fall 2020, community members throughout Northeast Portland joined the project team in virtual focus groups. Project neighbors engaged with the progress made to date and contributed their perspectives about the proposed spaces, the design elements, and services planned for future development. Led by Living Cully, local community partner agencies played an important role in connecting their constituents to these opportunities, allowing them to bring community input into the design process in spite of COVID-19.
Summer and fall 2019 outreach
In 2019, PCC partnered with Living Cully, a local non-profit organization, to gather input from the Opportunity Center at 42nd Avenue neighboring communities. Through focus groups, canvassing, and event participation, Living Cully compiled priorities and visions for the future of the center and the neighborhood.
PCC and Living Cully closed this effort with a well-attended community open house on November 14, 2019. At the event, near one hundred neighbors, community-based organizations representatives, Opportunity Center at 42nd Avenue staff, and clients shared a meal and interacted with the information and the project team.
FAQs
When will the new Opportunity Center at 42nd Avenue open?
The new Opportunity Center at 42nd Avenue is scheduled to open by summer 2023.
What is the Opportunity Center at 42nd Avenue?
The Opportunity Center at 42nd Avenue is one of several Portland Community College centers, in addition to the college's four comprehensive campuses, within PCC's five-county district service area. Purchased in 1998, the facility serves as one of PCC's two Workforce Centers.
PCC teams with the State Department of Human Services, WorkSource, and other local community-based organizations to provide skills development and career services at the center. Workshops, one-on-one assistance, weekly job fairs, and other hiring events are regularly offered. The new center will be a centralized hub connecting employers and community members to PCC. Individuals curious about education, training, and careers can enter the Opportunity Center at 42nd Avenue to explore possibilities, identify PCC programs that will prepare them for their career goals, and develop the skills they need to be successful.
How do I contact Opportunity Center at 42nd Avenue if I would like to access services?
The Opportunity Center at 42nd Avenue can be reached at (971) 722-2000, or visit the Opportunity Center at 42nd Avenue webpage.
Will there be disruption of services while construction takes place?
The Opportunity Center at 42nd Avenue will continue operations in its current building until the new building is complete, at which time services will switch to the new building. Parking capacity and routing to the Opportunity Center at 42nd Avenue may be impacted at various times during construction. The current services available in the building will not be interrupted.
How will environmental dust and hazards like radon be controlled during construction?
The Opportunity Center at 42nd Avenue project will have a dust prevention plan that will include fences, water trucks, and other techniques to minimize the impact of dust on our neighbors. The project will have a radon mitigation system if it is deemed necessary. Overall construction plans will ensure that workers and occupants of the building are safe.
What will the new Opportunity Center at 42nd Avenue look like?
The new Opportunity Center at 42nd Avenue will be a two-story building, approximately 30-feet tall. The primary entrance will be on NE Killingsworth Street. It will meet or exceed LEED Silver in its sustainability elements. The design is intended to complement the surrounding neighborhood and include active uses on the first floor.
Will parts of the site be accessible to the public?
The plans include a plaza accessed from NE Killingsworth Street. This space was designed in response to the community outreach and feedback obtained throughout the project.
Will there be affordable housing coming to the site?
Approximately one acre of PCC's three-acre site will be leased long-term to Home Forward for affordable housing development. It is estimated that approximately 85 units will be built ranging in size from studios to three bedrooms. PCC will not own or operate the housing facility but will maintain ownership of the land. The residential units will be available to the general community. PCC will encourage students and clients of the Opportunity Center at 42nd Avenue to apply for housing units as they come available. Some highlights of the affordable housing development are:
85 apartments (18 studios, six one-bedroom, 46 two-bedroom, and 15 three-bedroom units);
4,500 square feet of commercial space for community-based organizations; and
two outdoor courtyards for residents.
When will the housing units become available?
The construction of the housing units will start in early 2023 and is expected to be completed in fall 2024.
Who will live in the housing on-site?
A mix of families and single residents who meet Home Forward's affordable housing criteria will live in the housing units.
Will there be parking on site?
A parking lot with about 80 spaces for the Opportunity Center at 42nd Avenue and Home Forward will be located in the northwest section of the site. Access to the parking lot will be from 42nd Avenue.
How is the design team making decisions?
The design team is making decisions in a number of different ways. They are using information gathered before design began to understand the wants and needs of the surrounding community. PCC partnered with Living Cully to engage the surrounding community in a six-month outreach effort. The input gathered from door-to-door canvassing, focus groups and a large open house informed the design team on what residents liked about their neighborhood and what they would like to see at the Opportunity Center at 42nd Avenue. During the design stages, meetings and workshops were held with Opportunity Center at 42nd Avenue clients and staff to understand how the new building can better support the work they do. Once the global pandemic started, those meetings moved from in-person to virtual.
A project management team meets regularly to guide the design review process. The information gathered in the workshops, focus groups, and meetings actively informs the design team and influences how the new Opportunity Center at 42nd Avenue should function for the people using it, as well as the community members living nearby.
Will the new building be sustainable?
PCC mandates that all its new buildings be LEED Silver or better. The college strives to use environmentally friendly materials and practices, as well as create a comfortable interior environment. Some of the sustainable highlights in the new PCC facility are:
a projected operational energy use reduction that is more than 40 percent better than the state energy code;
a selection of healthy building materials that prioritize interior and exterior materials that are free of harmful chemicals and have a low-carbon footprint;
onsite renewable energy production via a rooftop photovoltaic array, also known as solar panels; and
an infrastructure that reduces single-occupancy vehicles, such as teleconference capabilities and secure, covered bicycle parking.
Who is part of the project team?
The project team includes representatives from PCC, as well as BORA Architecture & Interiors, the architecture firm on the project, and Andersen Construction Company.
What is PCC's commitment to business diversity?
PCC has a goal of 20 percent utilization rate of minority, women, emerging small business, and veteran disabled-owned firms on our construction projects, with no more than 14 percent from emerging small businesses. PCC's workforce diversity targets the participation of 20 percent minorities and 15 percent women in construction. Additionally, the college requires that 20 percent of labor hours for apprenticeable trades must be performed by apprentices.
Currently, 42 percent of this project's design budget is committed to registered firms with Oregon's Certification Office for Business Inclusion and Diversity (COBID). The project contractor, Andersen Construction, will make every effort to reach, and if possible exceed, its goals for training and hiring a diverse workforce.
Sustainability
The redevelopment of the Opportunity Center at 42nd Avenue is on track for LEED Gold certification. Some of the sustainable features of this project include, but are not limited to the following:
On target to achieve a Net Zero Building; Net Zero buildings have the potential to create as much energy as they consume over the course of each year
Abundant natural light with daylight harvesting controls to minimize energy consumption
Occupancy sensors and building management software decrease energy use across all building systems
Photovoltaic array (solar panels) on the roof, with capacity for additional community solar panels
Mass timber construction
Teleconference capabilities in training and community rooms
Electric vehicle charging stations and carpool parking stalls
Secure indoor bicycle parking
The project is eligible to receive all LEED EA Optimize Energy points and all EA Renewable Energy points
Opportunity Center at 42nd Avenue walkthrough
Contact
If you have questions about the project or would like to learn more about it, please contact bond@pcc.edu or 971-722-8416.