PCC OMIC Training Center – Capital Improvements
Project manager: Gary Sutton
Contractors: Mortenson/Hennebery Eddy Architects
Project budget: $28,600,000
Square footage: 32,245
Timeline: July 2018 – March 2021
Bond program funding: 2008
Exterior view. Main entrance, approaching building from the west.
Exterior view. Main entrance, front SW corner of the building.
Interior view. Main entrance looking north into Mechatronics and PCC labs.
Interior view. Center circulation space for individual and group study.
Floor Plan - 32,245 Square Feet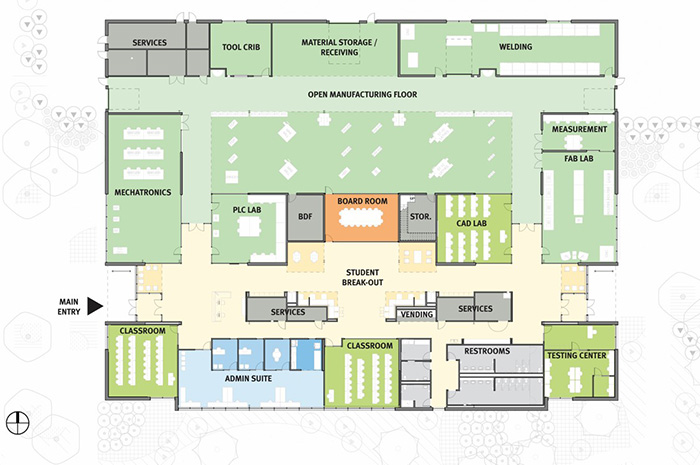 The new building has been designed to support the hands-on "earn and learn" apprenticeship program, which will help fill the region's critical shortage of skilled workers. This facility to be built in Scappoose, Oregon will house training facilities for registered apprenticeship programs in Machinist, CNC Lathe Operator, CNC Mill Operator, Welder/Fabricator, and Mechatronics Technician.
The Training Center will complement the new Oregon Manufacturing Innovation Center Research and Development (OMIC R&D). OMIC R&D is a collaboration of industry, higher education and government focused on creating a world-class facility that combines applied research and development and workforce training to serve the region's advanced manufacturers, specifically the metals manufacturing industry.
Opportunities for involvement
User Confirmation Design Review Meeting: June 12, 2019
Breakfast Industry: April 19, 2019
R&D and Joint Apprenticeship Training Committee Meeting: April 12, 2019
Contact
If you have questions about the project or would like to learn more about it, please contact Gina Valencia at gina.valencia@pcc.edu or 971-722-8416.