Cascade Campus – Capital Improvements
Medical Simulation Center
Nursing students practicing at Cascade's SIM lab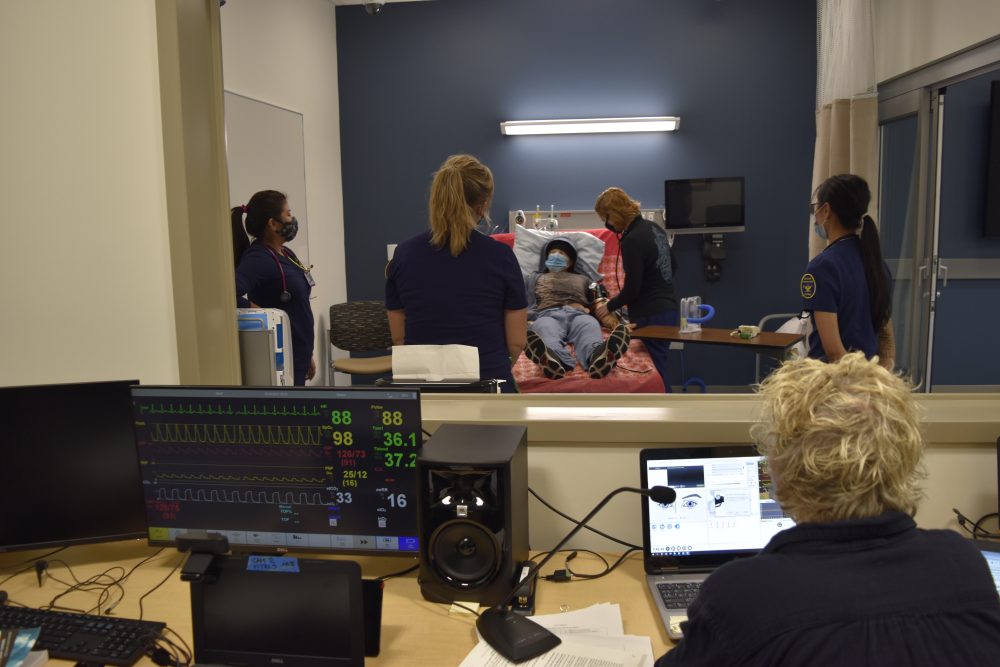 Smart mannequin at the patient room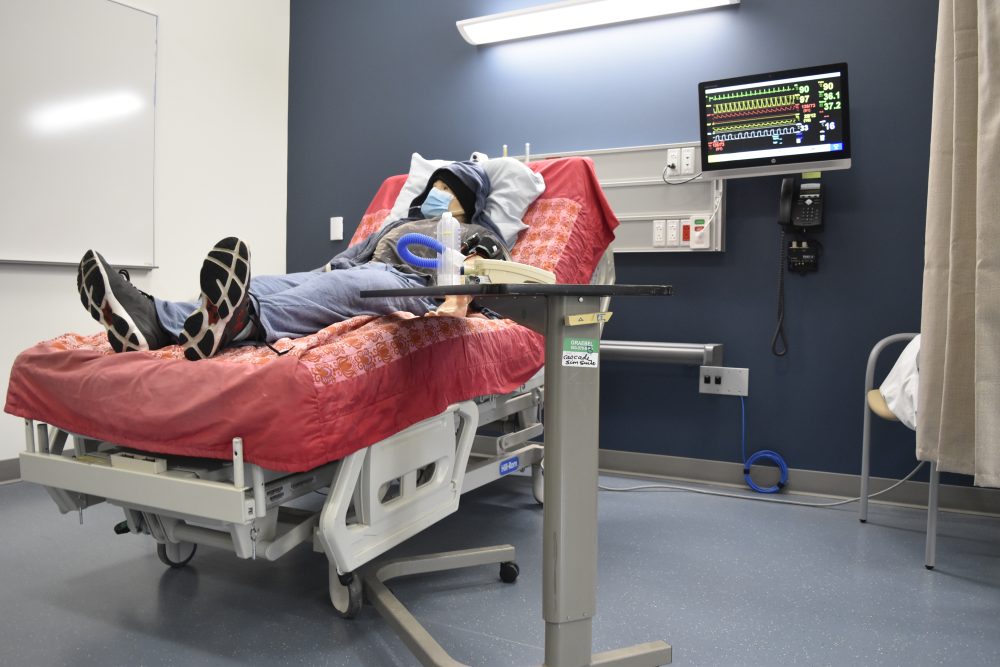 Hospital bed equipment as part of the patient room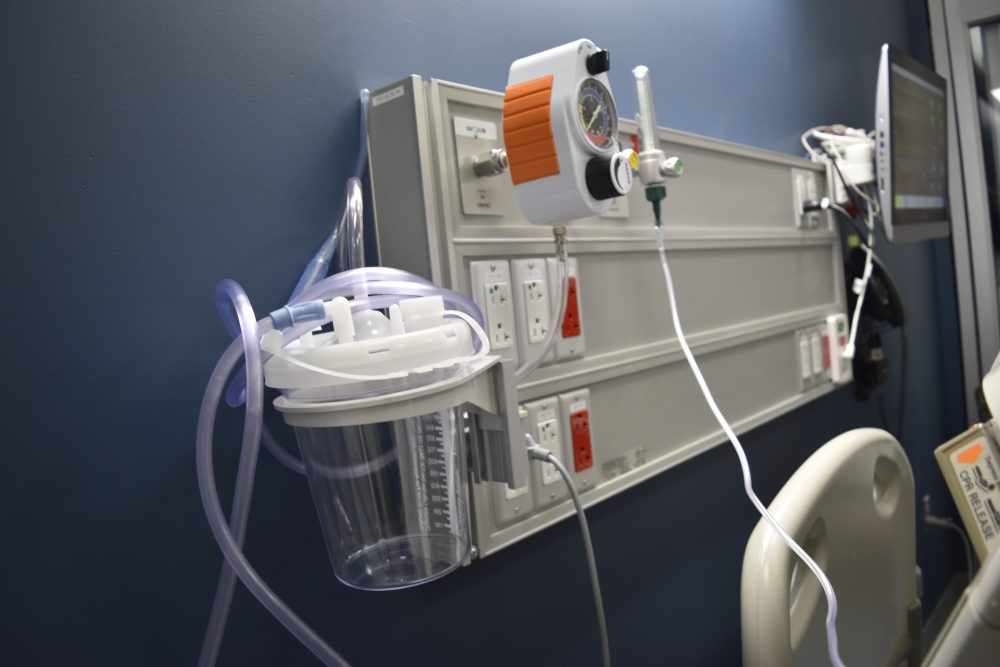 View from patient room looking into the simulation control booth and hallway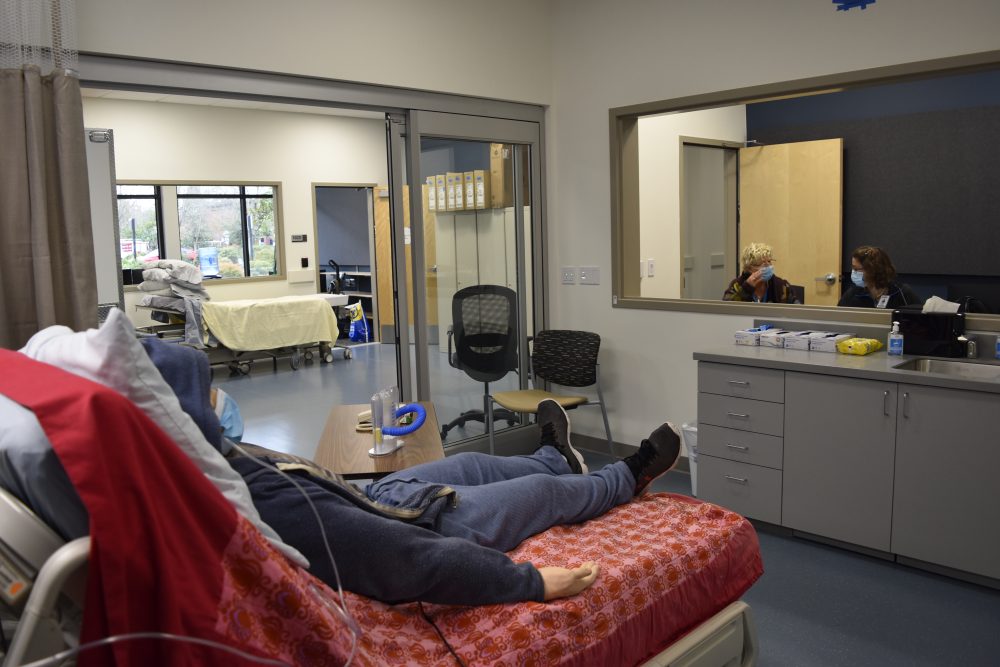 Simulation ambulance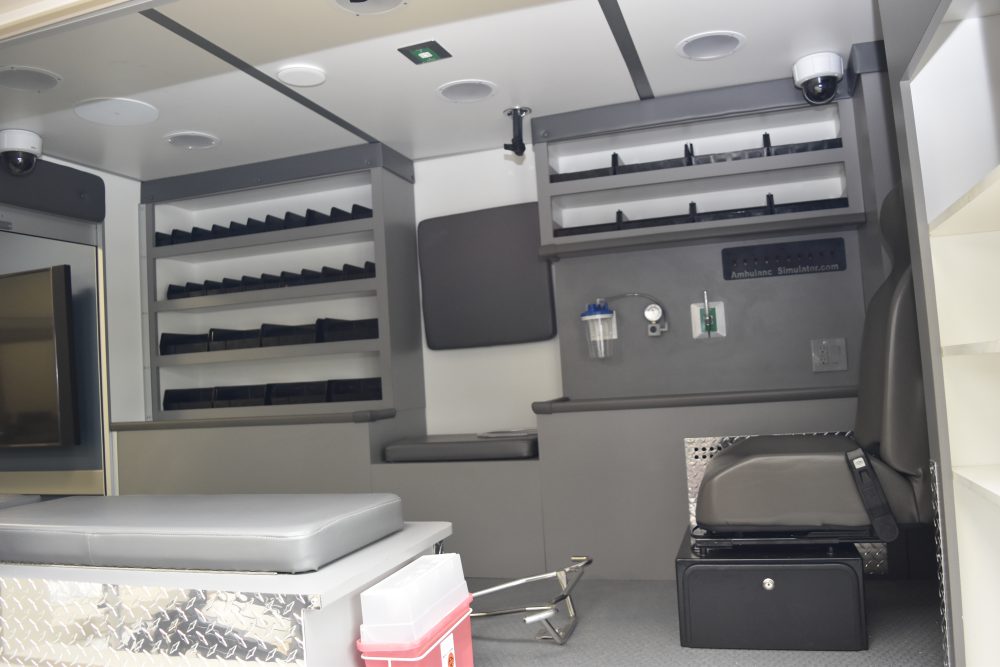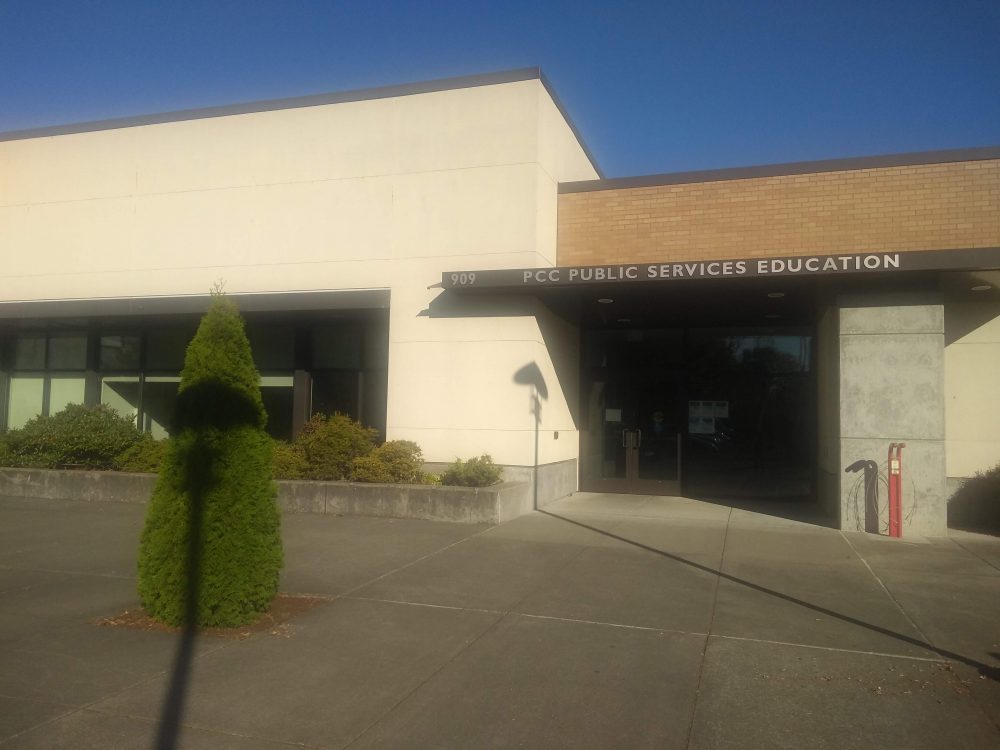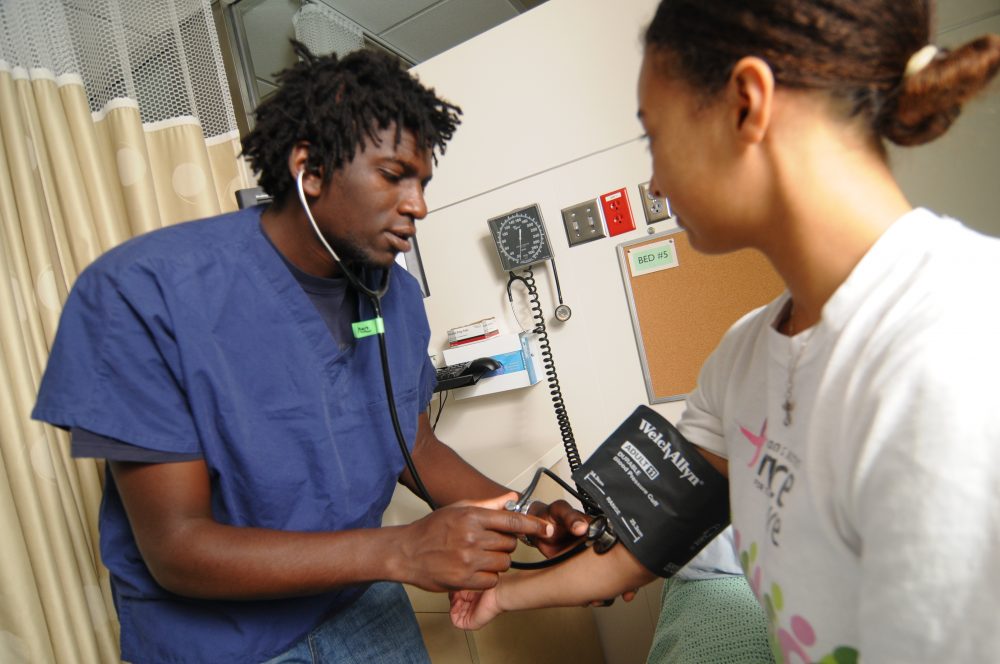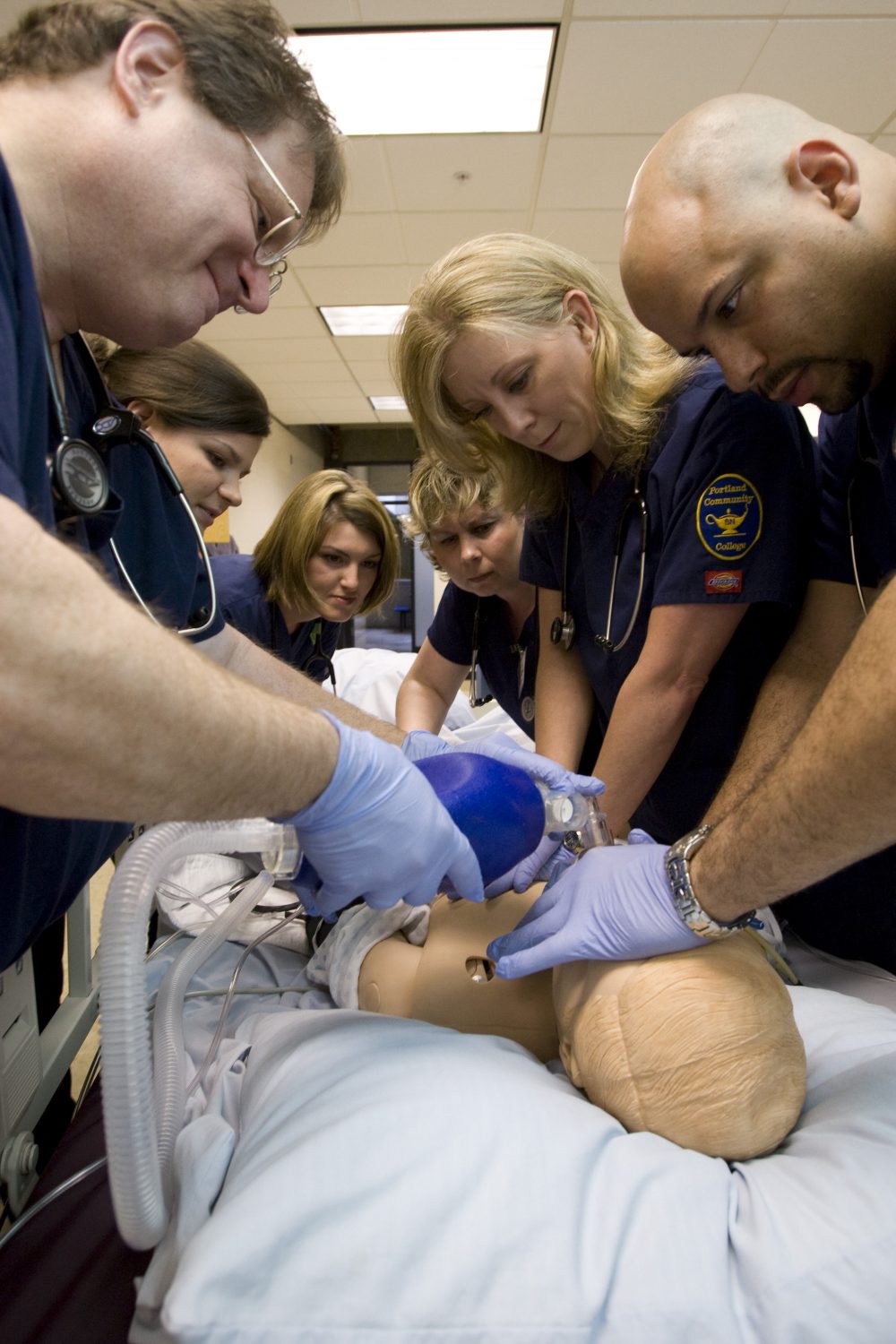 As part of the 2017 bond improvements to the Nursing school facilities at the Sylvania Campus, a temporary facility was needed to give the program continuity. Cascade Campus was identified for this space. The Medical Simulation Center offers courses for both Nursing and Emergency Medical Services (EMS) students. The Nursing program will share this Medical Simulation Lab space until the Sylvania Campus improvements are completed, at which point the Cascade Medical Simulation Center will become a full time lab for the EMS program.  
This project is a tenant improvement in the existing Cascade Campus Public Services Education Building creating a 2,200 square foot Hospital and Ambulance Simulation Space. The work included reconfiguring some interior rooms. The lab required new lighting, electrical, plumbing, AV, and technology throughout along with modifications to the existing HVAC.
Overview
Project manager: Jaime English
Design team: Studio Petretti Architecture
Contractor: O'Neil/Walsh Community Builders
Budget: $3,024,741
Square footage: 2,200
Timeline: July 2020 – October 2021
Funding: 2017 bond
Timeline
July 2020 – September 2020
October – December 2020
January – March 2021
Construction Documentation
March – May 2021
May – August 2021
August 2021
Audiovisual upgrades to the Moriarty Arts & Humanities Building Auditorium
Window curtains add to the auditorium acoustics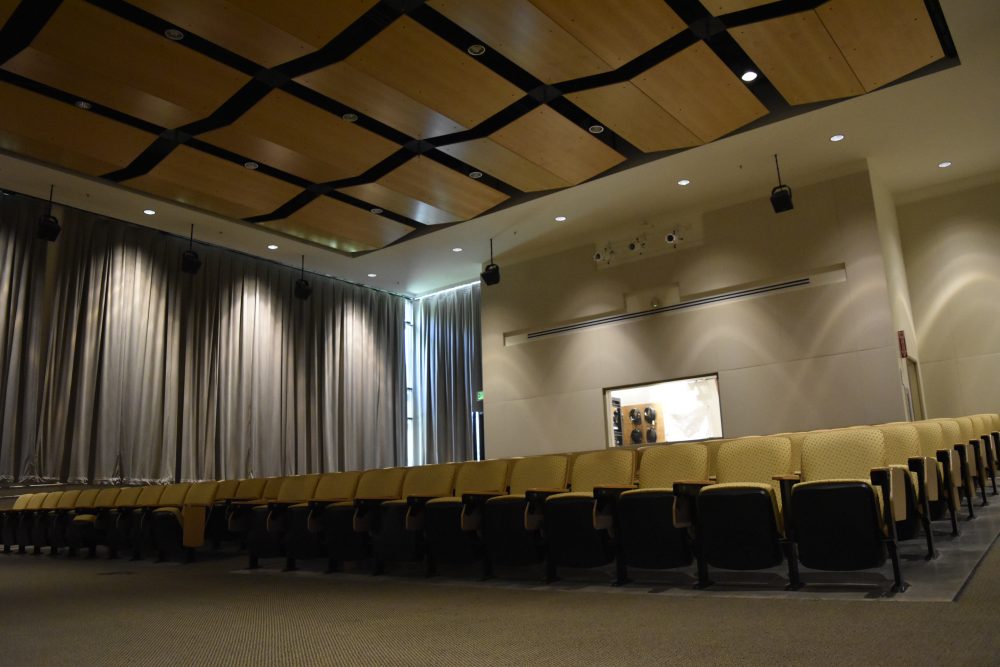 Wide view of the Moriarty Auditorium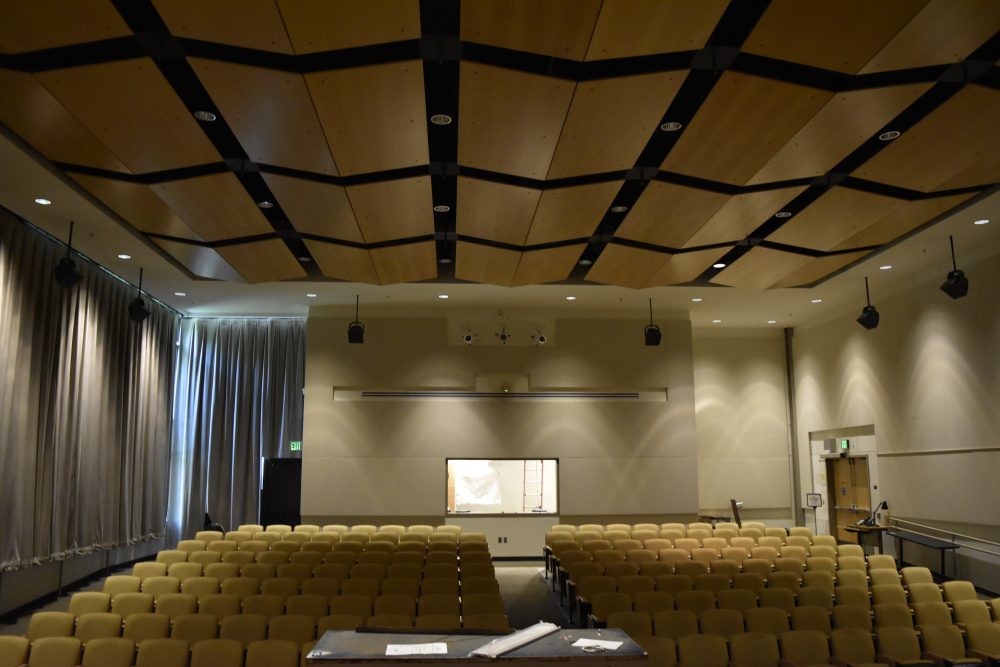 Ceiling panels with enhanced acoustic material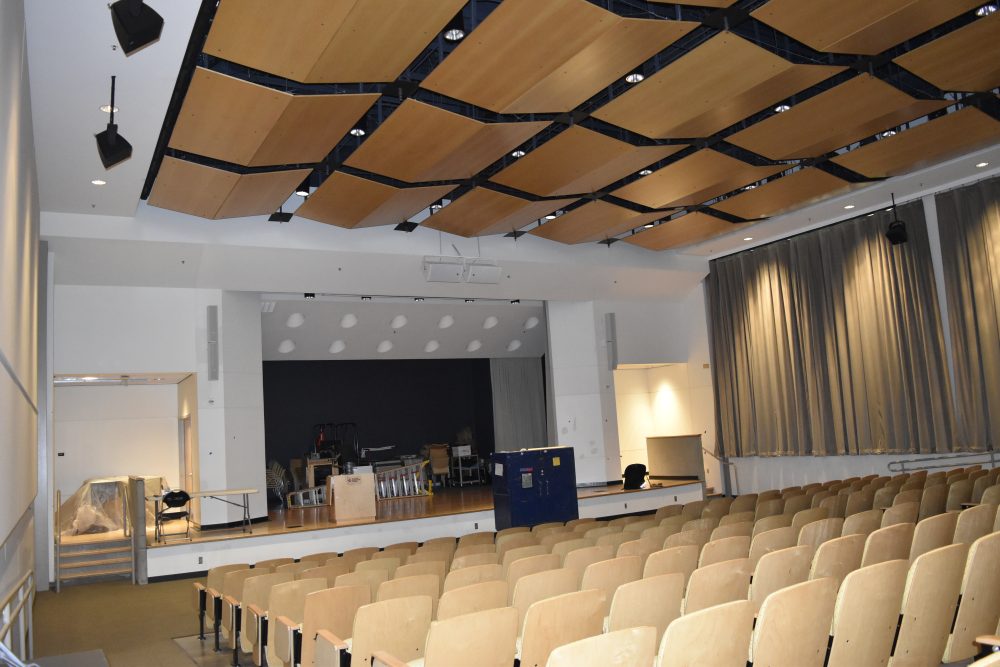 New acoustic wall panels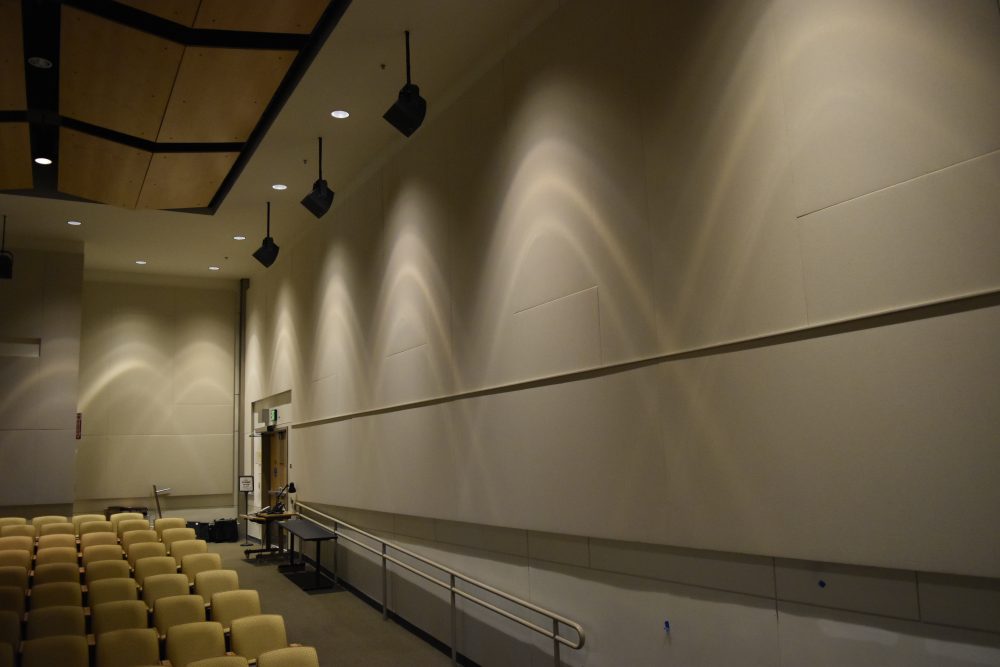 Recent improvements to the Moriarty Arts and Humanities Building Auditorium's audiovisual system make it sound just right. 
The changes will enhance the auditorium's video and sound quality, as well as speech intelligibility. The project also adds acoustic treatments to the auditorium and brings the podium system in line with PCC digital standards.  
The south and east walls feature new acoustic panels and a picture rail has been installed for the Cascade Festival of African Films poster collection, as previously displayed in the space.
Acoustic material was added on top of the existing ceiling panels to help with sound absorption and speakers, featuring surround sound. In addition, a new window curtain has been installed and in the control room, new AV components were also installed. 
This project is done in coordination with PCC Information Technology, including Network and Media Services, and the Music and Arts & Professions Division.
Overview
Project manager: Amy Hanson
Design team: DAO Architecture
Contractor: Buildskape
Budget: $350,000
Timeline: June 2019 – December 2021
Funding: 2017 bond
Public Safety building redevelopment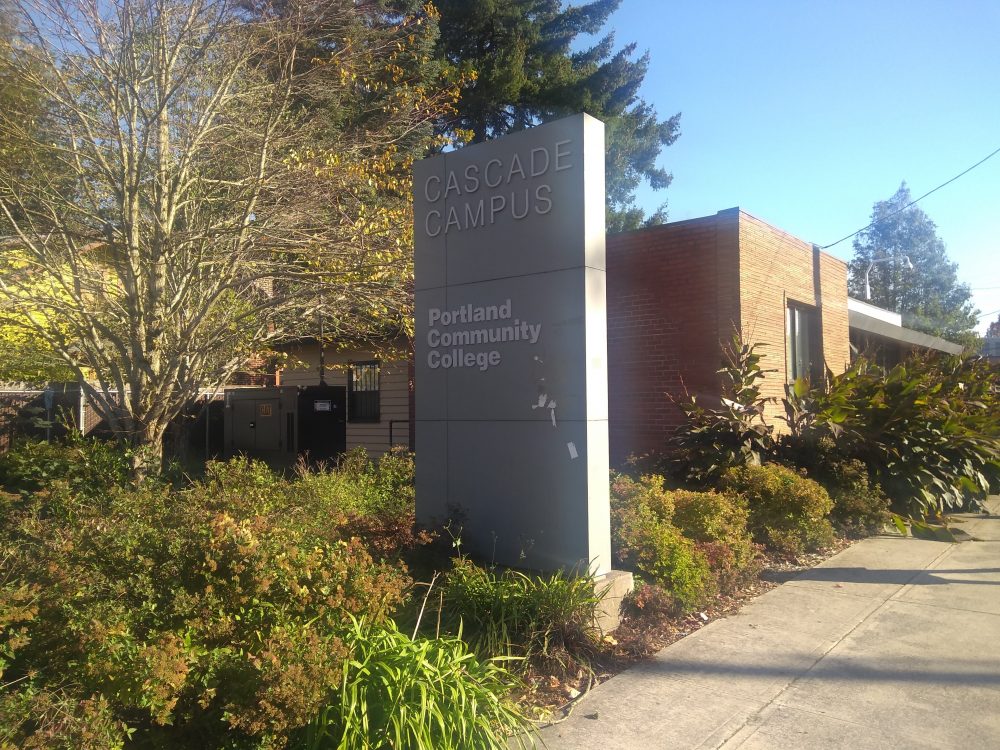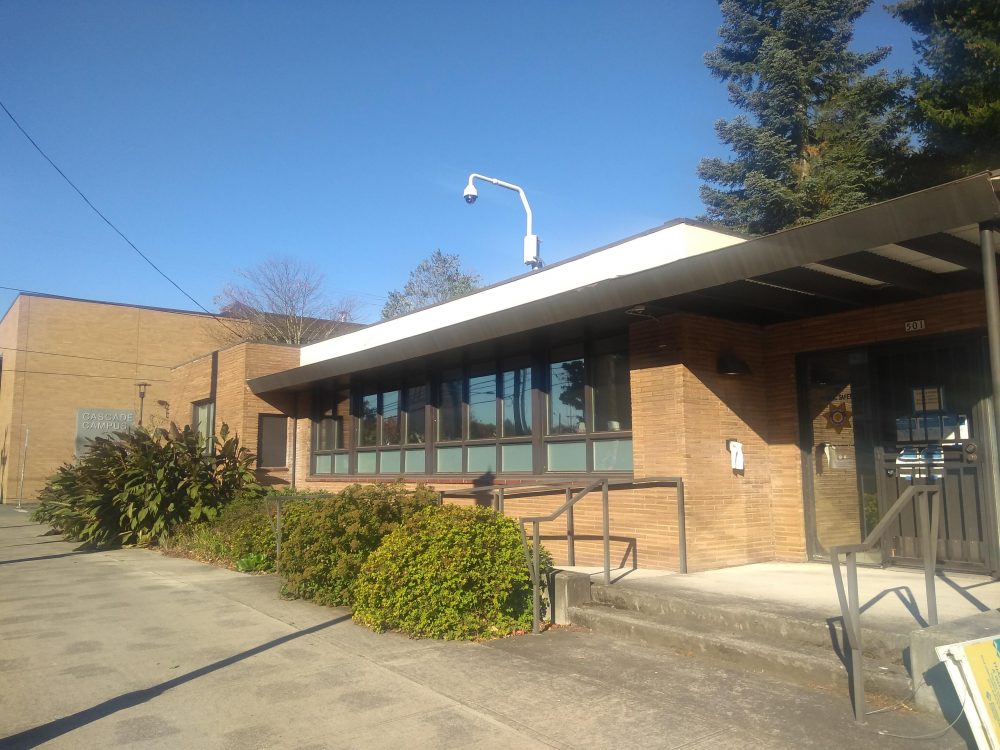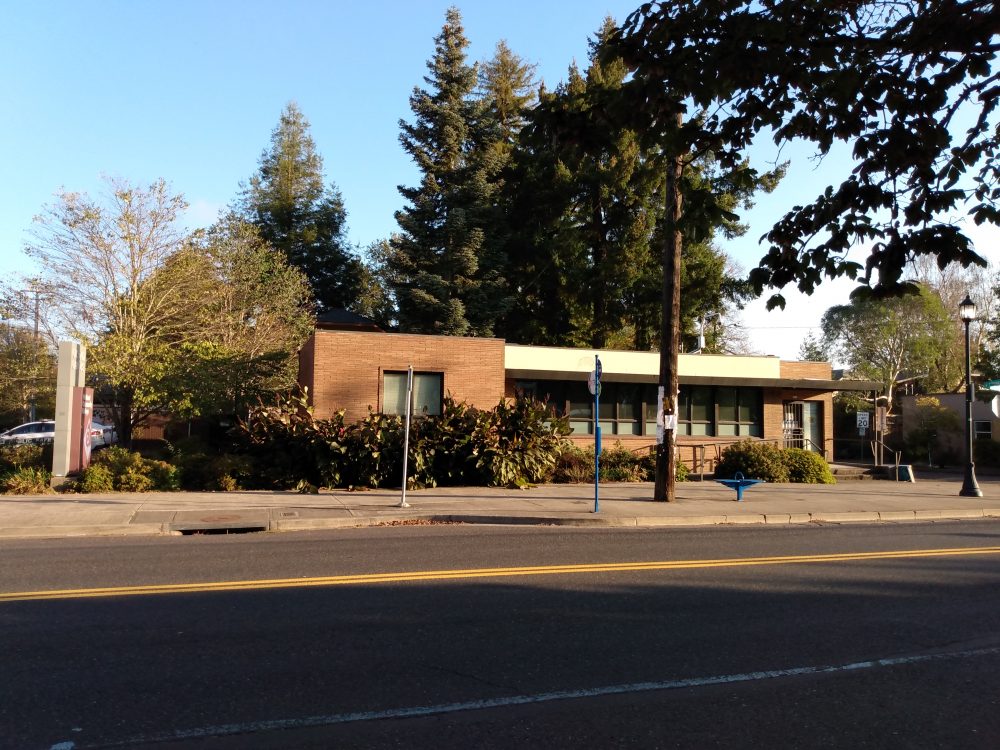 As part of the 2017 bond it was identified that the 2,500-square-foot building currently hosting Public Safety offices at 501 N. Killingsworth was in need of improvement.
This project included a feasibility study to determine the best location on campus to redevelop these offices. Stakeholder input informed the feasibility study and provided in depth information regarding the desired design features for this renovation. Engagement with PCC students, faculty, and staff in an inclusive planning process further considered two location options on campus: the existing Public Safety Building and a location in Cascade Campus Public Service Education Building. 
A thorough schematic design investigation of the Public Services Education Building option, proved that the space would ultimately not be a best fit for Public Safety's long-term needs.
Simultaneously, the college has undergone a reorganization of academic programs such that some additional campus planning is needed for the long-term location of other offices and programs at Cascade Campus. After further consideration of these variables and future campus planning needs, the project was rescoped. The project will deliver a renovation of the existing Public Safety building by summer 2023 to address updates to the mechanical systems, roof repairs, and modest interior updates such as new paint and fixture repairs.
Overview
Project manager: Jaime English
Design team: Studio Petretti
Contractor: TBD
Budget: $3,000,000
Square footage: 2,500
Timeline: August 2020 – June 2023
Funding: 2017 bond
Updates
Timeline
October 2020 – April 2021
Feasibility Study

User Engagement

Community Engagement
May – June 2021
Further Study of PSEB

User Engagement
July – October 2021
Schematic Design Investigation at PSEB

User Engagement

Community Engagement
October 2021 – January 2022
 Project Rescoping

User Engagement
February – July 2022
Schematic Design

User Engagement
August – September 2022
Design Development

User Engagement
September
– October 2022
Construction Documents

User Engagement

Community Information Sharing
November – December 2022
January – May 2023
Construction

Community Information Sharing
June 2023
Outreach
Once the project was rescoped to a renovation of the existing facility, engagement continued with users participating in design meetings.
During the Schematic Design and early investigation in Summer 2021, the project team performed outreach via:
User focus groups (PSEB faculty, staff, and students)
PSEB Bond Executive group meetings
Project Advisory Committee meetings
Early Summer 2021, users engaged via these opportunities:
ASPCC District Council focus group
Cascade's Women Resource Center focus group
PSEB staff focus group and programing questionnaire
During Spring 2021, we offered these engagement opportunities:
Mailer to 1-mile radius to campus informing neighbors about the project and inviting them to engage; mailer reached +5,000 households and businesses.
Email update and invitation to engage to Cascade Campus community, neighborhood associations, business associations and other community organizations and non-for-profit agencies in the area.
Opt-in small group conversations to increase stakeholders' options to share ideas or concerns about this project.
Online community-wide survey

to help determine the final location for the Public Safety offices and inform priorities. The survey was open until April 27, 2021.  

Online Community Forum offered

on April 20, 2021. This was an opportunity to hear project updates from the planning team, provide direct feedback, and ask clarifying questions. 
FAQs
What is the Public Safety Building (PSB) project?
As part of the 2017 voter-approved bond measure, the 2,500 SF building currently housing Public Safety offices at PCC's Cascade Campus was identified as a facility in need of replacement. This project includes a feasibility study to determine an ideal location on campus for Public Safety offices in either a new building at the existing site or in a renovated space elsewhere on campus. The existing public safety building is at the corner of N. Killingsworth Blvd and N. Commercial St. 
What is the mission of Public Safety at PCC? 
The mission of the Portland Community College Department of Public Safety is to promote a safe educational environment in partnership with the community by providing exceptional public safety services through professionalism and dependability.
Promoting a safe educational environment means maintaining a visible presence on campus properties, strengthening relationships with college staff, students, and visitors, and using incident data to recognize and respond to trends. It includes not only the acts of reporting, investigation, and warnings, but also educating the community about their rights and responsibilities.
In partnership with the community means being a full and active partner with the college, surrounding neighborhoods, and local public safety agencies. It also means assisting campus staff, students, and visitors in a knowledgeable manner.
Providing exceptional public safety services means treating others the way you want to be treated.
Professionalism is the foundation of our department and it requires conscientious, competent, and ethical public safety service.
Dependability means that the college can count on the services provided; we maintain complete integrity, honesty, and accountability and serve with dedication and effectiveness.
How does PCC define a safe educational environment?
Many factors contribute to the creation of a safe educational environment for students and staff, including but not limited to:
Access to food, shelter, and rest

Protection against bias based on race, gender, ability, sexual identity, and age

Protection from threats to property and person 

Protection from harassment and trauma

Physical health 

Mental health

Financial security
What programs and services at the PCC Cascade Campus support a safe campus environment and student/staff wellness?
Among the many programs and resources that support a safe campus environment are:
Public Safety

Counseling Center

Facilities Management Services

Cascade Diversity Council

PCC

Office of Equity and Inclusion

Financial programs

Student Resource Centers 

Wellness facilities including Gym
What are the services that Public Safety offers students and staff on campus?
Public Safety Dispatch Hotline

for day-to-day operational routine calls to include:

unlocking buildings or rooms 

safety escorts 

vehicle assists 

medical calls

Facilities Access Control – Public Safety staff makes sure that approved personnel have access to buildings for business purposes, and that buildings are secured 

Clery Reporting compliance, which is required by federal law

Timely Warnings and Emergency notifications 

Emergency Preparedness and Response Plan for the college

Conducting Training for Emergencies, e.g. evacuations 

Lockdown and Active Shooter response

Visible foot and vehicle patrols

Investigation and written reports for low-level property crime investigations, with no suspect information

Coordination with local law enforcement for more serious, personal crimes (assault, harassment, sexual assault, intimidation, etc.)

Coordination with first responders, including law enforcement, concerning behaviors reported to staff and students (e.g. threats, weapons on campus, suicidal/homicidal ideation or activities occurring in the neighborhood that could impact the campus)

Participate in and support the

Student Care/Conduct Process

when needed
What else should we know about PCC's Public Safety officers?
Public Safety Officers are PCC employees and follow the same policies that all PCC employees must follow.

PCC Public Safety officers are unarmed.

PCC Public Safety officers are not sworn law enforcement officers and do not have police authority, the same level of training, resources and/or equipment available to law enforcement officers. 

PCC Public Safety officers cannot investigate sexual crimes; those require investigation by a sworn law enforcement agency under the Violence Against Women Act and Title IX.
What is required of PCC Public Safety?
The Clery Reporting Act is a federal law requiring colleges to report crimes that occur on campus and the immediate area. It also requires training of staff and reporting about efforts to improve campus safety. Failure to comply with Clery can result in fines of $58,328 per violation. Recently, the University of California Berkeley was fined $2.4M and two years monitoring for violating the Clery Act.

More Public Safety reporting information can be found here.
Kaley's Law requires campus safety to make a clear distinction from law enforcement, among other requirements. Public Safety staff are not certified police officers. Their initial training includes a brief overview of criminal law. Their role is to observe and report. They do not carry firearms, nor do they have defensive tactical training. 
What kinds of training do Public Safety officers receive?
The State of Oregon Department of Public Safety Standards & Training requires all Public Safety Officers to undergo state mandated training to be certified.

Autism response training.

Crisis response training.
How does PCC envision Public Safety's work evolving over the next 5 years?
ACTIVE THREAT PREPAREDNESS: Since the Virginia Tech shooting in 2007, which left 32 people dead, there has been more focus on addressing concerning behaviors exhibited by students, staff, and campus visitors. As a result, behavior intervention teams have been created. This development complements the addition of enhanced technology safety measures such as access control which can quickly secure campuses, along with immediate notification platforms for staff and students on campus. 
EMERGENCY RESPONSE – ALL HAZARD APPROACH: There is ongoing work to prepare colleges and universities with an all-hazard approach to emergencies. This means that colleges and universities need to train key staff with the NIMS (National Incident Management Systems)/Federal Emergency Management Agency (FEMA) standardized approach to emergencies, and the functions of command, operations, planning, logistics, and finance. This is a nationally recognized standard for emergency response. 
CLERY REPORTING ACT: We continue to improve our ability to comply with the Clery Reporting Act. This is a federal law that requires colleges to report crimes that occur on campus and in the immediate area. It also requires training of staff and reporting about efforts to improve campus safety. 
DEPARTMENT GROWTH: At PCC, these evolving priorities have required PCC to create specific positions to ensure this work is being done including an access control specialist, emergency manager and preparedness coordinator, and clery compliance specialist. 
CAMPUS RESOURCE CENTER AND CONFERENCE ROOM: Public Safety is looking for opportunities to more closely align and integrate with campus community. New office space may allow for the opportunity to provide a resource center for students and staff around safety needs as part of the reception in the new office space. 
CROSS TRAINING OPPORTUNITIES: PCC's first responder training programs like EMT and Fire protection technology may provide opportunities for cross training with the Office of Public Safety.
How does PCC see their Public Safety team coordinating with the Portland Police at the new office facilities? 
Keeping PCC campuses safe for staff, students and visitors is Public Safety's top priority. Every review and study following a disaster or school shooting recommends preventive measures but also addresses having good working relationships and ongoing communication with first responders. 
PLANNING & COORDINATION: Public Safety needs to coordinate with the Portland Police Bureau (PPB) and other first responders on a variety of campus safety events and incidents. This includes planning for future emergencies and coordinating for the immediate response to events that are happening in real time.
OFFICE SPACE: The PPB currently has access to the Public Safety offices at Cascade Campus and can enter without assistance from Public Safety staff. They have a touch-down desk available for their use and have access to PCC video surveillance files and live streams. The college does not have formal intergovernmental agreements with any law enforcement agencies that cover the sharing of resources or services.
In the new facility, Public Safety's goal is to have adequate space where the team can continue to meet with police and other first responders, community members, staff, students, and others. This would require a conference room space that is separate from the workspace of the Public Safety officers.
ALBINA-KILLINGSWORTH SAFE NEIGHBORHOOD COMMISSION: PCC took the lead to create the Albina Killingsworth Safe Neighborhood Commission (AKSNC). This group met monthly under the leadership of PCC's campus president, and included representation from Jefferson High School, Rosemary Anderson School, Office of Neighborhood Involvement, PPB, and others to address safety and neighborhood livability concerns that directly impacted the Cascade Campus. In 2015, the AKSNC received recognition for its efforts as part of the annual Herman Goldstein Award Excellence in Problem Oriented Policing, a worldwide competition among innovative community policing initiatives.
FIRST RESPONDERS CHANNELS: Public Safety has access to first responders radio channels, and utilizes these to communicate with other responders in active emergency situations. 
How are equity, shared prosperity and accessibility centered in this project?
Consultant and Contractor Recruitment: The contractor and consultants chosen for this project were considered for their expertise in producing exceptional design and construction projects along with their track record for being committed to an equitable community engagement and design process. The project team includes Dao Architecture, We All Rise outreach consultants, construction contractor O'Neill Walsh Community Builders (OWCB) along with PCC staff.
Critical Race Theory Training (CRT): The project team completed CRT training specific to this project, continuing to build awareness of how safety is related to one's social identity and that design influences inclusivity and safety across race/gender/ethnicity/bodies. CRT further informed an inclusive outreach approach developed by the project team and it will be used as a framework for decision-making.
Accessibility: This project will ensure that accessibility is centered at every point in the design process. This refers not only to physical accessibility, a requirement of the ADA, but also to the accessibility of information, resources, and opportunities. An accessible design process takes into account the wide variety of stakeholders who might interact with the Public Safety Department or Public Safety officers, practices transparency, encourages honest communication, acknowledges community concerns, and incorporates community feedback.  
Community Engagement During Design: Students, staff, and neighbors are invited to learn more about the project and provide input in a variety of ways. Students, staff and neighbors were notified of the project via an email to students and staff and a mailer was sent within a ½ mile radius to Cascade Campus neighbors. The notifications include an invitation to take an online survey, join an online community forum, and share feedback directly with PCC. The project team is also meeting students and staff where they are by visiting existing meetings within the PCC community including the Cascade Diversity Council, District Council (Student Government), and Student Affinity Groups. 
Minority-owned Contracting Firm Goals (COBID-certified firms): The project has goals to support the utilization of minority- owned contracting firms. The project goal is that 20% of subcontracting opportunities should be awarded to COBID-certified firms, with no more than 14% going to firms only holding the Emerging Small Business certification. 
Construction Workforce Equity Goals: The project has workforce equity goals that will be tracked by our internal project team. Deficits will be met with support or corrective action. Our workforce equity goals:
20% utilization of apprentices in each trade

20% BIPOC workers

15% women workers
Safe From Hate: The PCC office of Planning and Capital Construction is signatory to the Safe From Hate Pledge and is active both on the Steering Committee of the Safe From Hate Alliance as well as leading the Public Owner's Sector of the Safe From Hate Alliance. The groups are working across sectors to influence the development of equitable outcomes and respectful, collaborative workplaces. 
Respectful Workplace Training for Construction Job Sites: PCC construction projects over $5 million require the implementation of an approved respectful workplace training. "Approved" means that it falls into one of the programs deemed effective by the Respectful Workplace Review Committee Recommendations report. Harassment and discrimination on construction job sites create hostile work environments that disproportionately harm women, Black, Indigenous and other people of color (BIPOC) in the construction industry. Positive jobsite culture, which provides a workplace free from harassment and discrimination improves performance, supports safety protocols, enhances employee engagement, supports retention of a skilled workforce, increases health and wellness of workers, and increases overall productivity. PCC's internal team will be attending RISE Up training. OWCB has also chosen the RISE Up training model for this project.
Network Main Distribution Frame (MDF) cooling system upgrade
Cascade Campus main network room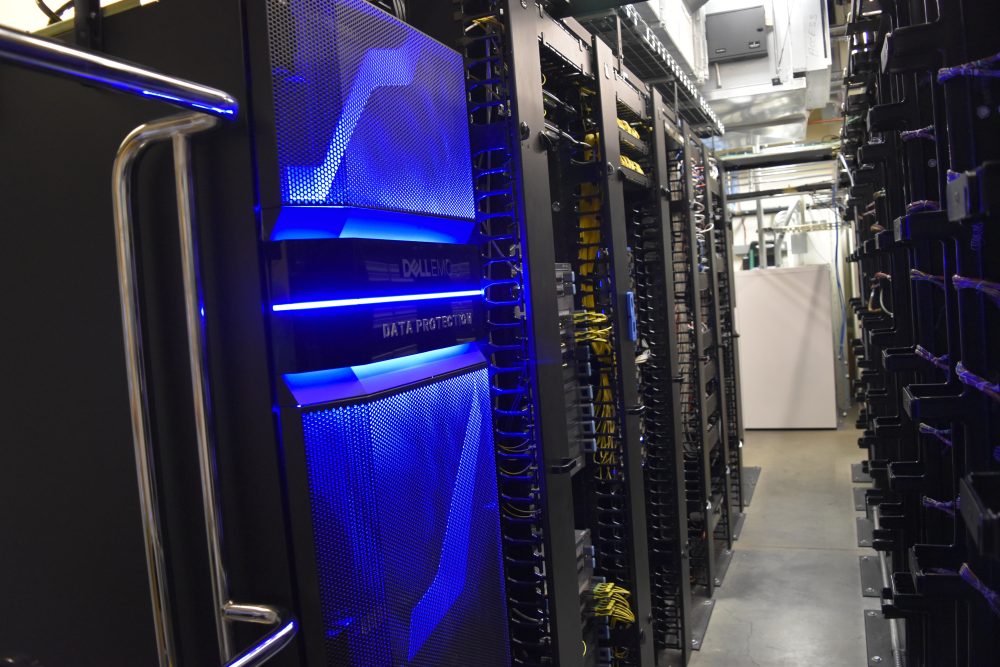 Main network room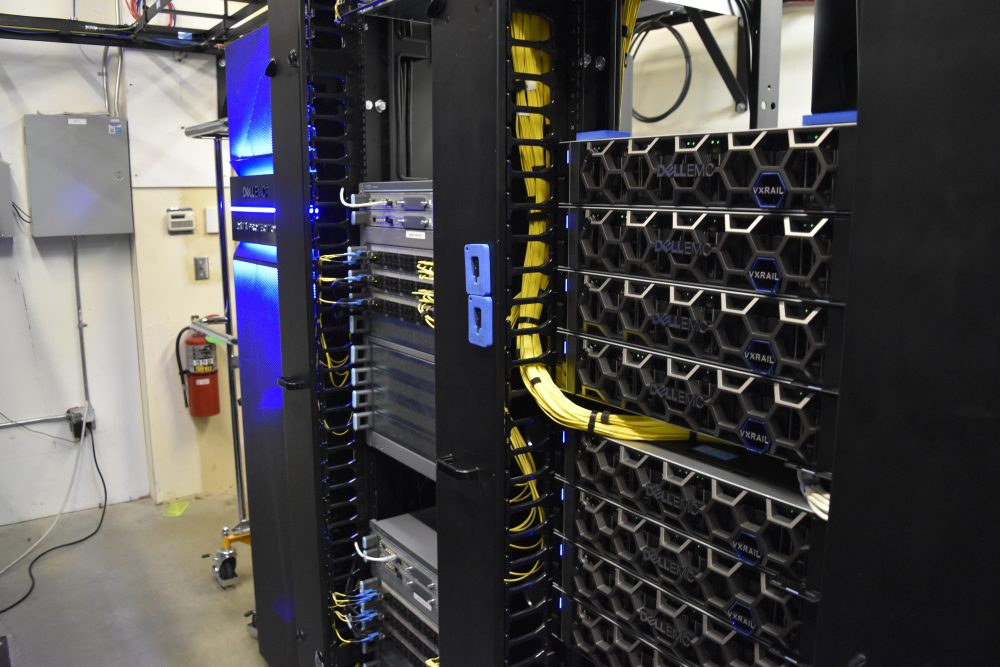 Station cables that run between the field and the network room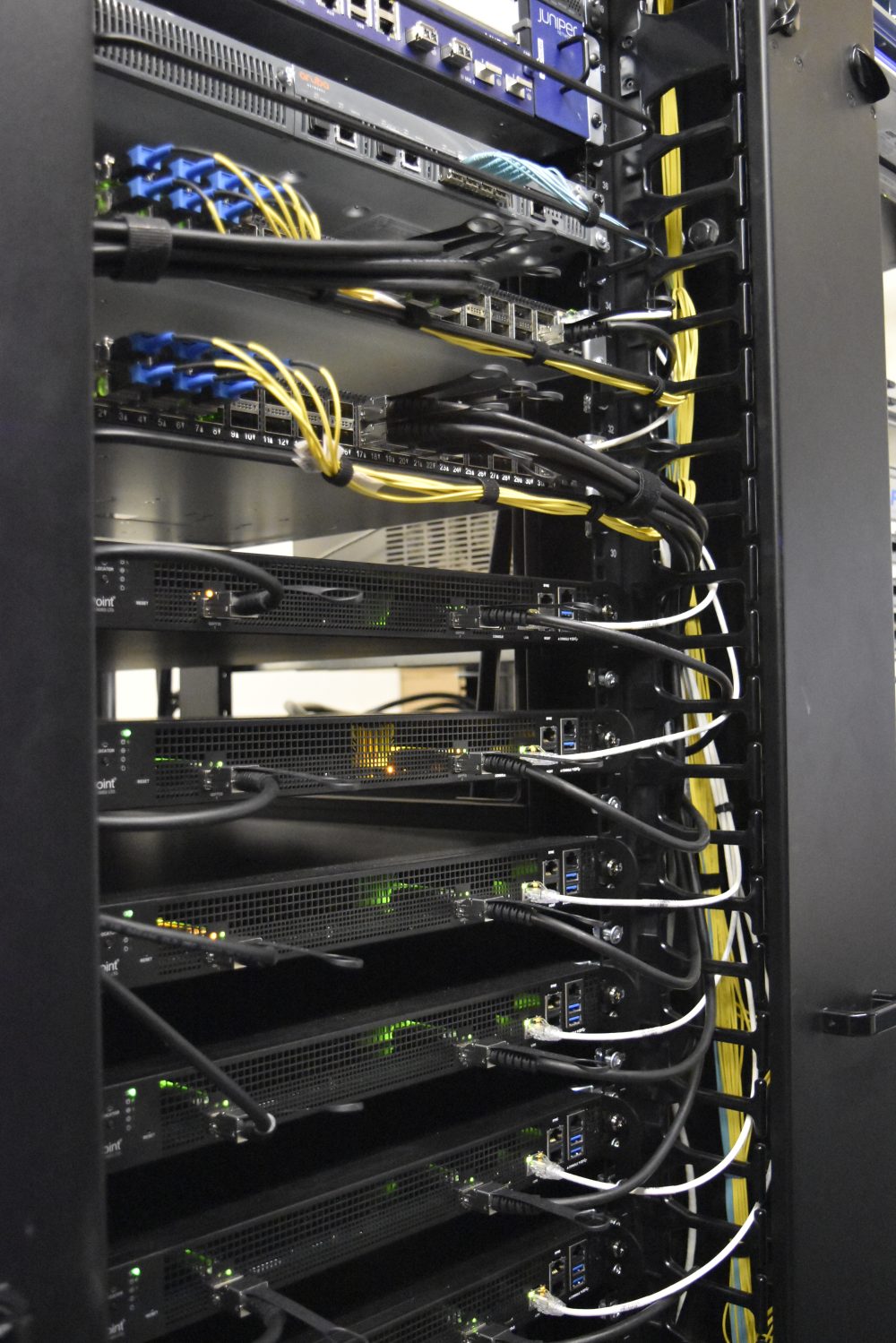 The Cascade Campus main network location has been modified to accommodate the growing needs of the college. The cooling system upgrade addresses cooling circulation to provide a hot/cold isle for the network equipment.
Overview
PROJECT COMPLETED
Project manager: Michael Sturgill
Contractor: Performance Engineering
Consultant: General Sheet Metal
Budget: $25,000
Timeline: April – August 2021
Funding: 2017 bond
Exterior wayfinding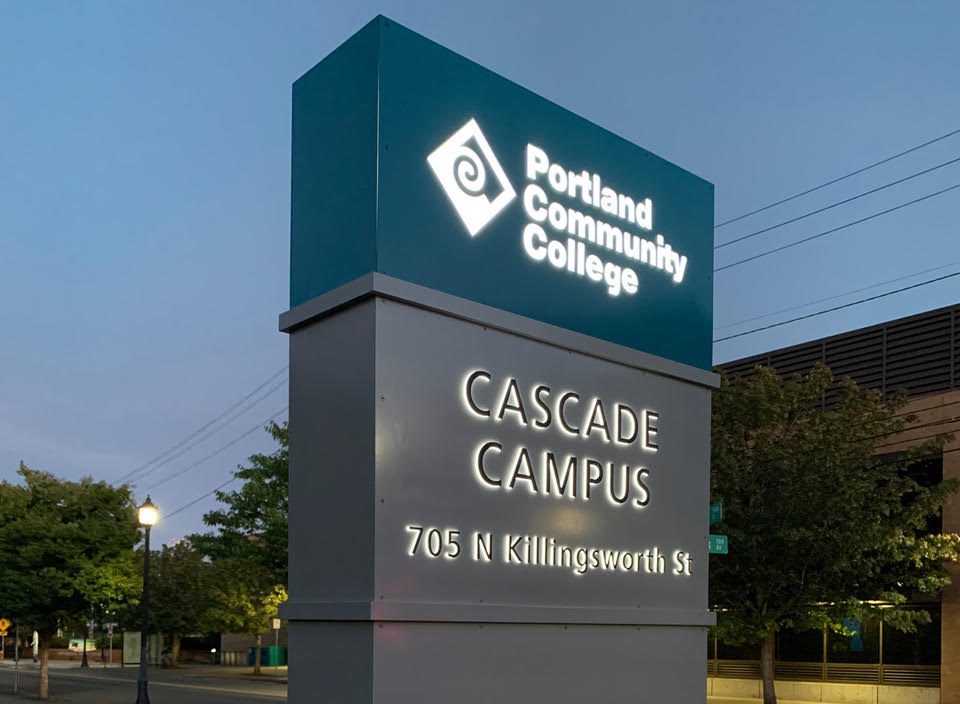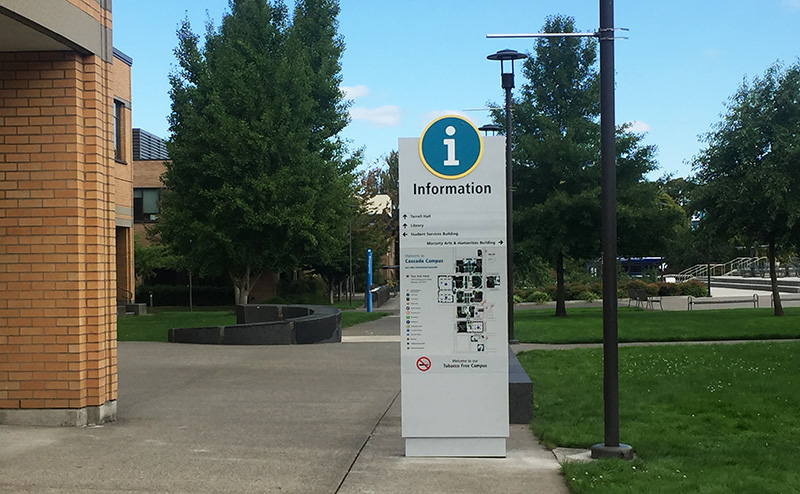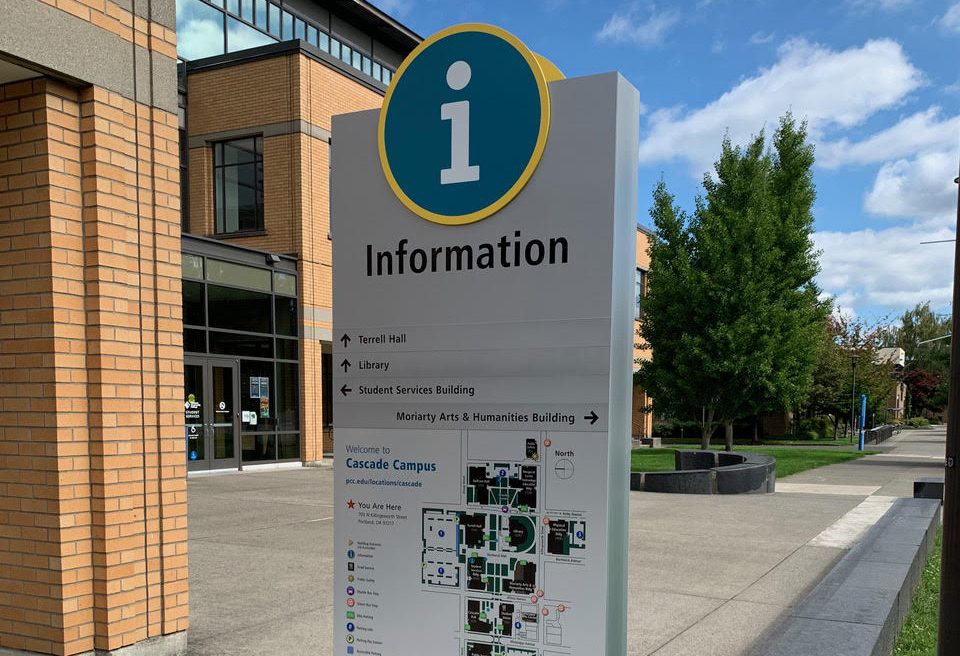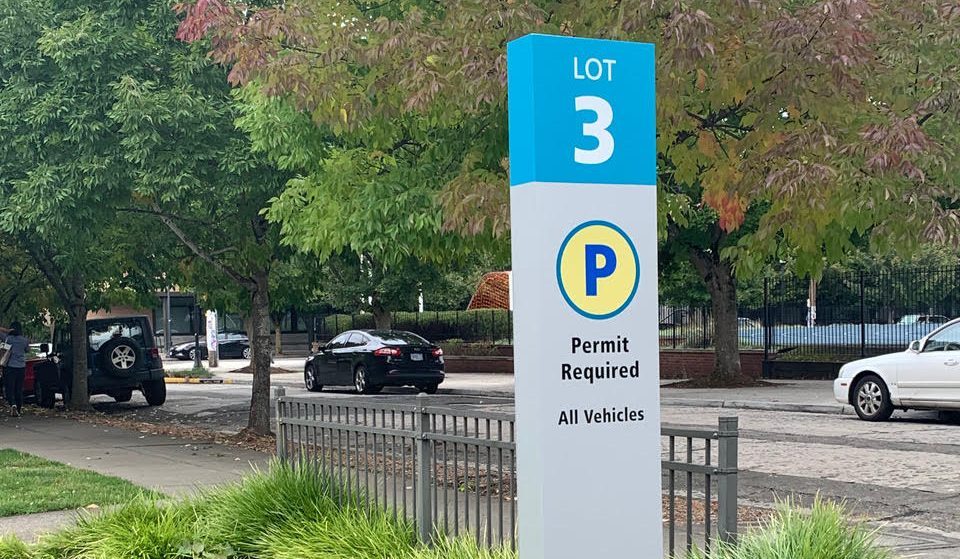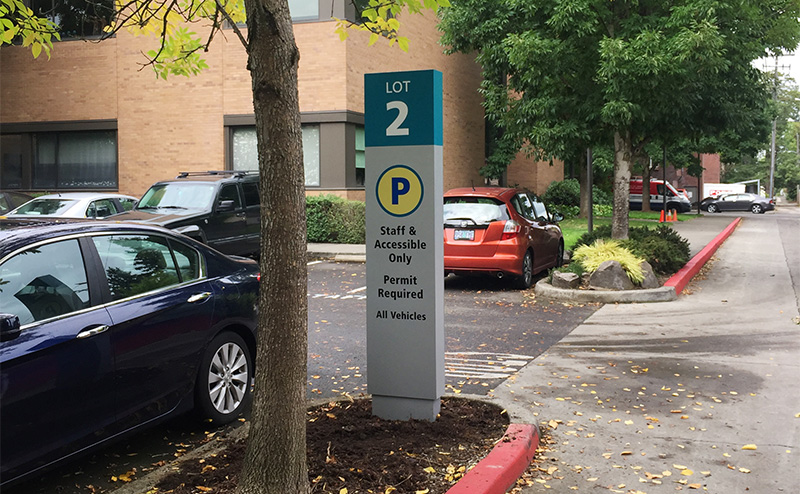 This project includes updating exterior wayfinding signage and monument signs on Killingsworth and Albina streets improving the ways in which students and visitors orient themselves on campus. The contractor, Sea Reach, is a certified local women business enterprise with vast experience in designing, fabricating, and installing wayfinding systems across the nation. The wayfinding signs at Cascade were designed with an emphasis on accessibility.
Overview
PROJECT COMPLETED
Project manager: Megan Saari
Contractors: Sea Reach Ltd.
Budget: $138,000
Timeline: May 2019 – September 2020
Funding: 2008 bond
Telecommunication cables and pathways mapping
As part of the technological upgrades funded by the 2017 bond, Enercon performed an evaluation of our low-voltage telecommunication cables and pathways at Cascade Campus, documenting the condition of the existing equipment. Enercon's evaluation will be used in the design of PCC's Network Optimization project. In addition, this project will provide an archived record of underground locations to aid in any future utility or groundwork and help ensure the safety of the network infrastructure.
Overview
PROJECT COMPLETED
Project manager: Michael Sturgill
Contractor: Enercon Services Inc.
Budget: $150,000
Timeline: June 2018 – July 2020
Funding: 2017 bond
Arc fault upgrade
Northeast Electric was hired to address the Arc Fault corrections to Cascade Campus' electrical systems. These types of corrections are required by regulatory agencies. The implementation for this project was phased to avoid disruptions to normal campus operations.
Overview
PROJECT COMPLETED
Project manager: Laura Ward
Contractors: Northeast Electric
Budget: $200,000
Timeline: November 2019 – June 2020
Funding: 2017 bond
Terrell Hall roof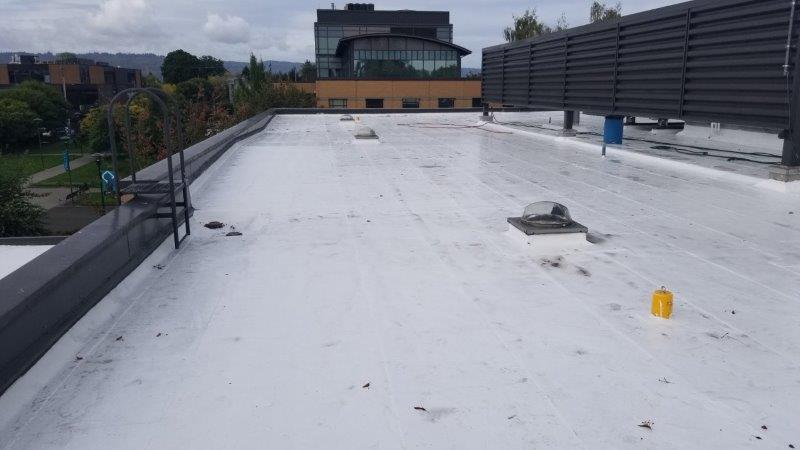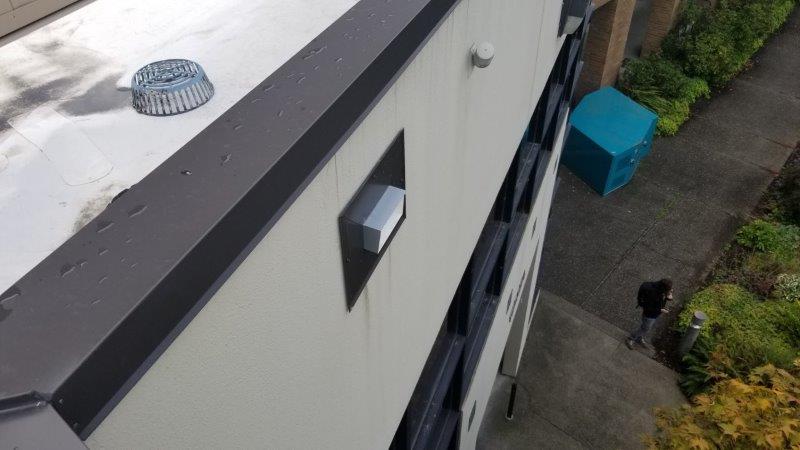 Terrell Hall's existing roof was completely replaced. The work performed included the removal of an existing ballast roof and installation of a new built up roof system.
Overview
PROJECT COMPLETED
Project manager: Gary Sutton
Contractors: Garland Company
Budget: $634,572
Square footage: 24,000
Timeline: September 2018 – November 2019
Funding: 2017 bond
Restrooms upgrade
Overview
Project manager: P&CC
Design team: DAO Architecture
Budget: $600,000*
Timeline: TBD
Funding: 2017 bond
*District-wide budget
Contact
If you have questions about the projects or would like to learn more about them, please contact Gina Valencia at gina.valencia@pcc.edu or 971-722-8416.