Funding Your Study Abroad Experience
Education Abroad encourages students to look at all of their options to cover the costs of studying abroad: financial aid, scholarships, savings, and creative funding sources. Advisors work closely with students to help with this process, and are especially knowledgeable about competitive study abroad scholarships.  For assistance with this process, give the Education Abroad Office a call at ext. 7117 or write us an email at studyabroad@pcc.edu. Download our handy Study Abroad Expense Worksheet to fill in your estimated budget and determine how your funding sources might come together to cover the costs of your program.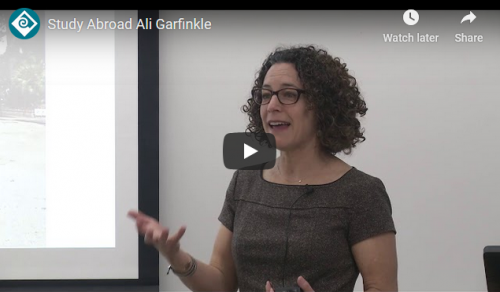 In addition to reading the below information, we also encourage you to watch the funding videos created this fall, with tips and resources from Financial Aid, Student Account Services, and Education Abroad.
1. Financial Aid
Federal and state financial aid can be applied towards any PCC Education Abroad program, and any program through the co-enrollment agreement with PSU. Because each student's financial aid situation is unique, we recommend that you contact the Financial Aid Office as your first step, to find out what is available. Make sure your file for your FAFSA in October. Please complete the following form to connect with Melinda Leiva from Financial Aid. Once you complete this form, you should receive a response from Financial Aid within one week. It is great to do this step as early as possible!
2. Apply for Scholarships
There are numerous scholarship and aid opportunities specifically designed to help you fund your education abroad experience. Scholarships available for PCC study abroad programs include:
General Study Abroad Scholarship Parameters and Deadlines
Name of Scholarship
Description
Dates and Due Dates
Award Amount
PCC Foundation
The PCC Foundation awards hundreds of scholarships every year to students to make education more affordable.

Opens in December,

due March 2021

Varies
PCC Education Abroad Scholarship
The Education Abroad office has its own PCC Foundation Scholarship for students applying for PCC faculty-led programs. The application is found in the education abroad program application portal and can be completed after you have been accepted into a faculty-led program. Note: For Education Abroad application and scholarship, click "I have a username and password" and log in on the MyPCC login screen.
Opens in October
Varies
Gilman Scholarship – Cycle 1
For students receiving Pell Grants participating in programs abroad for 2 weeks – 1 year. Detailed application instructions can be found here: Gilman Scholarship Application Instructions.
Due October 6, 2020
$1,000-$5,000
Gilman Scholarship – Cycle 2
For students receiving Pell Grants participating in programs abroad for 2 weeks – 1 year. Detailed application instructions can be found here: Gilman Scholarship Application Instructions.

Opens in Jan-

due March 2021

$1,000-$5,000
Gilman-McCain Scholarship
For dependent child of an active duty military member(s) during the time of application in one of the following branches: Air Force, Army, Marine Corps, Navy, and Coast Guard, and a recipient of any type of Title IV federal financial aid.
Rolling
$5,000
Fund for Education Abroad
For Education Abroad programs of at least 4 weeks. Includes additional dedicated scholarships, such as the Rainbow Scholarship.
January 2021
Up to $10,000
Diversity Network
For economically disadvantaged students, African-American/Black, Asian, Hispanic/Latino, multiracial/ethnic or Indigenous/Native-American, students with disabilities and first generation college undergraduate students attending a 4-week summer education abroad program.
May 2021
$1,000
Pride Foundation
Pride Foundation provides essential financial resources and community support to LGBTQ and allied student leaders in the Northwest—particularly those who face barriers due to race, economic circumstances, identity, ability, location, or lack of family support.
January 2021
Varies
Explore the World
Open to residents of Clackamas, Multnomah, and Washington Counties, ages 18-30, who lack the financial resources to go abroad. Award is to be used for an overseas trip and must involve an educational or service learning component.
March 2021
$2,000
Go Overseas
For any student participating in study a study abroad program. The scholarship is awarded based on the creativity and analytical thinking displayed through writing samples and/or video submissions.
TBD
$500
The Guide to Online Schools
For students enrolled at a public community college, junior college, technical college, or city college, and working towards a certificate, diploma or degree.
TBD
$2,500
LewerMark Make your Mark Scholarship
For students enrolled in summer or fall study abroad programs. Must include an advisor recommendation letter.
April 2021
$750
OSAC Scholarships
For Oregon college students. Students may select up to 40 different eligible scholarships in one application.
March 2021
varies
Many PCC students are awarded multiple scholarships for education abroad! You can read about why Anthony Shaw, a 2019 Gilman Scholarship recipient and Education Abroad Peer Mentor decided to study abroad. Other scholarships include:
Location/Language/Discipline-Specific scholarships, which usually focus on awarding funds to students focusing on a particular language, going to a particular part of the world, or studying a particular field.
Provider scholarships, which are open to students studying with specific study abroad program providers.
In addition, there are numerous scholarships that go toward funding your education which can be applied to study abroad opportunities as well.
PCC Foundation Scholarships can be applied towards any PCC education abroad program that awards PCC residential credit.
Many private and external scholarships that support PCC students such as OSAC, Ford Family Foundation, and others can be applied towards an education abroad program; check with the scholarship sponsor for details.
If you are interested in applying for any of these opportunities, or for other external education abroad scholarships, contact Education Abroad at ext. 7117 or studyabroad@pcc.edu for a scholarship advising appointment.
Helpful Scholarship Resources
3. Fundraising
You are welcome to think outside of the box to creatively fund your study abroad experience! Talk to the study abroad office about fundraising ideas including GoFundMe and other funding opportunities. We are happy to display a GoFundMe Site on our website, help advertise a fundraising event you plan, and connect you with our Peer Mentors. Check out the GoFundMe Pages for summer 2020 students! (*GoFundMe Pages are not recommended for F-1 international students due to visa status regulations. Talk to OISS for more information.)
4. Make an appointment with Education Abroad to learn more about all of these options!
In addition to helping you identify scholarships for study abroad, we are happy to provide scholarship essay guidance and revisions. Stay tuned for upcoming scholarship meetings in the Fall. You are also welcome to use our computer to apply for scholarships.