Resources for Undocumented and DACA Students
Sanctuary college: a place for all
Message from the PCC President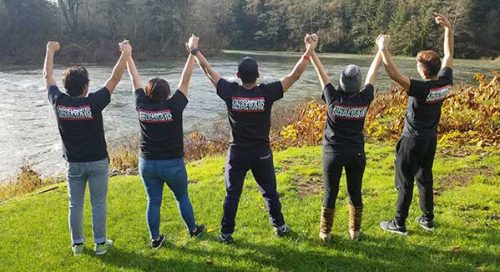 "At the heart of Portland Community College is a commitment to diversity, equity and inclusion. These values are essential to the college's mission, to our accreditation themes, to the Board's goals and objectives, and to the college's strategic plan. In keeping with these values, the Portland Community College Board of Directors has moved to apply the term 'sanctuary college' to PCC."Mark Mitsui
President, Portland Community College
Deferred Action for Childhood Arrivals (DACA) program
On September 5, 2017, the Trump administration announced the end of the Deferred Action for Childhood Arrivals (DACA) program.
The PCC community is disheartened by this decision and reaffirm Portland Community College's support of and commitment to our DREAMERs, DACA, and Undocumented students. We are aware that many PCC members are experiencing uncertainty and anxiety around this matter. I encourage you to explore the resources within PCC and our community that are included below and that you reach out for support as needed. You are valuable members of our community and we support our DREAMers!
PCC resources
Financial resources
Other student development resources
The Illumination Project
Sylvania
The Illumination Project (IP) is an innovative student leadership and education program designed to foster a climate of equality, compassion, justice, and respect for all people in the PCC academic community and the community-at-large. Offers students 12 tuition free/reduced credits in a supportive environment.
Transiciones Oeste Cohort Program
Rock Creek Women's Resource Center
Transiciones Oeste is a strength-based program that offers a supportive learning community tailored to Latina women transitioning to college. It provides nine free credits, including College Survival & Success, Today's Careers, and Introduction to Women's Studies.
ASPCC
We are the students of Portland Community College. Each campus has its own ASPCC organization with different activities, events and clubs. As a PCC student you may participate in any and all that each group has to offer. There are many paid student leadership positions and always room for volunteers. Get involved, build your resume and have fun! We are here to support you!
Community resources
Momentum Alliance – DACA Renewal Fund
Momentum Alliance and community members are fundraising funds to support DACA recipients who live in Oregon and SW Washington who are eligible to renew their DACA application before the October 5th, 2017 deadline. Funds will be available to DACA recipients on a first-come, first-serve basis and the amount available depends on the outcome of the fundraiser. The application will close September 21st, 2017.
Casa of Oregon Individual Development Account (IDA)
A matched savings account. IDAs enable families with limited financial resources to save and build assets fast while developing good financial habits. You apply for a savings plan, the state then matches with a 1:5 ratio up to $8,000 for a total of $9,600 over 3 years.
American Civil Liberties Union of Oregon (ACLU)
The Oregon Affiliate of the ACLU is a nonpartisan organization dedicated to the preservation and enhancement of civil liberties and civil rights. The national organization works daily in courts, legislatures, and communities to defend and preserve the individual rights and liberties that the Constitution and the laws of the United States guarantee everyone in this country.
Latino Network
The Latino Network is a Latino-led education organization, grounded in culturally-specific practices and services, that lifts up youth and families to reach their full potential. Website lists community resources, information toolkits, and referrals.
Sponsors Organized to Assist Refugees (SOAR)
Immigration Legal Services provides culturally competent, immigration-related legal representation and education to low income refugees and immigrants in and around the Portland metro area.
Catholic Charities of Portland – Immigration Legal Services (Portland Office)
Catholic Charities seeks to respond to the ever emerging needs of the poor and vulnerable throughout western Oregon.
CAUSA Oregon's Immigrant Rights Organization
Causa works to improve the lives of Latino immigrants and their families in Oregon through advocacy, coalition building, leadership development, and civic engagement.
Oregon Law Help
Free Legal Information for Low-Income Oregonians.
Community crisis lines

Multnomah County: 503-988-4888
Washington County: 503-291-9111 (se habla español)
Columbia County: 503-397-5211

Oregon consulates
Other resources
National resources
United We Dream – Queer Undocumented Immigrant Project (QUIP)
Seeks to organize and empower Undocumented Lesbian, Gay, Bisexual, Transgender and Queer immigrants, LGBTQ immigrants and allies to address social and systemic barriers that affect themselves and the broader LGBTQ and immigrant community.
We Are Here To Stay
This site is powered and updated by immigrant youth on the latest informational and advocacy resources.
My Undocumented Life
Find up-to-date information and resources on DACA, scholarships, education, internships, and financial and legal assistance.
Transgender Law Center
Transgender Law Center works to change law, policy, and attitudes so that all people can live safely, authentically, and free from discrimination regardless of their gender identity or expression.
National Suicide Hotline

1-800-273-8255 (se habla español)

National Sexual Assault Hotline