Resources for non-immigration status (undocumented) and DACA students
COVID-19 update
Contact Luz for help while campuses are closed: luz.villarroel15@pcc.edu, 971-722-7986, or 971-570-2900 (texts only please).
Monday – Thursday: 8am-5pm
Friday: by appointment
Sanctuary college: a place for all
Message from the PCC President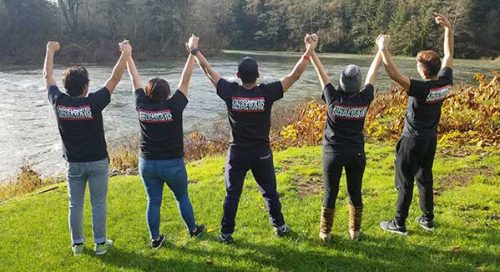 "At the heart of Portland Community College is a commitment to diversity, equity and inclusion. These values are essential to the college's mission, to our accreditation themes, to the Board's goals and objectives, and to the college's strategic plan. In keeping with these values, the Portland Community College Board of Directors has moved to apply the term 'sanctuary college' to PCC."Mark Mitsui
President, Portland Community College
See the complete statement, board resolution, and PCC procedure regarding immigration enforcement. The PCC community reaffirms Portland Community College's support of and commitment to our DREAMers, DACA, and Undocumented students.
Deferred Action for Childhood Arrivals (DACA) program
What should DREAMers do now?
Renew! 

If a DACA work permit expires in one year or less, the beneficiary should renew ASAP
$495 USCIS fee, prior approval, 2 passport photos
3 weeks turnaround

Get a full immigration legal consultation

You may be eligible for some other form of relief
Other DACA beneficiaries have been eligible for a green card, consular processing, or U visa
The PCC CLEAR Clinic is a free legal clinic at PCC Cascade and can help you file a DACA application or renewal. Fill out their intake form to get started.
We are aware that many PCC members are experiencing uncertainty and anxiety around this matter. I encourage you to explore the resources within PCC and our community that are included below and that you reach out for support as needed. You are valuable members of our community and we support our DREAMers!
Additional resources around the SCOTUS decision
Resources
Financial
Attorney referrals
Casos Generales

Immigrant Law Group: 503-241-0035 (Spanish)
Teresa Statler: 503-220-4185 (Spanish)
Immigration Counseling Services: 503-221-1689 (Spanish)
Philip Hornik: 503-243-2733 (Spanish)
Jennifer Morrissey: 503-224-5560 (Spanish)
Renee Cummings/Anna Ciesielski: 503-776-7900 (Spanish)
Ali Schneider: 503-764-9890 (Spanish)
Rachel Aitchison: 503-445-0130 (Spanish)
Kim Le: 503-517-0054 (Spanish)

Casos de detención

Jesse Maanao (good with criminals): 503-577-9611 (English)
Tilman Hasche: 503-241-1320 (Spanish)
Jeff Gonzalez: 503-274-1680 (Spanish)
Diana Bailey: 503-224-0950 (Spanish)
Rachel Game (Salem): 503-363-9903 (Spanish)
Justin Rollin: 503-274-1680 (Spanish)
John Marandas: 503-697-4834 (Spanish)
Nicole Nelson/Phillip Smith: 503-224-8600 (Spanish)
David Shomloo: 503-220-5045 (Spanish)
Eileen Sterlock: 503-928-4163 (Spanish)
Cole Enabnit & Eduardo Herrera (NWICD): 503-674-7434
Irma Valdez: 503-893-2150 (Spanish)

Casos de empleo/negocios

Brent Renison: 503-597-7190 (Spanish translators)
Nicole Nelson (Also tourist visas): 503-224-8600 (Spanish)
Jennifer Morrisey: 503-224-5560 (Spanish)
Dagmar Butte: 503-241-1320 (Spanish)
Brad Maier: 503-796-2440 (Spanish)
Jimmy Go: 503-224-8654 (Spanish)

Casos de violencia domestica

Catholic Charities: 503-231-4866 (Spanish)
Sherilyn Waxler: 503-281-0990 (Spanish)
Ali Schneider: 503-764-9890 (Spanish)
Renee Cummings/Anna Ciesielski: 503-776-7900 (free consults for survivors) (Spanish)

Otros

SOAR (limited case types): 503-284-3002
Robin Pope (Intl adoptions with immigration): 503-352-3524

Seattle/Tacoma

Erin Hall and Shannon Underwood: 206-787-1406 (Spanish)
Robert Pauw/ Devin Theriott Orr: 206-682-1080 (Spanish)
Manny Rios (Manuel Rios): 206-749-5600 (Spanish)
NW Immigrant Rights Project: 253-383-0519 (Spanish)

Eugene, OR

Katrina Kilgren: 541-600-8864 (Spanish)

Bend, OR

Callie Killebrew: 541-633-7933 (Spanish)

Southern Oregon

John Almaguer: 541-772-6969 (spanish)

Criminal defense attorneys

David Celuch (Multnomah County/Cons free): 503-388-4325 (no Spanish)
Andrew Myers (Wasco County, Hood River): 541-296-9601 (Spanish only)
Christopher McCormack (Multnomah County): 503-224-4825 (Spanish)

Worker's right

Wage labor claims for Spanish speakers: Oregon hotline: 1-877-552-9832
Northwest Workers Justice Project (NWJP): 503-525-8454 (Spanish)

Family law

St. Andrews Legal Clinic (divorce/child custody)

NE Portland: 503-281-1500
Hillsboro: 503-648-1600

Domestic violence advocates

Sexual Assault Resource Center (SARC)

24-hour crisis line: 503-640-5311 (Spanish)
Office: 503-626-9100 (Spanish)

El Programa Hispano Project UNICA

24-hour Spanish crisis line: 503-232-4448
Gresham Office: 503-669-8350 (Spanish)
Portland Office: 503-688-2630 (Spanish)

The Gateway Center

Office: 503-988-6400
After hrs: Portland Women's Crisis Line: 503-235-5333
Para más abogados visite AILA's Immigration Lawyer Search
PCC
Local
American Civil Liberties Union of Oregon (ACLU)
The Oregon Affiliate of the ACLU is a nonpartisan organization dedicated to the preservation and enhancement of civil liberties and civil rights. The national organization works daily in courts, legislatures, and communities to defend and preserve the individual rights and liberties that the Constitution and the laws of the United States guarantee everyone in this country.
Latino Network
The Latino Network is a Latino-led education organization, grounded in culturally-specific practices and services, that lifts up youth and families to reach their full potential. Website lists community resources, information toolkits, and referrals.
SOAR Immigration Legal Services
Immigration Legal Services provides culturally competent, immigration-related legal representation and education to low-income refugees and immigrants in and around the Portland metro area.
Catholic Charities of Portland – Immigration Legal Services
(Portland Office)Catholic Charities seeks to respond to the ever-emerging needs of the poor and vulnerable throughout western Oregon.
CAUSA Oregon's Immigrant Rights Organization
Causa works to improve the lives of Latino immigrants and their families in Oregon through advocacy, coalition building, leadership development, and civic engagement.
Oregon Law Help
Free legal information for low-income Oregonians.
Community crisis lines

Multnomah County: 503-988-4888
Washington County: 503-291-9111 (se habla español)
Columbia County: 503-397-5211

Oregon consulates
Other resources
National