DREAM Ambassadors
COVID-19 update
Contact Luz for help while campuses are closed: luz.villarroel15@pcc.edu, 971-722-7986, or 971-570-2900 (texts only please).
Hours: 

Monday – Thursday: 8am – 5pm
Friday: by appointment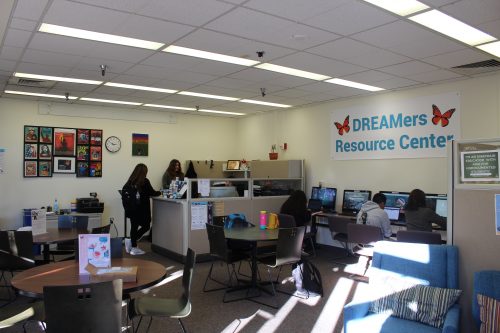 What is the Dream Center Ambassadors' Program?
Dream Ambassadors (DAs) are a group of high achieving PCC students from various cultural backgrounds who are offered an opportunity to improve their leadership skills, develop programs, and participate on campus committees that advocate for student rights.
What do Dream Ambassadors do?
Through a combination of workshops, retreats, and volunteer opportunities DAs will gain new leadership skills to make a difference on campus and in the community, by advocating for Undocumented, DACAmented, or other statuses that are in limbo. They will also be challenged to develop a greater understanding of social (in)justice issues and learn strategies to address social inequalities for marginalized students pursuing higher education.
Why become an Dream Ambassador?
The program offers an excellent opportunity to improve your leadership skills, help plan and set up multicultural programs and activities, participate in recruitment and retention activities, and become better connected with the college community. DAs network with college administrators, faculty, students, and staff. Besides meeting new people, making long-lasting friendships, and working with a team of highly motivated and responsible students, Dream Ambassadors become trained in issues of social (in)justice and work to address issues that are important to their communities.
Apply: