Student Sustainability Hub
We're all in this together
Explore sustainability, build community, and strengthen your skills with the Student Sustainability Hub. Our programs are designed for students who want to create positive change on campus and beyond. Choose your own adventure and thrive!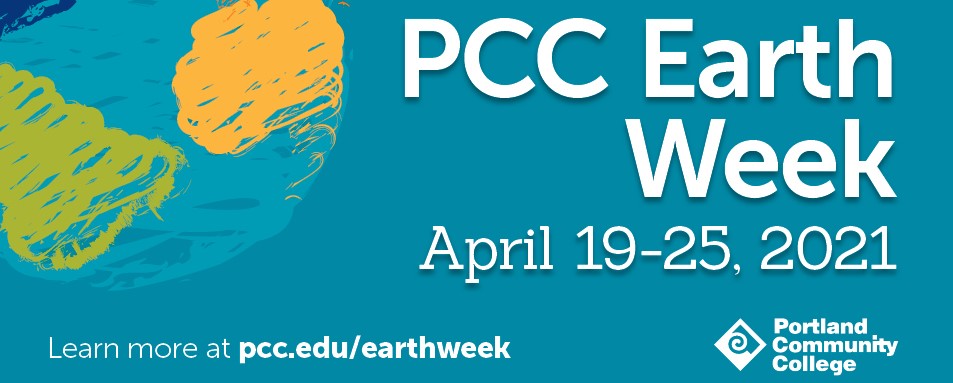 You belong! Join a club and to get in on sustainable actions across the district. Learn more about the Habitat Team, Cascade Environmental Justice Club, and more.
Keep up with all the sustainability related events at PCC by adding our calendar to yours!
Learn about PCC's Sustainability Focus Award or find green classes like HE264 Health, Food, and the Environment for the upcoming term.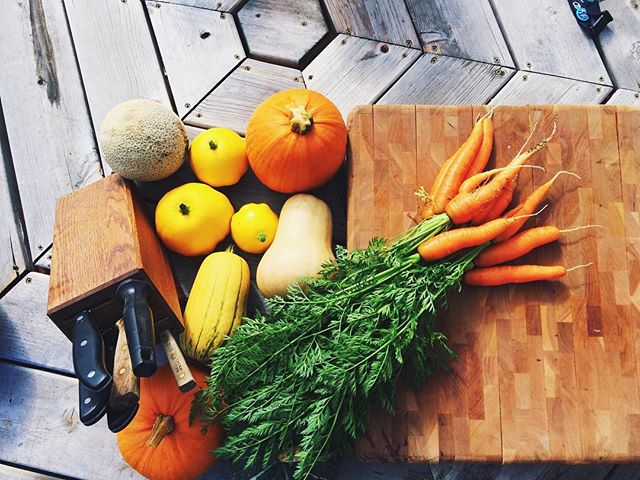 Come work with us! There are plenty of works study and part time jobs that involve sustainability at PCC!
Get outside and help our Learning Gardens thrive or help restore important wildlife habitat!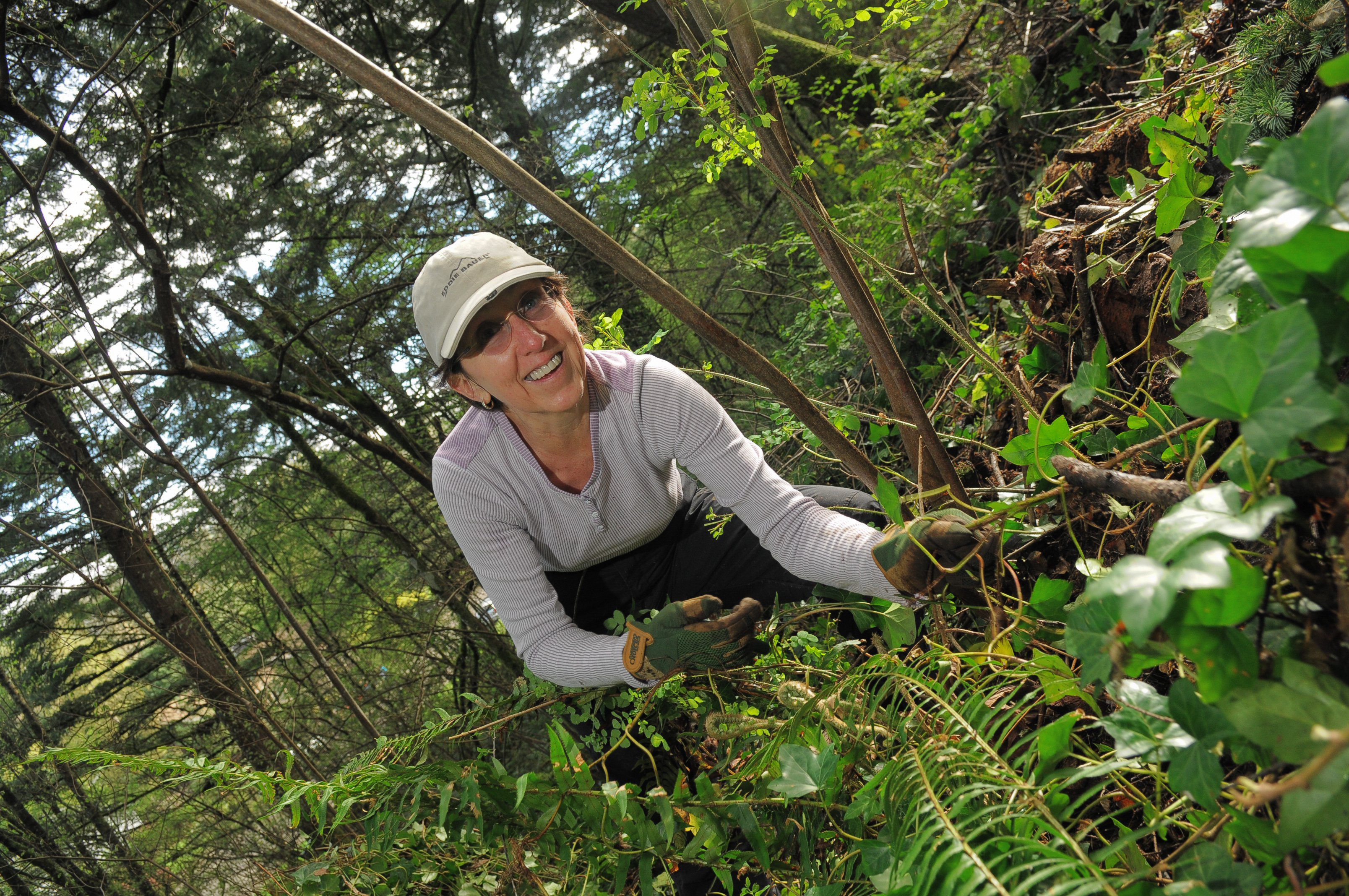 Learn more about sustainability related events around PCC under the Events tab below.
Have an opportunity to add?
If you have something to add to this page, submit the information using this form.
Calendar
pcc.edu_hcdarlo154g0gmkn842dn2810o@group.calendar.google.com
Events
Error: The image above does not have Alt Text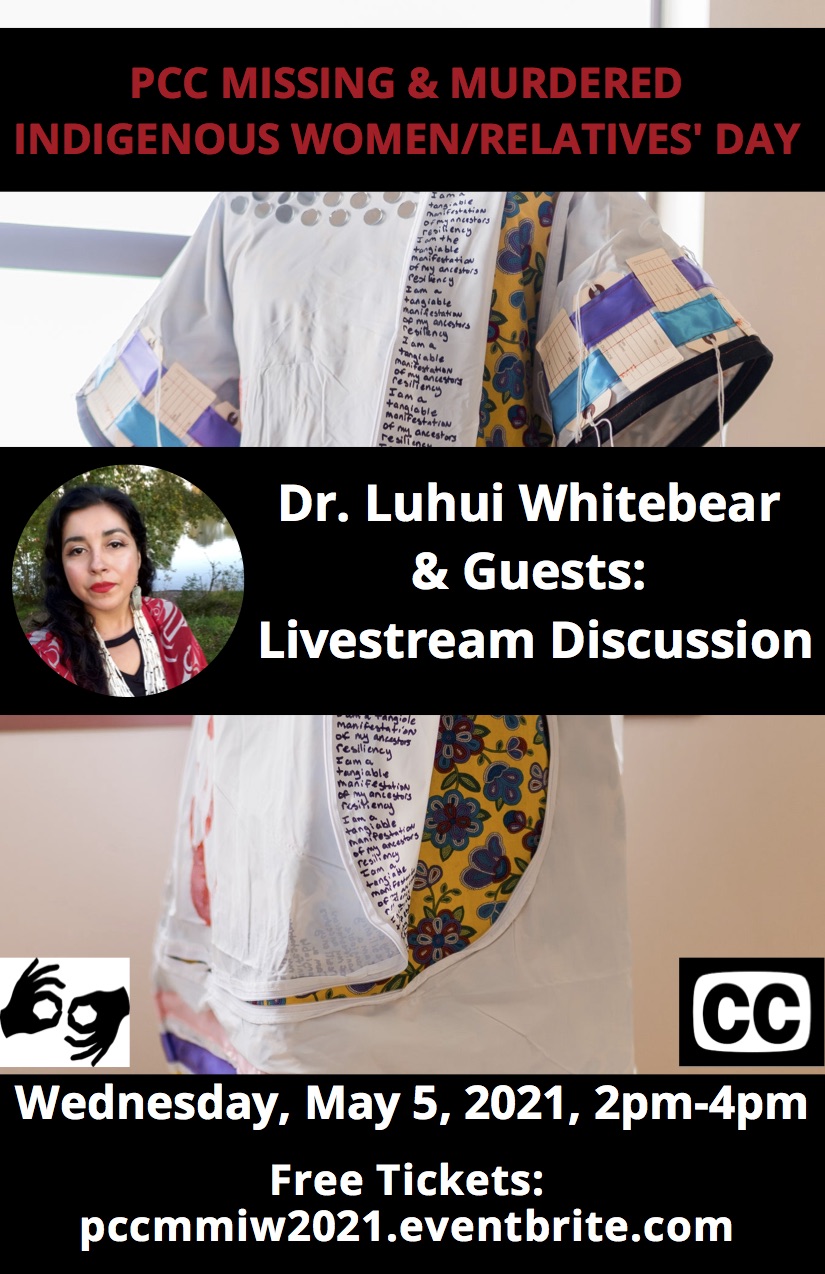 Volunteer
Looking to join the team of students, staff, and faculty who are dedicated to creating sustainable solutions? Opportunities for volunteering on sustainability projects at PCC pop up regularly, so check here for regular updates!
Sylvania Learning Garden Work Parties
PCC Sylvania, Learning Garden
Date & Time TBA
Sylvania Learning Garden Work Parties
Take a break from classrooms and books and get your hands dirty! Join us in the Learning Garden (across from parking lots 13 and 14). Come for a few minutes or the whole time. Gloves and tools are provided. For more information, contact Jeanell at jeanell.innerarity@pcc.edu.
Cascade Learning Garden Work Parties
PCC Cascade, Learning Garden
Date & Time TBA
Check the Sustainability Calendar for Virtual Lunch Bunches!
All gardening experience levels are welcome to join us for fun planting and harvesting projects. Please stop by for any amount of time and learn how you can become involved. Gardening tools, gloves, and guidance provided. Please wear clothes that can get dirty and be prepared for any weather. For more information please contact Jolie Donohue at jolie.donohue@pcc.edu.
Volunteer for Veggies at Rock Creek
Rock Creek, Learning Garden
Date & Time TBA
The Rock Creek Learning Garden has volunteer sessions on Tuesdays, Wednesdays, and Thursdays from 9:00am-1:00pm. Earn $5 credit per hour to spend at Portlandia FarmStandia. And October-April, earn $5 vouchers for the cafeteria for every hour of volunteering (while they last!). More information is available at the Learning Garden's Get Involved page.
Volunteer for Veggies at Newberg Center
Newberg Center, Learning Garden
Date & Time TBA
The Newberg Center Learning Garden would love for you to come and volunteer! Come for a half hour or longer. Meet great people, learn about growing food, pollinators, and what makes the learning garden special. We'll provide gloves, tools, and snacks. Volunteers get to take home a portion of the day's harvest! Contact Lynn at lmontoya@pcc.edu for more info.
Classes
Sustainability Focus Award
The Sustainability Focus award recognizes students who have completed a broad range of sustainability-related courses. The award is designed to encourage students to learn to see environmental issues from multiple perspectives and to increase their experience in this multi-disciplinary topic. The earning of this focus award can demonstrate to potential employers and transfer colleges that the student has a deep and broad understanding of sustainability issues.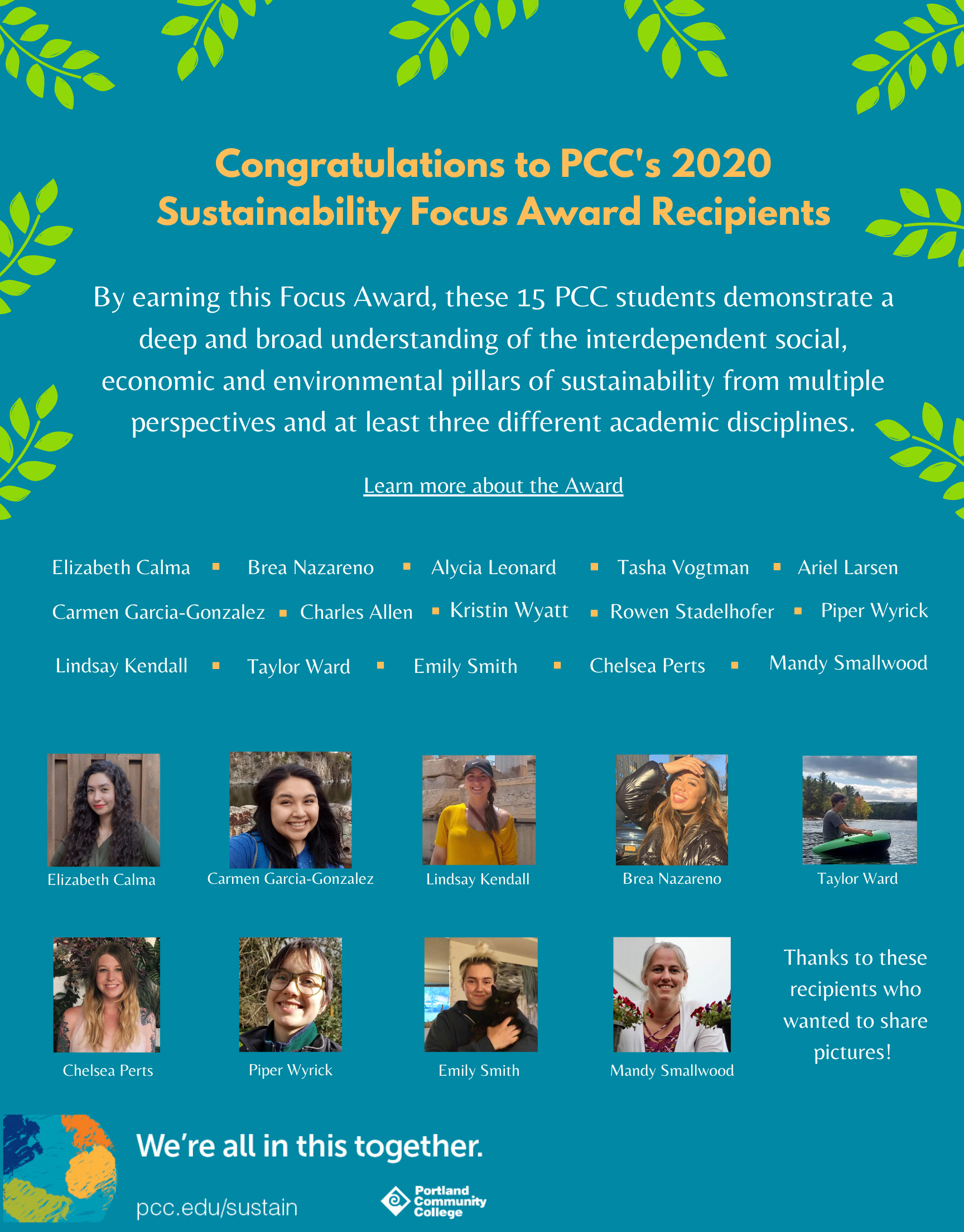 Error: The image above does not have Alt Text
Upcoming credit classes
The following classes in the Winter 2020 term include sustainability as a component of their curricula:
Jobs
We frequently have work-study positions available at the campus and district-level. Please see the PCC Work Study page for available positions or email sustainability@pcc.edu.
District Sustainability Department
Sustainability Work Study Assistant
Assist the Sustainability Manager with a variety of tasks and projects to advance the college's sustainability efforts. Potential tasks and projects may include, but are not limited to:
Coordinating waste audits and recycling education
Conducting research on sustainability best practices
Data entry
Promoting sustainability awareness & outreach
Other duties as assigned
Desired qualifications:
Passion for sustainability and social justice
Dedication to promoting sustainable practices
Competency in Microsoft Office Suite & Adobe Suites
Skills in research, critical thinking, project management, and data entry
Strong written and verbal communication skills
Projects can be varied to align with student's knowledge and experience.
Position open until filled. Must be work study approved through financial aid. Please contact briar.schoon@pcc.edu with any questions, and to apply for the position after accepting your work study award.
Southeast STEM Spaces
2021 Garden Liason
Learning Garden Liaison – support the Learning Garden with marketing (website, social media), outreach (class wraps, tabling), and collaborate with student leaders are other resource centers available at PCC. Due to the current climate all work is located on a virtual platform. At this moment, SE Learning Garden is not allowed to work on campus in the living garden. Your work will be based on providing virtual content around gardening. For example, one way a student advocate us their virtual space was to do a nature walk once a week and wrote about one flower along the walk. They gave information about the flower such as: species, color variation within the plant family, the flower's home place, any festivals that happen locally for the flower, etc.
You can view the posts at: https://www.instagram.com/pccselearninggarden/
There are many ways to communicate with PCC students. And, we are open to ways that are of interest to you!
Hours are flexible based on your academic schedule, and each position gives you the opportunity to develop new skills, and support our spaces in a meaningful way! All students are welcome to apply, whether you are pursuing a degree in STEM or not.
Currently, our weekly meetings are Fridays, 9am-11am. If you are unable to attend weekly meetings you are expected to communicate with administrative staff to setup a check-in to touch bases on projects and connect with the team's updates. Note: Weekly meeting time changes every term according to staffs availability.
Students must provide proof of eligibility for work study in their 2020-2021 Financial Aid letter. This position requires work study eligibility.
Hiring Process:
Applications will be reviewed within two (2) weeks of submission. You can anticipate an initial response within one (1) week, to include next steps such as an interview. All hires are for the ending of 2020-2021 academic year, to start immediately. Click here for more details.
Sylvania Environmental Center
Outreach Coordinator
As our Outreach Coordinator, you would:
Help with E-Center communications:
Update the our sustainability outreach materials
Creatively design new signage
Work on our Newsletter around events and education
Help with sustainability projects:
Plan events including Upcycling and Earth Week
Talk with fellow students at tabling events
Help with sustainability activities, like learning garden work parties
Help with composting and recycling programs
Keep up and organize the Environmental Center office.
Contact Peter Ritson, Environmental Center Coordinator, peter.ritson@pcc.edu for more details.
We looking for team members who have skills, experience or wants to further develop in, outreach, people skills, organization, and planning. Contact Peter Ritson, Environmental Center Coordinator, peter.ritson@pcc.edu for more details.
Rock Creek Sustainability Office
Environmental Educator
Work schedule: flexible
Hours per week: 5-11
Wage/salary: $11.25 per hour for Work-Study
Portland Community College's Rock Creek Sustainability Office is looking for a passionate, enthusiastic and organized student to join our team to advance the college's sustainability practices. Under direction of the campus Sustainability Coordinator, the Sustainable Practices Educator will assist with new and current sustainability practices and initiatives as well as provide administrative support to the team.
Some duties may include:
Assist with the coordination and promotion of existing sustainability programs, such as the Green Office program and PowerShift.
Contribute to our sustainability online presence, including website, Facebook, Instagram and Twitter accounts.
Conduct research on potential new initiatives and opportunities that will contribute to the achievement of college-wide sustainability goals.
Assist with the implementation of new sustainability programs/initiatives and develop sustainability resources.
Conduct sustainability assessments and gather data for activities such as waste audits and energy conservation projects.
Support events and programs related to sustainability, such as Earth Week, Eco Challenge, Pollinator Week and Harvest Fest
Coordinate promotional activities and tabling during college events.
Develop educational materials for staff and students and coordinate outreach campaigns.
Perform general administrative tasks, including: note taking, writing document summaries, sending emails and returning phone calls.
Qualifications:
Passionate about sustainability or a related fields.
A basic understanding of sustainability and social justice.
Skills in data collection, critical thinking, project management, and data entry are a bonus.
Strong verbal and written communication skills.
Ability to work independently.
Ability to effectively organize and meet established deadlines.
Working knowledge of Microsoft Office applications.
Comfortable using social media i.e. Facebook, Twitter
18 years of age or older.
Possession of a high school diploma or equivalent.
Application details: Please email a resume, cover letter and two professional references to elaine.cole16@pcc.edu. If you have any questions, please call 971-722-7635.
Rock Creek Learning Garden
Learning Garden Assistant (Job ID: 30197)
The Learning Garden Assistant will mainly work in PCC Rock Creek's 3.64 acre Learning Garden, a pesticide and herbicide-free food growing space. Work in the garden may include raised bed preparation, planting, weeding, tool maintenance, irrigation maintenance, and weekly harvest for sale at Portlandia FarmStandia. The Learning Garden Assistant will also have the opportunity to interact with volunteers and students in the garden and demonstrate best practices.
Harvest and Farm Stand Associate (Job ID: 33522)
The Harvest and Farm Stand Associate will work with the Learning Garden team to prepare for and run Portlandia FarmStandia each Tuesday (~6-8 hours per Tuesday, April-October). This work will include harvesting, washing and packing crops in the garden and hoop house prior to sale, assisting with set-up and take-down of the farm stand, and providing support during farm stand hours by helping with transactions, engaging with customers and promoting Learning Garden services and events. Gain insight into running a small business and assist with marketing, outreach, customer service and donation of surplus produce to our community partners. This is a great opportunity for students interested in health, agriculture, or business, or for individuals who simply want to be involved in their community and develop their professional skill set.
Education Assistant (Job ID: 35574)
Get to know the learning garden at the PCC Rock Creek Campus by participating in seeding, field preparation, planting, weeding, and harvest. Share your knowledge with other students by providing garden orientation on campus, tabling at events, and partnering in a position of leadership with student club activities.
All positions require Work-study eligibility and offer $12.50 per hour. To apply, please send resume and cover letter to the Learning Garden Coordinator at LearningGarden@pcc.edu.
Clubs
Cascade Green Team
Are you a student at Cascade and interested in getting involved in sustainability initiatives on campus? Join students, faculty, and staff in the Cascade Green Team! We like to find ways to advance sustainability at our campus through educational events and action projects. Some projects that we have worked on recently include efforts to reduce plastic bottle consumption on campus, supporting the learning garden and contributing to Earth Week activities. We always welcome new folks and ideas! If you are interested in learning more about the club or attending a meeting, contact Taryn Oakley at taryn.oakley@pcc.edu.
Sylvania Food Justice Club
The Sylvania Food Justice Club/Cohort is comprised of food justice champions from multiple Identity Based Equity Centers (IBEC) including the Queer Resource Center, Multicultural Center, Women's Resource Center, and Veterans Resource Center. Collectively, the cohort organizes advocacy and education around food insecurity and how to help students in need. Our mission is to tackle the root cause that continues to perpetuate the same outcome. We stand by three fundamental strategies that can address systemic hunger by, teaching, connecting and advocating. This includes policies, practices, and norms here at PCC. At PCC Sylvania, we draw strength from all who support us on campus and in our community. We hope people across the city and state will see our efforts in taking the lead in addressing hunger here in Oregon. All are welcome. If you are interested in being a part of this cohort, email Ryan Ott at ryan.ott@pcc.edu and/or Jeanell Innerarity at jeanell.innerarity@pcc.edu.
Organic Garden Club
The purpose of the LAWNS club (Land Air Water Nutrients Space) is to make gardening accessible to all PCC students, staff and faculty and open the door to promote transformation of LAWNS into biodiverse environments that engage all plants and gardeners by bringing access to affordable, sustainable gardening and an awareness to food sovereignty.  To get involved, contact Peter at peter.ritson@pcc.edu.
Southeast Learning Garden Club – Food Justice
Inspired by students passionate about gardening and breaking down barriers to food security, we have created the Southeast campus's first Food Justice Club. The club is open to all PCC students and is dedicated to building awareness and resources to empower fellow students. For more details, please contact Abigail Jeanseau at abi.jeanseau@pcc.edu or Hunter Wiseman at hunter.wiseman@pcc.edu.
Southeast Green Team
Are you a student at Southeast and interested in getting involved in sustainability initiatives on campus? Join students, faculty, and staff in the Southeast Green Team! We are in the process of developing a learning garden that will be a comprehensive outdoor learning space for our students to learn, our faculty to teach in, and our Southeast Campus to enjoy. This will provide opportunities for students to work outside of the standard classroom and to connect sustainability and gardening with learning and everyday life. We promote a number of other green initiatives, like the Bike Rental Program and annual Earth Week events. If you are interested in learning more about the club or attending a meeting, contact Davida Jordan at davida.jordan@pcc.edu.
Sylvania Garden Club
The purpose of the club is to learn more about organic gardening, share gardening knowledge, plan events for the Learning Garden, and attend field trips and guest speaker events. There is still time to join. If you're interested, email Jeanell Innerarity at jeanell.innerarity@pcc.edu.
Sylvania Environmental Club
This club meets on Mondays at 11am in AM 101. Club will not meet over the summer. If you're interested, email madisen.lattanzi@pcc.edu.
Habitat Restoration Team at Sylvania
Would you like leadership and environmental field experiences? Come join the team! We don't usually meet for two hours but sometimes we write grants, show movies, do a walkabout, or have a mini-work party. The Habitat Restoration Team, working with the Sylvania Grounds crew, PCC students and staff, and community members, works to remove invasive species, plant NW native plants, and help stabilize creek beds. To get involved, contact April Ann Fong at afong@pcc.edu.
Food Recovery at Rock Creek
This club works to prevent campus food waste by recovering and donating unsold, unconsumed food while promoting sustainability and giving back to our community. If you are interested in learning more, contact Stephanie Saunders at stephanie.saunders1@pcc.edu.
Rock Creek Food Justice Club
This club focuses on bringing awareness to food insecurity in college students and campuses. Participate in outreach to educate others on what the Food Justice Movement means and how they can help. As students and as human beings we have the right to fight for our right to have quality, healthy food for every meal. Our goals of this club are as follows; collaborate with local non-profits, collaborate with resource centers stationed at Rock Creek, complete service projects on and off campus, create an event on campus to promote food justice. Interested? Contact Kathryn Lopez at kathryn.lopez@pcc.edu.
Get involved with the garden and learn more about organic gardening, composting, and greenhouse production. Help host work parties and events in the Learning Garden. Now's the time to get growing! For more information email Miriam Latzer at miriam.latzer@pcc.edu.
Rock Creek Sustainability Club
This is an organization of students from Portland Community College who believe that a collect effort can make a difference for a better world. Our mission is to build awareness about the issues of environmental degradation and environmental social justice, and to help the community adopt a sustainable lifestyle in their own lives and on campus. We have community outreach projects, volunteer opportunities, and outdoors activities.
Our Goals for 2019-2020 are:
To educate PCC community about the sustainable practices through presentations, exhibitions, events, and talks.
To build awareness about the pollution caused by single-use plastics.
Please contact Kathryn Lopez at kathryn.lopez@pcc.edu or Grace Grace at grace1@pcc.edu with questions or concerns!
The Panther PAC (Progressive Action Club)
Bi-weekly meetings starting Wednesday, November 16th from 6:30pm-7:30 pm in HT 205. The PAC wants to affect political action around the environment and social justice. While the problems in our community and our world can be heavy, you can join us to find hope and energy! We are a group of intelligent, informed, and passionate PCC students looking to make a difference.
Thinking of starting a club?
First contact the district sustainability department, who can connect you with people and resources that you will need to know. Who knows – maybe there's already a club that exists, waiting for someone like you to step into a leadership role!
Resources
Rock Creek Garden Community Plots
Calling all gardeners! Interested in caring for a plot in the community beds at the Rock Creek Campus Learning Garden? Sign-ups begin soon. For more information, contact Elaine Cole at elaine.cole16@pcc.edu.
Eco Social Justice Grant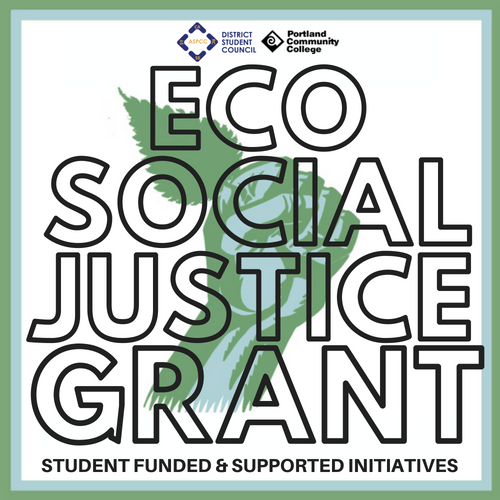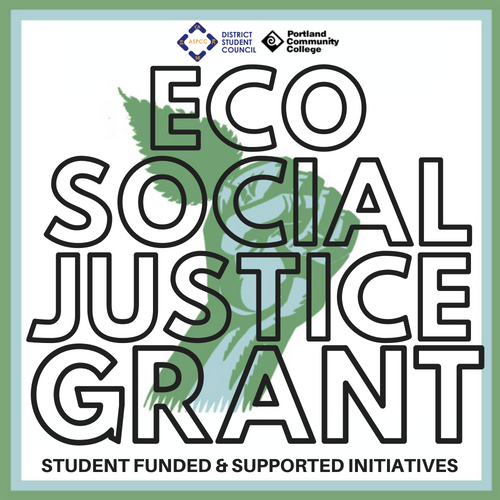 Issues of environmental degradation, inequality, and economic disparity impact us all. Here at PCC we value our students, staff, and faculty and their commitment to sustainability as well as their advocacy and efforts towards creating more equitable, diverse and inclusive spaces across the district.
We are supporting and fostering a culture of collaborative, innovative problem solving using environmental sustainability and social justice initiatives to accomplish these goals. From our learning gardens, water bottle fill stations, our great bike programs and farm stand, to our annual #EcoSocialJusticeEvent, we have been working together to address our community's most pressing ecological and social challenges with fresh ideas. We also feel that it is important to both celebrate and give thanks and acknowledgement to the amount of time, money, and effort that students have put towards making Portland Community College a nationally and globally recognized higher education institution and leader in the sustainability movement.
In 2008 the Associated Students of Portland Community College (ASPCC) District Student Council approved a ten cent addition to the student activity fee, creating The Green Initiative Fund. At the beginning of 2018, the ASPCC District Student Council unanimously agreed to change the name of this fund to the Eco Social Justice Grant (ESJG), this name change better reflects the broader scope of what these grants have been and will be dedicated to. This fund exists so that students, staff, and faculty can participate in our culture of innovation and contribute meaningful advances to sustainable practices. At PCC, our goal is to achieve sustainable excellence in all operations, to live our commitment to social justice, and to meet our targeted greenhouse gas reductions as detailed in the Climate Action Plan. If you have an idea for a project that moves PCC towards these outcomes, we want to hear from you!
Learn more and apply for the Eco Social Justice Grant!
Southeast Cycle Center
At PCC Southeast, the Student Life and Leadership Program provides alternative modes of transportation through the Southeast Cycle Center. Students and staff can rent a bike or bike locker on a term-by-term basis.
Bike Rentals cost $15 per-term. Students need to meet with an academic advisor to complete an academic plan. Once the application is completed and approved, students will meet with the Bike Coordinator and receive a bike, helmet, lights, and U-Lock. Participants must return the bike by the end of the term that they rented the bike. Students who do not return the bike and/or lose the bike will have a $400 hold placed on their student accounts.
Bike Lockers cost is free. Students and staff can turn in an application on a first come, first serve basis to utilize the lockers. 
Students can access our Cycle Center, by appointment only, to get free maintenance done on their personal bike!
Applications for Bike Rental and Bike lockers can be found on our Southeast Cycle Center page in PantherHub.
Student can also find this information here: https://hub.pcc.edu/organization/southeastcyclecenter
Want to learn how to be more sustainable on the day-to-day?
Take the Sustainable Choices Pledge.
GPSEN College Network of Environmentalists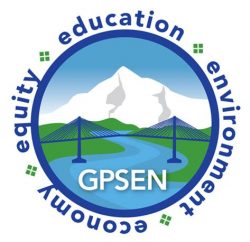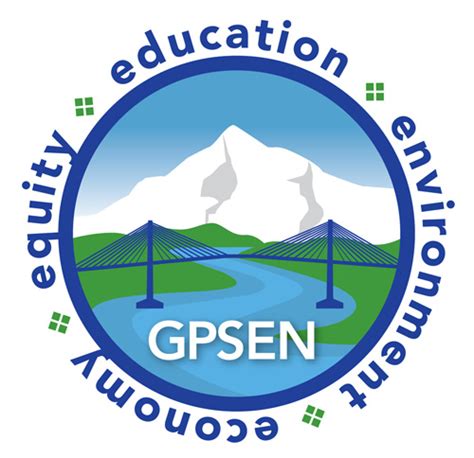 Stay in the loop of networking events in Portland, discuss goals and ideas for the future, and more!
Panther Pantries
We know that keeping students fed is imperative to equitable student success, that diverting food waste lowers PCC's carbon impact, and that projects like the Learning Garden and Food Forests build community resilience to the impacts of Climate Change.
Panther Pantries are on all four comprehensive campuses and provide food for students in need: Cascade (Second Floor, Student Union Building); Rock Creek (Room 113, Building 5); Southeast (Room 105, Mt. Tabor Hall); and Sylvania (Room 102, College Center).
FIERCe
This resource center was created by PCC students for PCC students to combat food insecurity and hunger. It is loaded with tools and resources within PCC and around Portland, Oregon to educate and destigmatize food insecurity. Check out the site here.
Find more resources for students on PCC's Student Life page.
The Menstrual Project
Cascade Women's Resource Center is providing more FREE reusable menstrual products through the Eco Social Justice Grant to help students and PCC reduce their waste and lower the amount of money used on menstrual products.
Go to our Instagram @cascadewrc or to find more information on the products!
You can directly request products any time via The Menstrual Project. Fill out this form to request products!