This content was published: May 3, 2021. Phone numbers, email addresses, and other information may have changed.
Oregon's largest institution of higher education turns 60 this May
Photos and Story by James Hill
When most 60-year-olds are planning for retirement, a particularly influential sexagenarian is just getting going. In 2021-22, Portland Community College is celebrating its 60th academic season serving the Portland metro area and the state of Oregon. 
When Oregon's Legislature approved the formation of community colleges in 1961, Portland Public Schools converted its adult and vocational education program into PCC on May 15 of that year. Led by the vision of Dr. Amo DeBernardis, PCC's founding president, and a collection of dedicated staff, the young college went from serving a few hundred students in an old portable building behind Benson High School to becoming the largest post-secondary institution in Oregon with an annual enrollment of nearly 60,000. And, in six decades of operations, the college has an estimated 1.6 million graduates.
"The PCC story is a fabulous story," said Oregon Historical Society Director Kerry Tymchuk back in 2012 when OHS showcased PCC's 50th anniversary. "Portland wouldn't be Portland and Oregon wouldn't be Oregon without the number one educator in Oregon."
Whether it's 60 years ago or only 10, PCC's educational and economic impact has been profound for Portland and the surrounding region. A study by labor market analytics firm Emsi found that the college creates billions of dollars in value for the state's economy and plays a key role in helping students increase their employability and achieve their goals. 
Based on 2018-19 data, it found that PCC added $2.1 billion in income, or supported 24,169 jobs, to the region's economy (Clackamas, Columbia, Multnomah, Washington and Yamhill counties). This contribution is a value approximately equal to 1.4% of the region's total gross regional product.
And as times have changed and priorities shifted, PCC too is changing to better align with trends to serve students in an even more equitable way. For more than a year, the college developed a new Strategic Plan with a five- to ten-year vision. Throughout the process, students, faculty, staff, community leaders and interest groups contributed their insight.
The results were profound. PCC created four major areas of focus – nurturing a culture of belonging, creating a learner-centric system, cultivating sustainable practices and responding to workforce needs nimbly.
"It is vital that we move in this direction as the digital transformation of our world continues to change the way we live, work and learn," said Loraine Schmitt, PCC's executive dean of instructional and student affairs innovation and technology.
The following are key moments in time during PCC's growth. Read how Oregon's largest college got that way, one interesting step at a time.
A Pioneering Founding President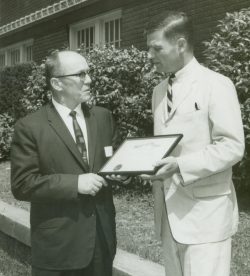 Dr. Amo DeBernardis pioneered concepts that today are integral to PCC's mission, such as fostering a robust open campus, cultivating business partnerships and designing curriculum aimed at giving all students and employers what they want. Dr. De's favorite quote is emblazoned on the wall of the welcome area at the Hillsboro Center — "Community college is for all the people, all the time."
Read: Dr. De Leaves a Lasting Legacy and Roadmap for Building Oregon's Largest College.
PCC Starts with a Failing School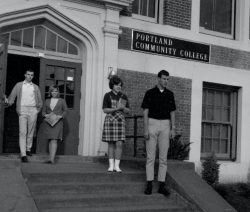 In 1961, the Oregon Legislature approved the formation of community colleges in the state. As a result, the Portland Public Schools launched PCC with part-time instructors and a hodgepodge of various high schools serving as education venues for its classes and operations. A year later, a "Failing" school would become the college's first official location.
Read: The Failing School and its impact on PCC's history.
The "Battle" for Rock Creek Campus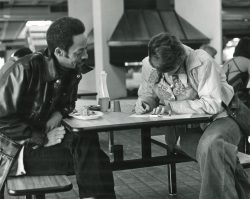 In 1969, PCC got the go-ahead with plans for its first-ever Washington County campus north of Beaverton and Hillsboro. The comprehensive Rock Creek Campus would serve a growing region and help lure more development to the county. Problem was that not everyone wanted PCC to develop a location and the college soon found out how staunch that opposition was in the 1970s.
Read: The college must fight for its right for a new campus.
From Bankruptcy to a New Beginning
Before the Cascade Center, now known as the Cascade Campus, could come into existence a matter of the old Cascade College had to be settled. In 1969, the four-year liberal arts college was suffering from high costs and too much debt. In the early 1970s, PCC attempted to acquire the college's existing buildings once it shuttered and began selling its assets. It sounded like a great plan, but it soon faced numerous obstacles, jeopardizing the formation of PCC's second major campus.
Read: How a bankruptcy led to the Cascade Campus.
The Sylvania Dream Comes True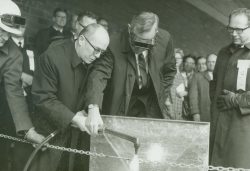 In the mid 1960s, PCC was bursting at the seams. The college's old locations — Shattuck Hall at Portland State University and Failing Elementary School — were jammed with nearly 10,000 students. The overcrowding led to a ramshackle of temporary buildings being put up around these campuses, but was hardly a solution. The dream of PCC's first comprehensive college campus soon would become a reality by the end of the decade.
Read: The Impossible Dream: Sylvania gets built.
PCC Moves On Up in Southeast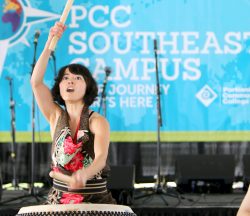 The Southeast Center on 82nd Avenue had been the college's only outlet in Southeast Portland. Since the early 1980s, the center was a cramped, old shopping center that soon became inadequate for a growing community college. Thanks to two successive voter-approved bond measures, PCC was able to buy property down the street from that location and build out its first comprehensive campus in Southeast Portland. The 18-acre Southeast Campus is now the focal point for education in that part of the city.
Read: College and community celebrate the "new" Southeast Campus.
And…
Read: Students love new Southeast Campus and the opportunity it brings.