Southeast
Learning Garden
April 2022 update
The southeast Learning Garden is open and we welcome you back!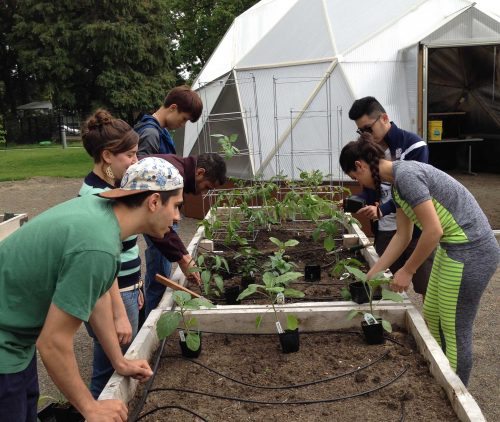 In 2017 the Southeast Campus completed the first phase of a comprehensive outdoor learning garden to be used by students, staff, faculty, and community members. In its first few years, the southeast learning garden enhanced and complemented classroom learning of many disciplines, and will continue to be integrated into even more classes. It provided a space for community education classes, clubs, and new and seasoned gardeners to grow organic food, observe and learn about perennials, and get their hands in the soil. The learning garden demonstrates different ways to garden in an urban setting, including raised beds, herb spirals, a geodesic dome greenhouse, and more. The southeast learning garden is in deep gratitude to STEM Coordinator Julia Betts for her vision, implementation, and dedication to this project.
During 2020-2021 the southeast learning garden sadly fell into neglect due to the COVID19 pandemic campus closures. The lack of maintenance combined with theft and vandalism have left the garden in poor shape. In spring 2022 we have returned to the southeast learning garden and are slowly weeding, removing invasive species, planting, and attempting to return the living space back to a thriving garden. We need your help and there are many ways to get involved.
You are welcome to visit the southeast learning garden and harvest food. We have a variety of crops growing in summer 2022.
Get involved
For more information, please contact Jolie Donohue.
Summer Term Volunteer Hours
June 27-September 2
Mondays, Wednesdays, and Fridays 10am-12pm
Please come help with weeding and other garden maintenance. No sign-up required and no gardening experience needed. Wear comfortable clothes and sturdy shoes that can get dirty, bring a hat, and a water bottle. Our staff will be here to work with you. Please note during the summer term if temperatures are over 90 degrees we cancel volunteer hours.
If you are a class, student group, staff person, or department who would like to help outside of our official volunteer hours, please reach out to Jolie Donohue.
Work Study
We are hiring work study learning garden assistants for fall 2022. If you like working outside, getting your hands in the dirt, growing food, caring for wildlife, and educating others about gardening we would love to hear from you. Please see full job posting, qualifications, eligibility information, and how to apply.
Food forest at Southeast
In 2016, the Southeast Grounds Department decided to promote edible landscapes, also known as a "food forest" to promote pollinators, sustainability and food security. The "food forest" project received a TGIF grant to introduce fruit trees, nut trees and berry bushes into the existing landscaping for the community to forage, making an instant connection to the environment possible when anyone can see, pick and eat what's there. The "food forest" provides healthy food to the PCC community, the kitchen, the onsite child development center and community education classes. The "food forest" also acts as an extension of the learning garden, promoting urban agriculture and helping address food insecurity among the campus community. Find a map of the food forest and enjoy!
Bike program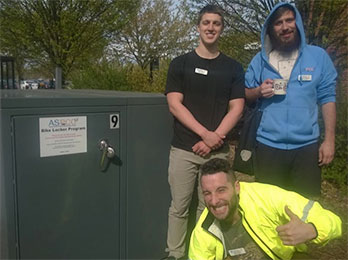 Bike lockers at PCC Southeast
Did you know you can rent a bike for only $15 per term? This includes a bike complete with fenders, a rack, lights, and other equipment, along with free support and basic adjustments. You can also rent a secure bike locker to store your bike on campus. Here at PCC Southeast we have a total of 12 bike lockers for our students, faculty and staff to apply for and use on a term-by-term basis. Bike Locker applications are available on the first day of each term and we assign lockers on a first come, first served basis. During our Fall and Spring term, our lockers fill up within the first week of the term. Winter term usually has them filled by the third or fourth week. Visit the bike program page or MTH 154 to apply and learn more about bike rentals and lockers.
Drive less save more
Drive Less Connect: PCC Southeast is here to help you find the easiest and cheapest way to get to campus and beyond. Whether heading to class, to work, or off to see friends, we'll connect you to convenient and healthy ways to get there. Sign up for your free Go Kit, full of travel information and travel tools, like bike lights or steel water bottle, to help get you on your way walking, biking, taking transit or sharing rides. Select exactly what you want on your order form and we will have it ready for pick up on campus within days.