Homepage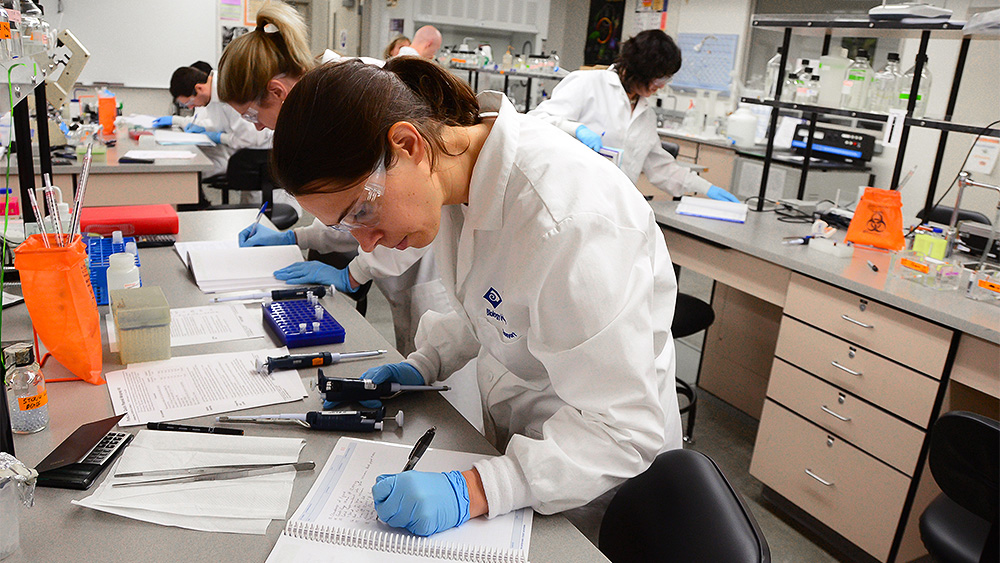 Information sessions
Attend an information session to learn more about the bioscience industry, the BIT program, and the admissions process.
Bioscience technology is a growing and dynamic field that applies science and technology related to living organisms to provide a wide variety of products and services. Careers in bioscience are as varied as the products themselves. Biotechnicians work in:
Manufacturing of biopharmaceuticals and medical devices
Analytical labs
Biological and biomedical research
Quality control
Why choose Bioscience Technology at PCC?
Salary
According to the Oregon Employment Department, the average entry-level wage for bioscience technicians in the Portland area is approximately $24 per hour. The industry average is around $88,000 annually.
Local industry partners have worked closely with the PCC Bioscience Technology program to develop the Biotechnician Certificate and the AAS degree in Bioscience Technology.
The program links basic science fundamentals to laboratory and bio-manufacturing applications. Bioscience classes combine theoretical and authentic, hands-on training with an emphasis on understanding, technical skill, quality, accountability, and communication.
Bioscience lab
You will spend 20 or more hours per week in the PCC Bioscience Technology lab learning the equipment and techniques used in bioscience facilities. This in-depth experience leads to mastery of a broad skill set required for work as a technician in the industry or academic research.
Our laboratory courses engage your critical thinking skills and develop your ability to troubleshoot procedures. Attention to detail, precision in following protocols, clear oral and written communication, and teamwork are all emphasized in the lab. Upon completion of the Bioscience Technology AAS degree, you can complete up to 1,000 hours of hands-on technical experience in the lab and be ready to join the bioscience workforce.
Degrees and certificates
What will you learn?
Class information
More about the program
Coursework features real-life training in the skills and knowledge that employers value most. The PCC Bioscience Technology program maintains a strong connection with the local industry and includes a work experience component that places students in valuable internships.
You begin by completing the certificate coursework in the fall and winter terms and may continue to earn an advanced certificate or Associate of Applied Science (AAS) degree. The certificate and degree options each provide a solid foundation to seek employment in the bioscience industry.
Bioscience technicians need to be careful and detail-oriented with a solid understanding of how the precision of their work contributes to the larger development and production of bioscience products. Technicians also need to be comfortable working in a highly regulated setting.
At PCC, you will have the opportunity to take electives for crossover work into physical sciences like microelectronics to increase your employment opportunities. Graduates of the program may continue their education and pursue a bachelor's degree as well as professional and graduate degrees.
What will you do?
The Oregon Employment Department forecasts above-average employment growth in bioscience through 2027. Our program is designed to prepare you for an entry-level job in the bioscience industry. You may find employment with a research institution like OHSU or with a company like Genentech.
Because our programs were designed with input from local industry partners, our graduates are in an excellent position to find employment with bioscience companies, research institutions, local and state agencies, private service laboratories, and related industries working in:
Academic research
Diagnostics
Energy
Genetically engineered plants
Gene therapy
Pacemakers
Pharmaceutical drugs
Protein-based drugs ("biologics")
Research and development of new medical devices
Not quite ready to apply?
We can help you get the info you need.