Prerequisites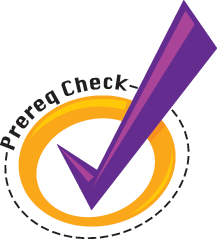 PCC has standard prerequisites of reading, writing and mathematics for general education courses. The standard prerequisites are:
Writing: Successful completion (grade C or higher) of WR 115 or placement into WR 121
Reading: Successful completion (grade C or higher) of RD 115 or equivalent test scores
Math: Successful completion (grade C or higher) of MTH 20 or placement into MTH 60
PCC strongly recommends taking care of any missing prerequisites right away. Students can meet with an academic advisor for help in planning classes and getting questions answered about classes taken at another school. For a list of reading, writing and math prerequisites for all PCC general education courses, see the college catalog General Education page (expand the table under a degree, then click a class to see prerequisites).
See more about placement and choosing classes: Plan your first term.
Have transfer credits from another school?
If you have credits from another school that you think may help you meet PCC prerequisites, you need to request a transfer credit evaluation.
Prerequisite for online classes
Before you register for your first online class at PCC, you must complete the Start Guide for Online Learners. Students who have taken prior online classes at PCC do not have to complete the Start Guide. Visit the My Courses tab in MyPCC to check your status and access the Start Guide.