Step 3: Register for classes
Registration is required to earn college credits for taking a PCC Dual Credit class at your high school.
Before you can register, you need to know the five-digit course reference number (CRN) for that class. CRNs are sent to your high school's Dual Credit instructors before registration opens.
Registration policies
When you start the online registration process, make sure to carefully check all your information in MyPCC. Verify that the information you are about to enter is the same as what was provided by your high school instructor.
You are the one responsible for the accuracy of registering for your classes and tuition and fees if you register for the wrong course.
Grading policies
All courses at PCC have a default grade option, which has been determined by the Subject Area Committee. In most cases, this is a Letter Grade Option (standard A-F system). Complete PCC Grading Guidelines.
Attendance
You are expected to attend all the classes you're enrolled in. If you don't attend (or stop attending) a class and fail to drop the course on time (refer to the Dual Credit academic calendar), you will be responsible for the grade reported on your PCC transcript.
If you have excessive absences and fail to drop or withdraw from a class by the deadline, a grade of F may be assigned by your instructor.
Log in to MyPCC to register angle right
Additional help
Contact dualcredit@pcc.edu or view our registration instructions:
Registration instructions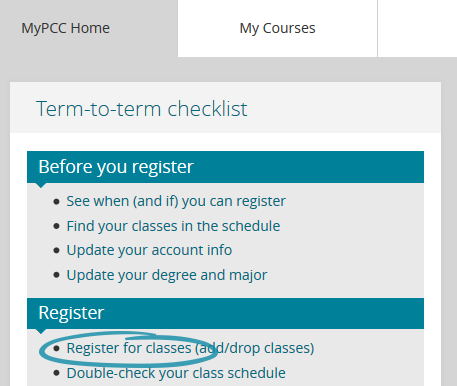 Log in to MyPCC

Log in to MyPCC using your MyPCC username and password.

If you forgot your password you can reset it using your MyPCC username.
If you forgot your MyPCC username, please check your email for your PCC admission email, and if you still cannot locate it contact Dual Credit.

Access the registration page

From the Home tab, under the Term-to-Term Checklist, click on Register for classes (add/drop classes)

Access the add or drop classes page

Click on Add or Drop Classes.

Select the term

Select the appropriate term:

If the CRN starts with a "4" select Fall term
If the CRN starts with a "1" select Winter term
If the CRN starts with a "2" select Spring term

Registration is only available during the specified registration window. Refer to your teacher or see the registration dates listed next to each course on our list of participating high schools.

Enter your CRNs

Enter the Dual Credit CRN or CRNs you wish to register for. See the list of current CRNs, listed by high school.
It's very important that you enter the correct CRN – double-check! You are responsible for tuition and fees if you register for the wrong course.
Be sure to click on Submit Changes to complete your registration.

Verify your registration

Make sure you see **Web Registered** next to the class
Click on the 'View your class Detail Schedule' link to see more information about the registration, including the high school instructor's name
If you don't see your PCC course listed, it means you aren't registered for the course. Contact the Dual Credit office for assistance.
If you don't see your high school instructor's name, check with your instructor to confirm you registered for the correct course. If you are not you'll need to drop the incorrect class, and complete the registration process again for the correct course.