Step 1: Apply for admission
Your first step is to apply for admission to PCC.
Choose Apply as a Dual Credit student. Selecting the wrong application type will make you unable to register for classes, and you may need to start the application over.
Once you've applied, you can continue to Step 2: MyPCC setup.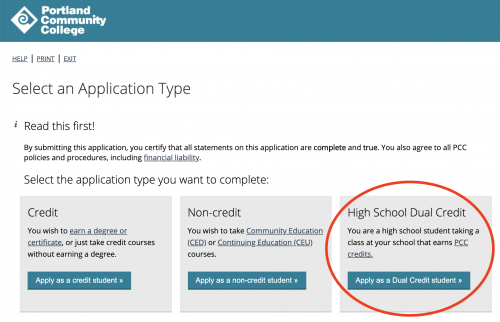 Additional help
If you need assistance, contact dualcredit@pcc.edu or see our application instructions:
Apply for admission instructions
Start the application


Go to the PCC application and choose to Apply as a Dual Credit student.
Admission Term is the PCC term in which you are registering for your Dual Credit course.
Enter your legal name and click Fill Out Application.

Application checklist – name

Select Name from the application checklist.
Verify the spelling of your legal name. You may add a preferred name, which will appear as your MyPCC username.
Select Yes if you've taken any kind of class at PCC (AP or IB credit, a driver's ed or swimming class, or any other class at a PCC facility).

Application checklist – address and phone

Select First Address and Phone from the checklist.
Enter your address and phone number. If you don't have an address or phone, you may use your high school's address and/or phone number.
The address entered will be checked against a current USPS database for accuracy. Verify the address you entered is correct and click Check This Address.

Application checklist – personal information

Select Personal Information from the checklist.
Enter your information. Make sure the email address you enter is one that you use regularly. Your admission acceptance email will be sent to this address, as well as your account setup code (later).
If you wish to withhold your name from military recruiters, please make the appropriate selection on this page.

Application checklist – current student type

Select Current Student Type from the checklist.
Answer this as it applies to you. If you've earned PCC credit in previous years (including through Dual Credit), type the number "2" in the textbox.

Application checklist – planned course of study

Select Planned Course of Study from the checklist.
In the dropdown menu select Dual Credit High School Program – Not Financial Aid Eligible.

Application checklist – high school

Select High School from the checklist.
Use the Lookup tool to look for high school information
Enter your approx graduation date (the year is what is most important)

Application checklist – attending reason

Select Attending Reason from the checklist.
Enter the number corresponding to the strongest reason why you wish to take Dual Credit.

Application checklist – transfer status

Select Transfer Status from the checklist.
Enter the number corresponding to what you feel you want to do in the future.

Submit your application!

If your application checklist has all the boxes checked, then you're ready to submit it! (Do not close out the application yet! You are not done…)

Agree to terms

You must agree to the terms to proceed with your admission application.

Application submission confirmation

In approximately 1-3 business days, you will receive your admission acceptance letter emailed to the address you provided in this admission application.
Do not complete multiple admissions, unless instructed to do so
Contact the Dual Credit office (971-722-7737 or dualcredit@pcc.edu) if you have not received your email