Step 2: MyPCC setup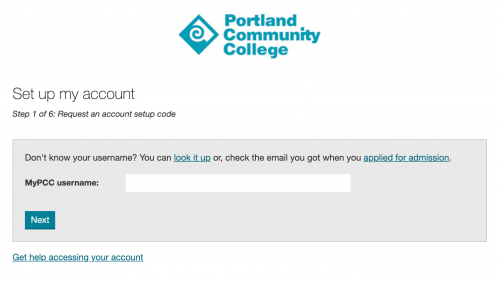 Before you can log in to MyPCC and register for classes, you need to set up your account.
Set up your account angle right
Once your account is set up, you can log in to MyPCC and start Step 3: Register for classes.
Additional help
Visit the login help page, contact the PCC IT Service Desk, or view our account setup instructions:
Account setup instructions
Enter your MyPCC username

Go to the account setup website and enter your MyPCC username.
You received your MyPCC username and ID number (G number) in your admissions acceptance letter.
Use the "look it up" link to find your username if needed.

Account setup code


You will be sent an account setup code to the email address you provided on your PCC admission application.
Click on the link provided in the email, and then enter your username and the account setup code provided in the email.

Terms and conditions

Read the terms and conditions, and check the box next to "I agree".

Alternate contact information

Enter an alternate email and/or mobile number that can be used for password recovery.

Security questions

Provide answers to your security questions.

Set your password

Enter the password you'll use to access MyPCC and other PCC services.

Account setup complete

You're all done! Try logging into your MyPCC with the password you just set up.