Parents and families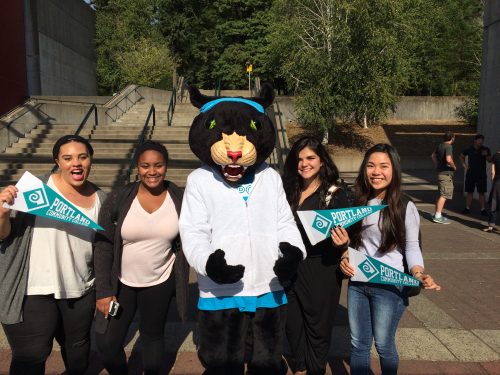 We know you want the best for your student. As a parent, you are helping to make decisions about their future. Like most parents, you are probably concerned with the rising costs of higher education. See the PCC Dual Credit family guide for a printable version of the information below.
FERPA – what you need to know
Parents: Please do NOT complete PCC admissions for your child!
Once a student (regardless of age) enrolls in a postsecondary institution in any capacity (such as Dual Credit) they are protected by the Family Educational Rights and Privacy Act (FERPA). See the FERPA handout for parents.
PCC must obtain written consent from the student before disclosing any personally identifiable information from their educational records to a third party (including their parents).
Your child has the option to grant you all or partial access to their educational records by completing the consent to release form, but this is not required.
See the US Department of Education FERPA general guidance for students for more information.
What is PCC Dual Credit?
The Dual Credit program at PCC is an opportunity for high school students to earn college credit while taking classes that are offered at their high school. These classes are taught by PCC-approved high school faculty who are under agreement to cover all the required college content and rigor for a particular college course. PCC Dual Credit is the perfect jump start to college preparation and success!
Note: Admission to PCC Dual Credit and registration during the applicable timeframe is required to earn credit. Enrollment in the high school course does not imply enrollment into the college course.
What does PCC Dual Credit cost?
PCC Dual Credit is free for students. There are no registration costs or fees. You and your child pay nothing to participate in Dual Credit.
How does my child become a PCC Dual Credit student?
There are several steps for your child to be enrolled in the PCC Dual Credit program and earn college credit for their classes.
During the course, your child must complete the course curriculum as approved by PCC. This includes completing work as assigned and following the attendance policy as noted in their PCC course syllabus. The grade earned for their college course will be reflected on their official PCC transcript.
Why should my child participate?
Dual Credit gives your child a head start on their college education for free, saving time and money.
The PCC Dual Credit program has shown increased enthusiasm and motivation. The program enhances students' ability and skills to do college-level work and gives them confidence for college success.
The college credit your child earns will count toward a bachelor's degree, an associate of applied science, or a one-year certificate at all Oregon Public Universities and many other institutions. Transcripts are free.
Your child can earn college credit for courses they are already taking for their high school diploma. This prevents them from having to take the same or very similar classes in college in the future.
Dual Credit versus Advanced Placement (AP) versus International Baccalaureate (IB)
In many high schools, students have the option of taking AP or IB classes. Dual Credit gives them another option for college credit, and getting a jump start on their college careers! In some cases, students can take a combination of Dual Credit and AP or IB. More information on AP and IB can be found at oregon.gov.
Accessible Ed & Disability Resources
Federal law requires that high schools provide Accessible Ed & Disability Resources for students with a documented disability (through either an IEP or 504 accommodation plan), including those students who are taking Dual Credit classes at their high school location.
Know your Rights and Responsibilities
PCC Accessible Ed & Disability Resources is also available to them as secondary support