Earth Week 2021

Featured Activity: Earth Week Bingo!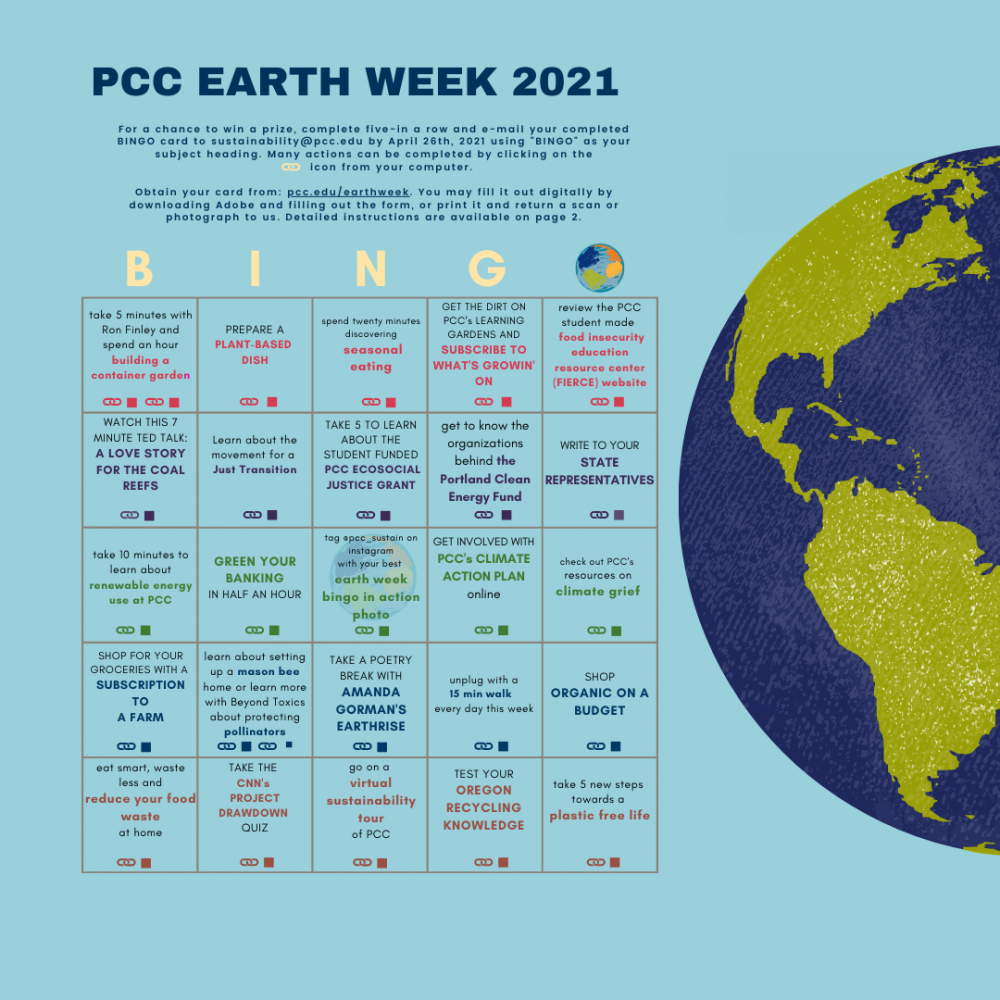 We will be raffling off a sustainability prize bag for PCC Bingo players. Submit your completed bingo card to sustainanbility@pcc.edu to enter! A completed card consists of five-in-a-row vertically, diagonally or horizontally. You will also receive an extra entry for submitting a "Blackout Bingo" card (completing all of the actions).
Download the Earth Week Bingo Card and instructions here! (For those using text to voice assistance with the document, ask your reader to jump to page 2 to get the links).
Featured Event: Film Screening + Guest Speaker!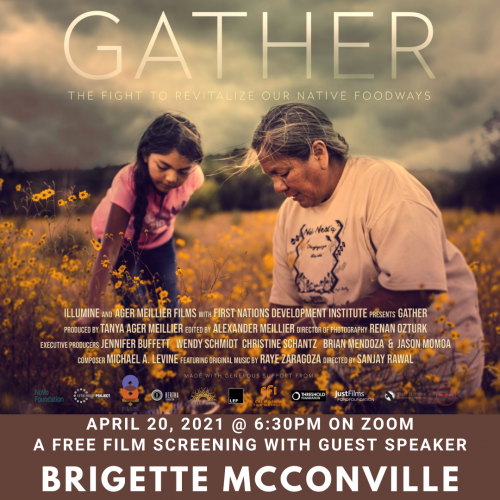 Meet Indigenous Warm Springs Tribal Council Representative Brigette McConville at this free screening of the amazing Indigenous Foodways film GATHER.
Register for event. This event is free to the PCC community. Please use your PCC email address when signing up. The first 30 registrants will receive free popcorn grown in the learning garden!
Featured Panel Series: Intersectional and Inclusive Environmentalism feat. ClimateDiva and ClimateDaisy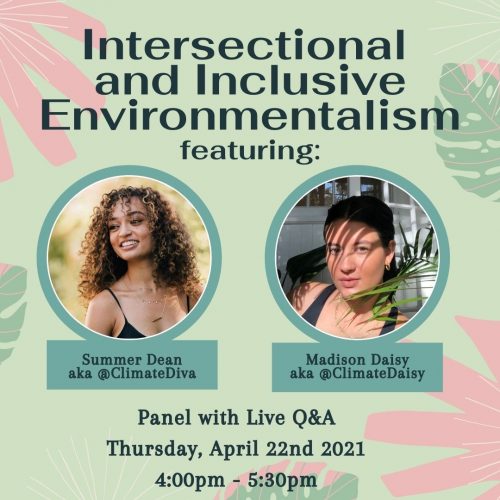 Join colleges statewide for an exciting afternoon with PDX climate advocates Summer Dean and Madison Daisy as they discuss all-things intersectional climate activism and how college students can rise up to the challenge of changing our world for the better.
The event includes an hour-long discussion with the two panelists and 30 minutes for a live Q&A. Watch a recording of the discussion here!
Social Media Campaign: #EarthWeek
Follow @PCC_Sustain on Twitter and Instagram for daily tips, resources and videos + join our Earth Week Instagram Challenge!
Post photos and videos on your Instagram page or story, tag @pcc_sustain, and use the daily hashtag to be entered into a raffle giveaway! Each tag is a raffle entry.
seedling
4/20: #GreenMonday
Plant-based meal inspiration.
recycle
4/21: #3RTuesday
Share how you Reduce, Reuse, and Recycle at home.
walking
4/22: #WellnessWednesday
Take a walk or practice self care.
utensils
4/23: #FoodForThoughtThursday
Learn about food justice and resources in your area.
fist raised
4/24: #ForJusticeFriday
Listen to a podcast, watch a Ted Talk, read an article, or follow an account with a  Social Justice focus.
Virtual Event Calendar
pcc.edu_pvlh0aes4ie9f3iknbunfl3q8c@group.calendar.google.com
PCC's 2021 Climate Action Plan: Resiliency, Equity and Education for a Just Transition

Learn more about the process and contents at our Climate Action Plan webpage.