Earth Week 2020

Featured Activity: Earth Week Bingo!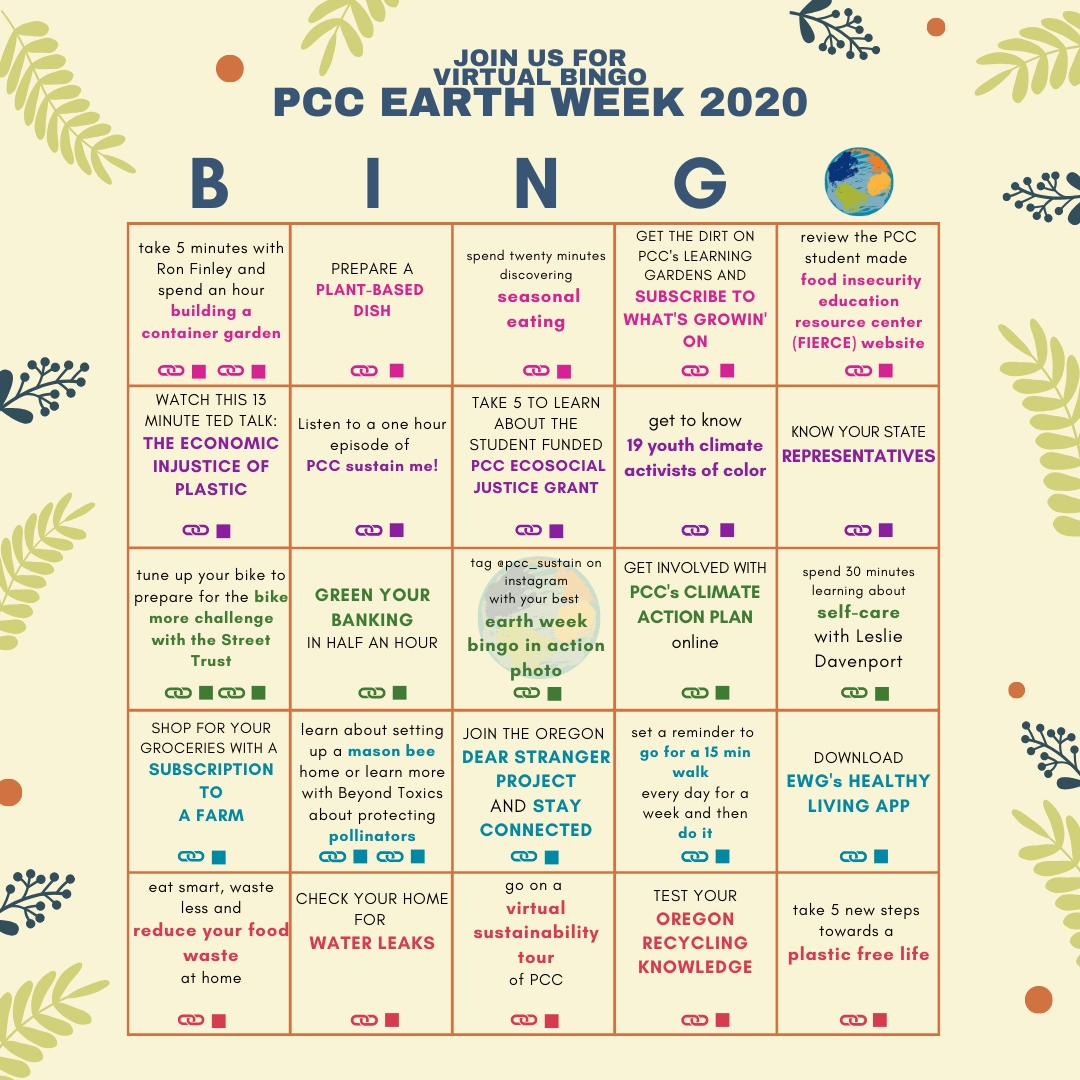 We will be raffling off three sustainability prize bags for PCC Bingo players. Submit your completed bingo card to sustainanbility@pcc.edu to enter! A completed card consists of five-in-a-row vertically, diagonally or horizontally. We will also have one grand prize for the first submitted "Blackout Bingo" card (completing all of the actions).
Download the Earth Week Bingo Card and instructions here! (For those using text to voice assistance with the document, ask your reader to jump to page 2 to get the links).
Social Media Campaign: #EarthWeek
Follow @PCC_Sustain on Twitter and Instagram for daily tips, resources and videos + join our Earth Week Instagram Challenge!
Post photos and videos on your Instagram page or story, tag @pcc_sustain, and use the daily hashtag to be entered into a raffle giveaway! Each tag is a raffle entry.
seedling
4/20: #GreenMonday
Plant-based meal inspiration.
recycle
4/21: #3RTuesday
Share how you Reduce, Reuse, and Recycle at home.
walking
4/22: #WellnessWednesday
Take a walk or practice self care.
star
4/23: #SubscribeThursday
Subscribe to newsletters and follow accounts.
info circle
4/24: #FindOutFriday
Listen to a podcast, watch a Ted Talk, or read an article.
Virtual Event Calendar
pcc.edu_pvlh0aes4ie9f3iknbunfl3q8c@group.calendar.google.com
Other Online Earth Week Resources
Check out these other great online resources:
Portland Community College Resources:

Earth Day Library Resource Guide
On the Front Lines of Sustainability Education: Interview with Mak Porotesano
Past Earth Week Speaker Videos fromPCC

Environmental Justice
Check out the Oregon Zoo's live facebook feed to visit some of our animal friends (changes daily).
Artists & Artwork
Postponed Events
Due to COVID-19 and PCC's closure, the below events have been postponed. More details on when these will be rescheduled coming soon.
GPSEN Sustainability Symposium

Join us for the 2020 GPSEN Sustainability Symposium: A Call for Action!
Highlighting cutting-edge academic and community sustainability research, projects and solutions, we will focus on regional collaboration, diversity, innovative problem-solving, reflections on the Sustainable Development Goals, and how we can amplify our work through the power of education, networks, and collective impact. Check out the program and register.
Artists in Action: Hands on Art & Education with the Ghost Net Landscape Project
Artist Emily Miller in residence, Rock Creek Building 5 lobby
Artist Emily Miller, will facilitate the Ghost Net Landscape Project, an interactive art installation and performance, in which she will collaborate with the PCC community to transform piles of "ghost net" fishing rope waste into sculptural, tactile basket forms and other collaborative artworks.
Artist and PCC Student, Shelby Silver will display her large scale interactive art installation, We've Made Our Bed, which offers to shift hard notions about our oceans. Made from the remnants of 1,000 pounds of reclaimed marine rope and ghost net outside of Building 5. Feel free to climb inside, rest your head and dream of new and wonderful solutions!