Earth Week
We are so excited for this year's Earth Week! We will be offering online and in-person PCC-sponsored events as well as highlighting community events.
Check out the library website's Virtual Earth Day Display! There's also an awesome Cli-Fi guide on the homepage perfect for reading this time of year.
Featured Activity: Earth Week Challenge!
Download the Earth Week Challenge Card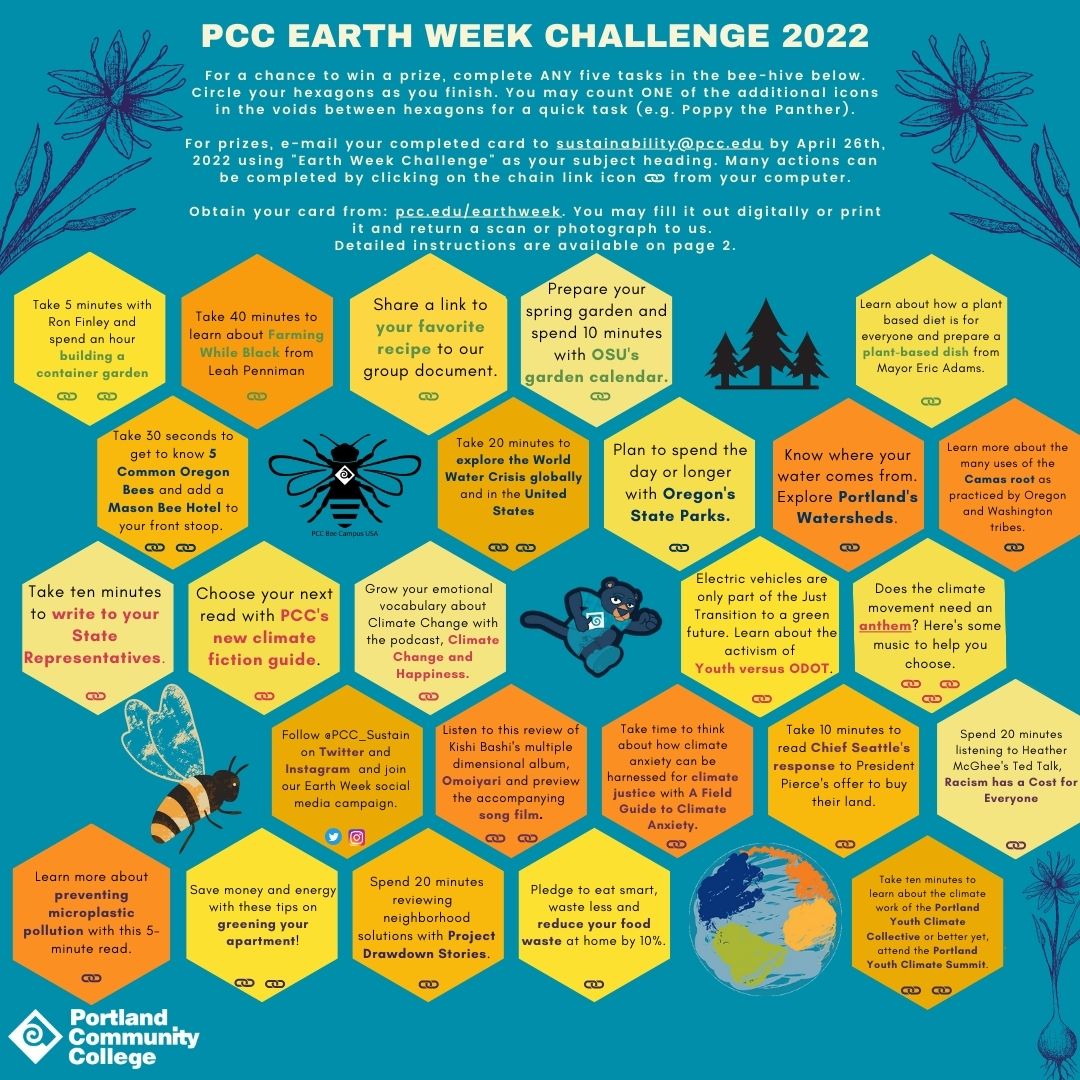 We will be raffling off a sustainability prize bag for PCC Earth Week Challenge players. Submit your completed card to sustainanbility@pcc.edu to enter! A completed card consists of five tasks completed by marking off the hexes virtually or printing the card out and marking which ones you completed. You may send a photo, scanned copy, or digital file of your card. You will also receive five extra entries for submitting a "Blackout" card (completing all of the actions). Extended deadline: May 1.
Download the Earth Week Challenge Card and instructions! (For those using text-to-voice assistance with the document, ask your reader to jump to page 2 to get the links).
Featured Event: Film Screening + Guest Speaker!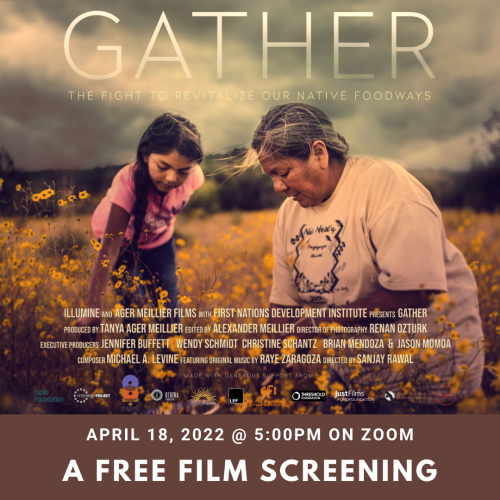 Meet Heifara Wheeler, a PCC student, and Ameyalli Mañon-Ferguson, who is from the Mazahua and Osage tribes, and grew up in the Indigenous communities of Oregon. They will both discuss their experiences with food sovereignty, indigenous foodways, and land restoration at this free screening of the amazing Indigenous Foodways film GATHER.
Registration coming soon. This event is free to the PCC community. Please use your PCC email address when signing up. Wildflower seeds will be sent out to those who register, but registration is not required to attend the event! Register at bit.ly/PCCGather2022
Featured Summit: Portland Youth Climate Summit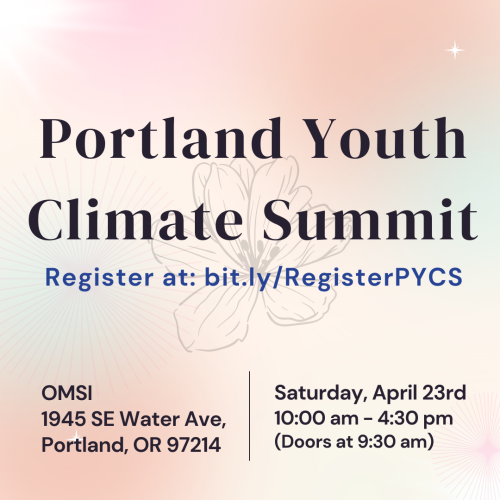 The Youth Climate Summit is an opportunity for youth at any level of environmental justice understanding to get involved in climate action. The event invites youth to be centered in conversations with climate and environmental justice organizations. This year's themes center around food justice, TEK, environmental justice, and urban development with options to participate in in-person workshops.
This is an all-day event with multiple sessions ranging from panels, Q & A, networking, and hands-on actionable workshops. Check out the website for more details.
Join the Learning Gardens!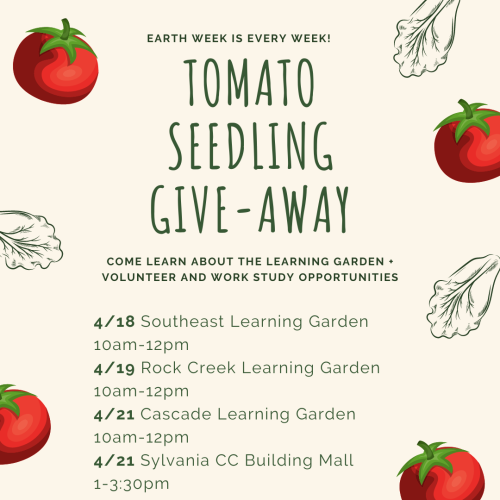 Drop by each of the learning gardens throughout the week to learn more about how to get involved with their great work!
There are also work-party and drop-in volunteering hours all spring term! Check out the Sustainability Hub for all those dates.
Kasama Farm Talk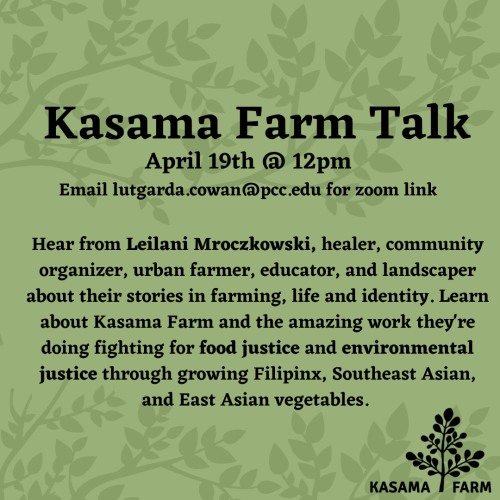 Join us for an enriching conversation with Leilani Mroczkowski from Kasama Farm. Kasama Farm is a queer, Pilipinx-American led land, healing, and love project on Wasco and Wishram land in Hood River County, Oregon. Kasama Farm is a no-till, no-pesticide/herbicide farm specializing in Filipinx, Southeast Asian, and East Asian vegetables.
Email lutgarda.cowan@pcc.edu for the zoom link
Social Media Campaign: #EarthWeek
Follow @PCC_Sustain on Twitter and Instagram for daily tips, resources, and videos + join our Earth Week Instagram Challenge!
Post photos and videos on your Instagram page or story, tag @pcc_sustain, and use the daily hashtag to be entered into a raffle giveaway! Each tag is a raffle entry.
seedling
4/18: #GreenMonday
Plant-based meal inspiration.
recycle
4/19: #3RTuesday
Share how you Reduce, Reuse, and Recycle at home.
walking
4/20: #WellnessWednesday
Take a walk or practice self care.
utensils
4/21: #FoodForThoughtThursday
Learn about food justice and resources in your area.
globe americas
4/22: #FridaysForFuture
Learn about local and global youth climate organizing.
fist raised
4/23: #SocialJusticeSaturday
Listen to a podcast, watch a Ted Talk, read an article, or follow an account with a Social Justice focus.
Virtual Event Calendar
pcc.edu_pvlh0aes4ie9f3iknbunfl3q8c@group.calendar.google.com