Earth Week
We are so excited for this year's Earth Week! We will be offering in-person PCC-sponsored events as well as some virtual opportunities to engage.
Check out the library website's Virtual Earth Day Display! There's also an awesome Cli-Fi guide on the homepage perfect for reading this time of year.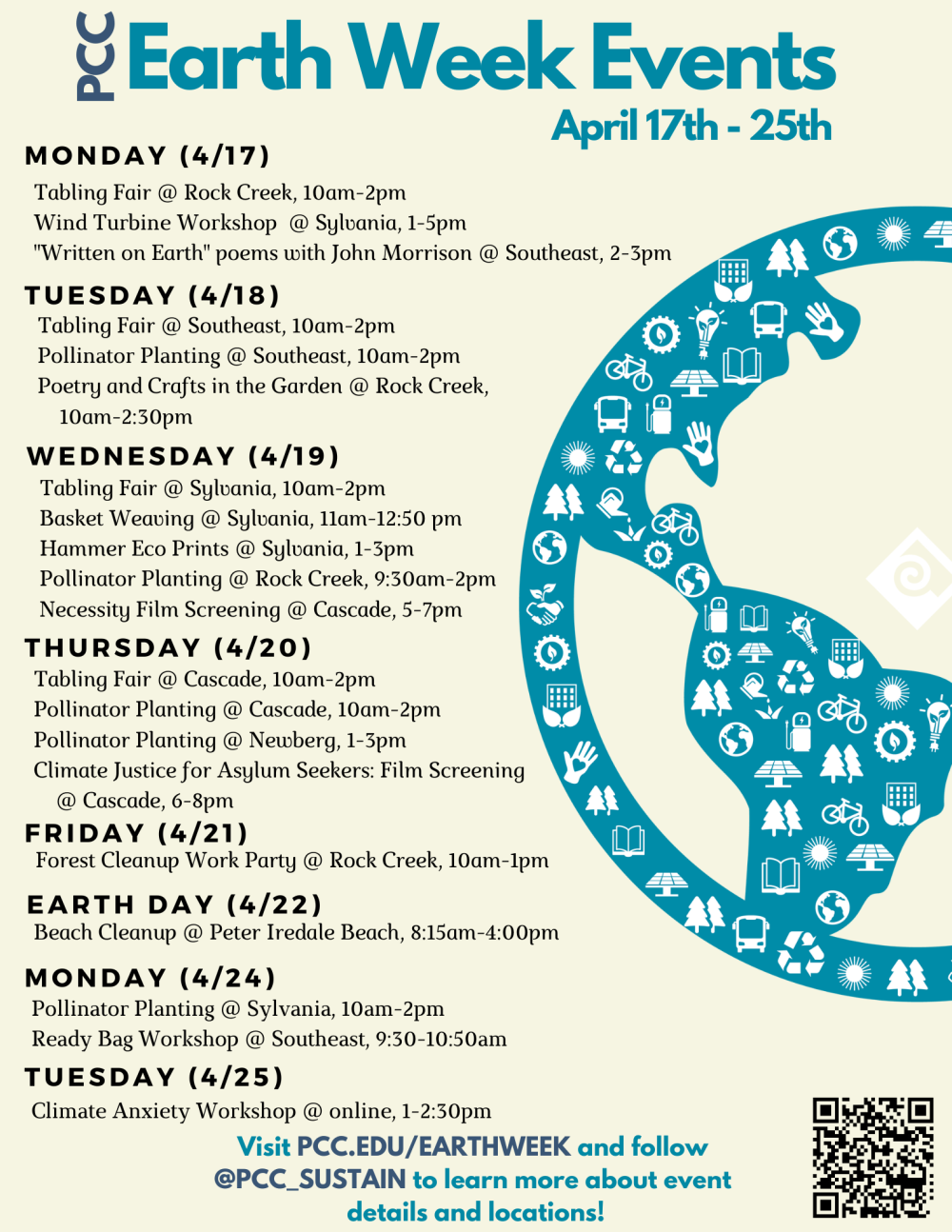 Don't Miss this year's Climate Anxiety Workshop!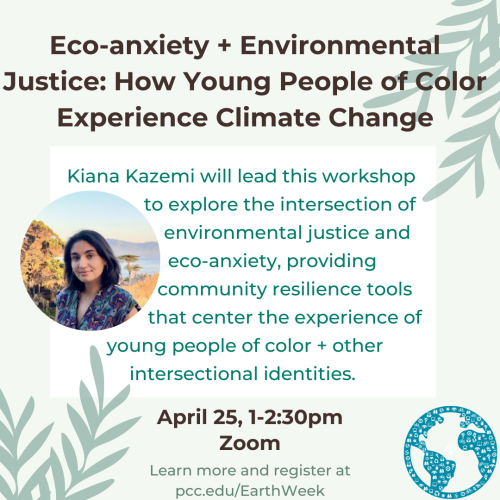 Eco-anxiety + Environmental Justice: How Young People of Color Experience Climate Change
Tuesday, April 25 from 1-2:30pm via Zoom
This online workshop explores the intersection of environmental justice and eco-anxiety, providing community resilience tools that center the experience of young people of color + other intersectional identities.
For registration details visit this webpage.
Rock Creek Forest Clean Up Work Party

Friday, April 21 @ Rock Creek Campus 10:00am-1:00pm
Help us take care of the forest at Rock Creek. We'll be working to remove invasive plants to make room to support native plants and animals. Gloves, tools, and snacks provided. Please dress to work outdoors (closed toe shoes, long pants, jacket) and bring a water. We'll meet in the lobby of Building 7 and walk out to the forest together.
To register, follow this link
"Written on Earth" poems with John Morrison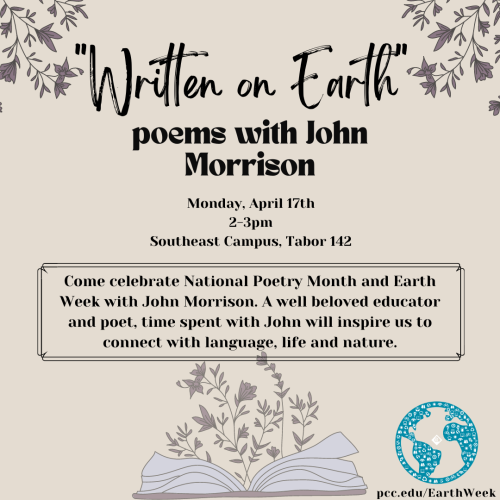 Monday, April 17 from 2-3pm @ Southeast Campus, Tabor 142
Come celebrate National Poetry Month and Earth Week with John Morrison. John recently retired from Portland Community College and currently teaches at the Attic Institute as an Associate Fellow.  A well beloved educator and poet, time spent with John will inspire us to connect with language, life and nature.
Questions? Email lutgarda.cowan@pcc.edu
Featured Activity: Earth Week Challenge!
Download the 2023 Earth Week Challenge Card!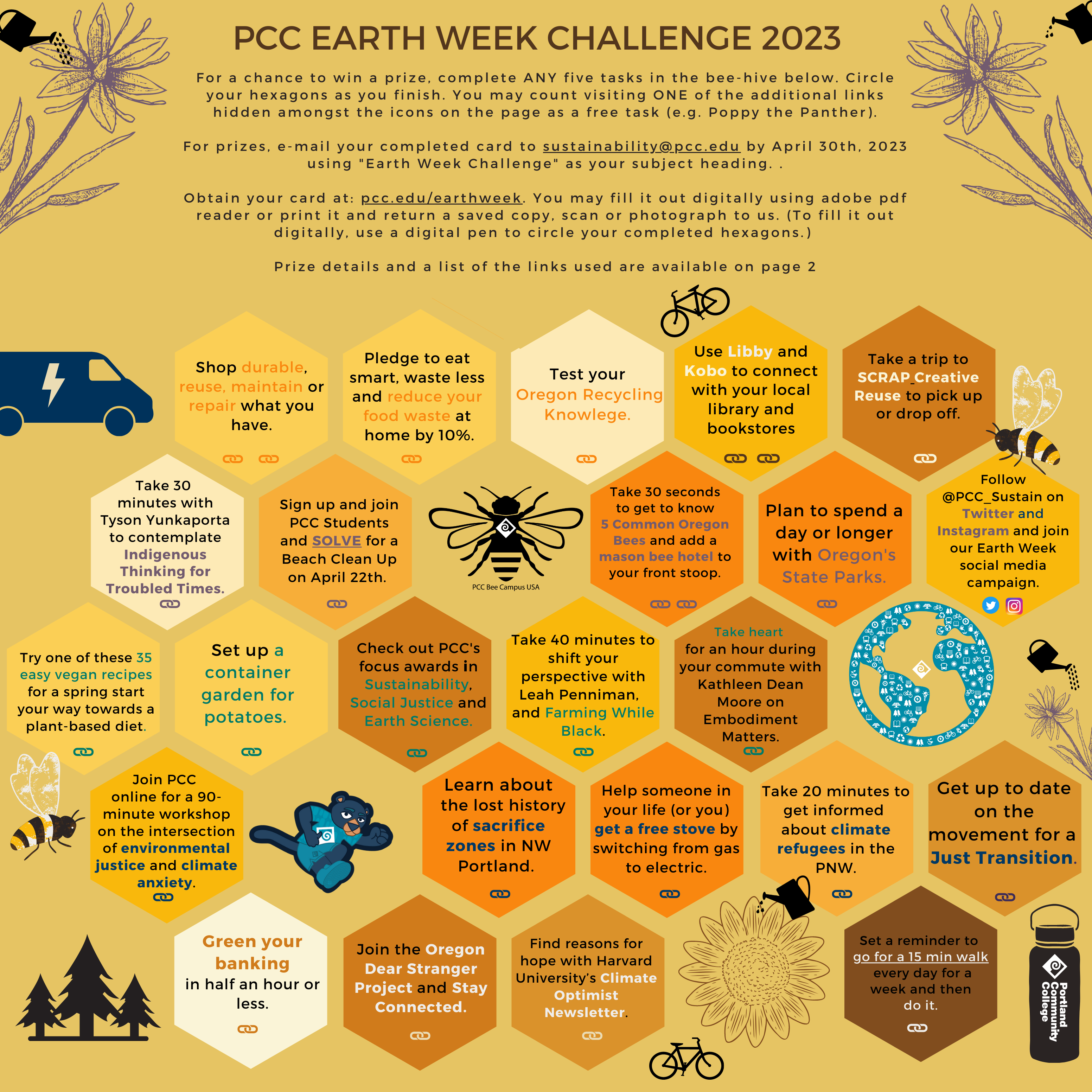 We will be raffling off a sustainability prize bag for PCC Earth Week Challenge players. Submit your completed card to sustainanbility@pcc.edu to enter! For a chance to win a prize, complete ANY five tasks in the bee-hive below. Circle your hexagons as you finish. You may count visiting ONE of the additional links hidden amongst the icons on the page as a free task (e.g. Poppy the Panther).  Mark off the hexes virtually or print the card out and circle which tasks you completed. You may send a photo, scanned copy, or digital file of your card. You will also receive five extra entries for submitting a "Blackout" card (completing all of the actions). Deadline: April 30.
Download the 2023 Earth Week Challenge Card! (For those using text-to-voice assistance with the document, ask your reader to jump to page 2 to get the links).
Pollinator Art-A-Palooza
This student art exhibition features work produced by Mark Smith's Art 284 and 287 Watercolor students. This year, student work will feature the seven common varieties of Oregon hummingbirds and aspects of their habitats.
Check out the artwork at the Sylvania CC upper mall or online April 17-24th.
Social Media Campaign: #EarthWeek
Follow @PCC_Sustain on Twitter and Instagram for daily tips, resources, and videos + join our Earth Week Instagram Challenge!
Post photos and videos on your Instagram page or story, tag @pcc_sustain, and use the daily hashtag to be entered into a raffle giveaway! Each tag is a raffle entry.
seedling
4/17: #MakeItGrowMonday
Learn about easy, at home gardening techniques.
recycle
4/18: #3RTuesday
Share how you Reduce, Reuse, and Recycle at home.
hammer
4/19: #DIYWednesday
Learn how to make your own household items.
utensils
4/20: #FoodForThoughtThursday
Learn about food justice and resources in your area.
globe americas
4/21: #EcoSocialJusticeFriday
Learn about Eco Social Justice. Listen to a podcast, watch a Ted Talk, read an article, or follow an account with a Social Justice focus
tree
4/22: #EarthDay
Join us at Peter Iredale Beach for an Earth Day beach clean up!
Event Calendar
pcc.edu_pvlh0aes4ie9f3iknbunfl3q8c@group.calendar.google.com