Homepage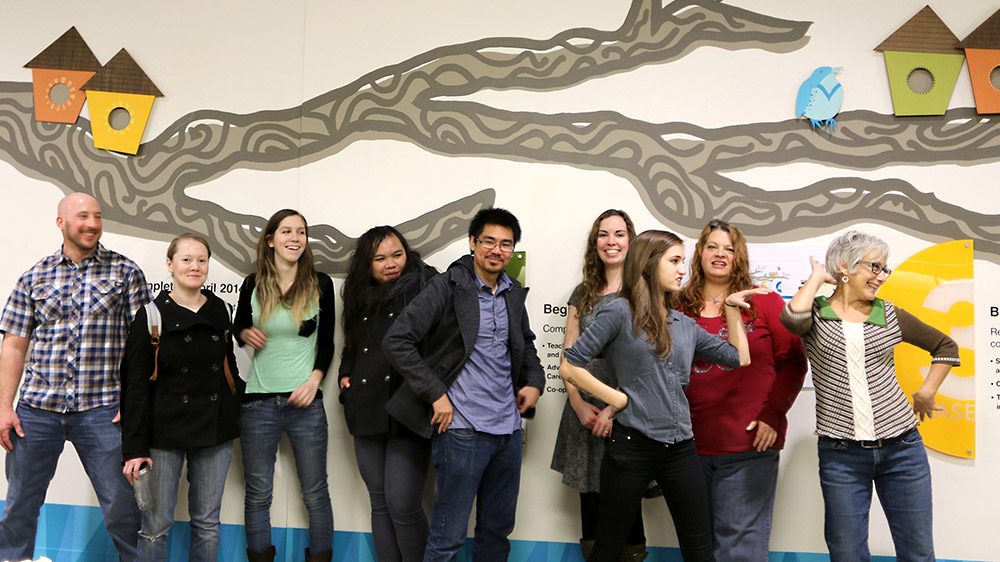 Graphic designers use critical thinking and visual design skills to create marketing materials that inform and influence target audiences. The Oregon Employment Department projects demand for graphic designers will grow 18% through 2027.
Portland has a reputation for being a highly creative city with an active design community. Local firms such as Nike, Adidas, and Wieden + Kennedy expect a high level of craft and innovation from the graphic designers they employ.
A close connection to a thriving local design industry is a great asset for PCC graphic design students – one that can be leveraged effectively with the right training. PCC's Graphic Design program helps you acquire the visual design skills that many local companies are seeking.
Why choose Graphic Design at PCC?
Salary
The Oregon Employment Department reports graphic designers are paid from $15.85 to $43.98 per hour. The average annual salary is $62,273.
The Graphic Design (GD) program thoroughly prepares you for a highly competitive job market. Students are required to develop a presentation-quality portfolio of creative projects before graduation. This enables AAS in GD graduates to apply for industry employment or to transfer their degree to PSU as a student in the junior year of their BFA in GD program.
All GD classrooms provide each student with access to the same quality computers, printers, and scanners used by creative professionals. The curriculum is designed to train you to correctly use equipment and software towards the development of creative projects. Students have access to additional prototyping and imaging equipment as needed.
Software and design-focused courses are taught by professionals with experience developing work for clients in both print and web applications. Projects by students and faculty are regularly recognized by industry awards and publications. Nike, Dark Horse Comics, Powell's Books, and OPUS have each hired multiple PCC Graphic Design graduates.
See our program costs for more information.
Degrees and certificates
What will you learn?
Class information
Our courses cover the fundamentals required for a successful career in graphic design. Yes, we will develop your skills in design tools like Photoshop, InDesign, and Illustrator. Yes, you will learn the details of print production. And we go further. From preliminary research to presentation-quality work samples, the Graphic Design program teaches you a myriad of industry skills necessary to break into a competitively creative design community.
What will you do?
Graphic designers work with words and images to develop client communications for the following media:
Entry-level designers are expected to use specified software applications to effectively address a client's communication needs. Maintaining employment requires additional skill sets, such as communication skills (verbal and written), design skills (layout and typography), and technical skills (media-specific). Presentation, time management, and organization are highly regarded assets of the field.
Who will hire me?
Graphic designers are hired into a range of organizations:
Design and advertising agencies
In-house marketing and design departments
Interactive design firms
Commercial printers
Government agencies
Architecture firms
Technology startups
Magazine design departments
Book publishers
Breweries
Medical institutions
Nonprofit organizations
Event planning and promotion companies
Real estate agencies
Product manufacturing companies
PCC graduates currently work as designers for:
Nike
Dark Horse Comics
Mozilla
Powell's City of Books
Scout Books
2 Towns Ciderhouse
Oni Press
WebMD
The Oregon Clinic
Sockeye
Pollinate
Instrument
Work & Co.
Owen Jones
OPUS
Brink Communications
Dull Olson Weekes Architects
Transfer to PSU
The Graphic Design program provides one-on-one training for students to apply for PSU's Sophomore Portfolio Review process. Completing PCC's Associate of Applied Science Graphic Design degree enables graduates the opportunity to apply a "Block Transfer" of all PCC GD credits toward the PSU's Graphic Design BFA program, entering in the Junior year.
Not quite ready to apply?
We can help you get the info you need.