The Pointed Circle Seeking Submissions
Justin Rigamonti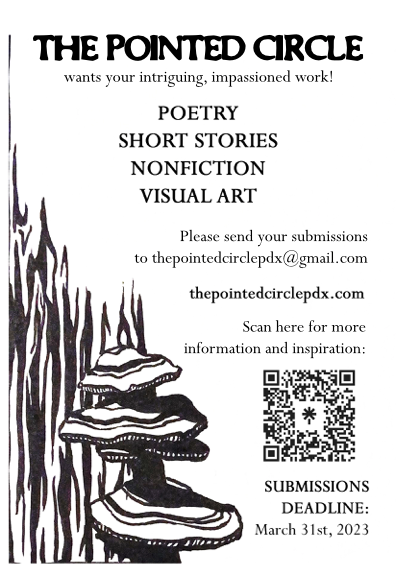 The editors of The Pointed Circle, Portland Community College's long-running literary journal, invite you to share your writing and artwork for our upcoming 39th edition. We are looking for impassioned, intriguing work from diverse voices.
We consider unpublished works within these parameters: Poetry (up to 5 poems per submission)
Short stories and nonfiction (up to 2000 words)
Visual art (up to 3 images)
Please send your submissions to thepointedcirclepdx@gmail.com.
The subject line should include your name and the genre of your work. In the body of the email, please include a short (third-person) bio as well as a single document containing all of your pieces. For those submitting visual art, if your files will not fit in an email, please include a link to a Google Drive folder containing your pieces. We accept PDF, DOC, and DOCX for written works and high-res png or jpeg for visual works.
Simultaneous submissions are welcome. If your work is accepted by another publication, please email us to withdraw your submission. Please be aware that we are not a paying market.
Submission deadline: March 31st, 2023
For more inspiration and information please check out our social media Instagram: @thepointedcircle
Twitter: @p_c_pdx – The Pointed Circle
TikTok: @pointedcircle0 – The Pointed Circle