This content was published: January 8, 2020. Phone numbers, email addresses, and other information may have changed.
Grace Watson at the Helzer Gallery
Petra Sairanen
Day and Night
Rock Creek Helzer Gallery
Artist: Grace Weston
Dates: January 6 – February 10, 2020
Artist talk and gallery reception: Wednesday, January 29, 12:30-2pm
Gallery hours:

Monday – Friday 9am-4pm
Saturdays 10am – 4pm (free parking)
The Helzer Gallery is pleased to announce Day and Night, an exhibition of photographs by Portland artist Grace Weston. With staged vignettes of miniatures, vintage dolls, toys, and tiny hand-made props, Weston explores psychological themes with poignant narratives and dark humor. Weston's photographs are impeccably composed. There is minimal use of digital manipulation. Rather, the works rely on meticulous studio set-ups and camera work – utilizing a narrow depth of field and staging that frequently fills the length of her studio. Day and Night features work from two of Weston's continuing series, Short Stories/Tall Tales and the more recent The Long Night.
Although Weston's images are colorful, playful and often humorous, they are created in conversation with the history of photography. The earliest efforts at fine art photography attempted to emulate painting through "tableaux vivants". These tableau sets were cast with models and scenes and constructed by combining multiple negatives into a single image. Henry Peach Robinson's 1858 Fading Away is a prime example.
A few years later photographers blurred the lens of the camera using filters to achieve pictures reminiscent of the Impressionist style of painting. Modernism gave rise to a new, unembellished approach to photography, one which celebrated the purity of the camera to capture a "true" moment in time. Photography now had a purpose and value unthreatened by painting's inventions. The Modernist adherence to the authenticity and objectivity of the lens reached its peak in the 1920's, yet remained unquestioned until the 1960's, when French Philosopher Roland Barthes wrote about the "reality effect" of photography. Barthes essentially argued that no photograph is truly objective. It wasn't until the late 70's and 80's that movements such as feminism and post-structuralism paved the way for photographers such as Cindy Sherman, Jeff Wall, Gregory Crewdson, and Laurie Simmons to embrace staged photography once again.
Like the aforementioned artists, Weston's images heighten our awareness of the subjectivity of photography. In Mother's Day, Weston bases her composition on Andre Kertesz's famous 1926 photograph Satiric Dancer.  Kertesz captured dancer Magda Zahler in sculptor Etienne Beothy's studio gesturing in response to one of his sculptures. A consummate Modernist, Kertesz only snapped two photographs during the shoot. Weston's version replaces the dancer with an exhausted mother, her disheveled gesture apparently inspired by the nude infant drawing on the walls. A tiny copy of "Satiric Dancer" is staged on the right, replacing a photograph of the sculpture in the original. In referencing Kertesz's photograph, Weston confronts the Modernist idea of objectivity and purity of the lens, as well as the idea of the male gaze and the female muse.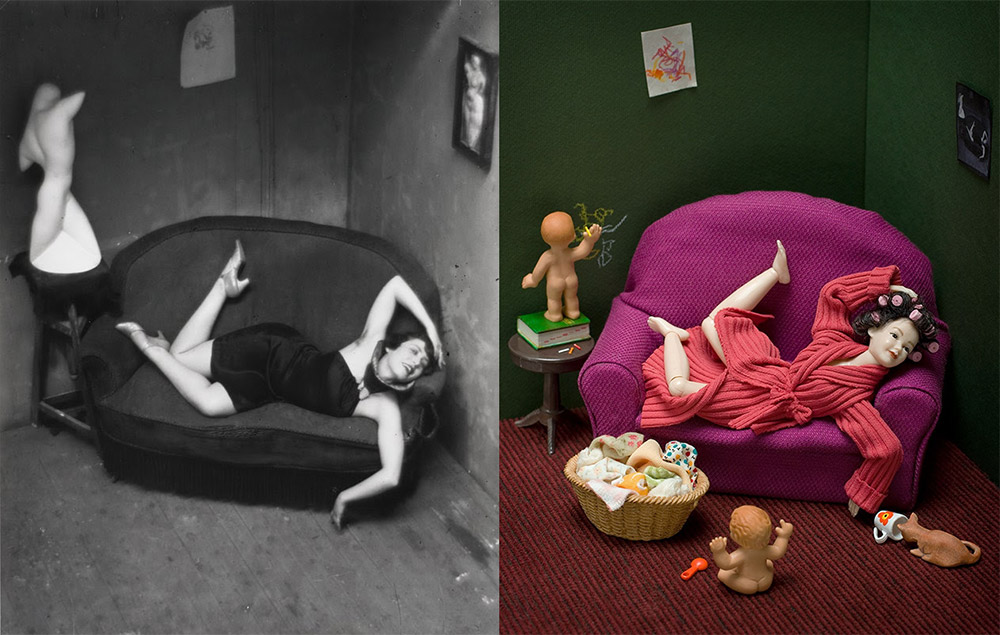 Weston's work is at once inviting and laden with meaning. She approaches ideas of home, family, relationships, feminism, and the like with humor and empathy. Each photograph is an invitation to discover clues, find meaning, and enjoy the act of looking.
Grace Weston's work has been exhibited extensively in the United States and Europe, including Los Angeles, Boston, Seattle, Madrid, and Naples. Her work is included in the public collections of the Portland Art Museum, Santa Barbara Museum of Art, University of Oregon, Seattle Public Utilities Portable Artworks Collection, Photographic Center Northwest, Portland Community College, and the City of Seattle. Her work has been featured in print magazines in Italy, Spain, China, and the Netherlands, as well as on many international online magazines. Editorial clients include O (the Oprah Magazine), Portland Monthly, Seattle Metropolitan, and Pittsburgh Magazine. Her work is represented by Paci Contemporary in Brescia, Italy and Wall Space Gallery in Santa Barbara, CA.