This content was published: October 27, 2017. Phone numbers, email addresses, and other information may have changed.
Drawing Invitational opens Nov. 1 and 2
Mark Andres
PCC Art Instructor Mark Andres will curate an invitational drawing exhibition at Gallery 114 in November.  The exhibit includes a number of PCC faculty including Phyllis Trowbridge, Chris Knight, Elizabeth Knight, Karen Esler and William Garnett as well as other artists including Lucinda Parker, Romare Bearden, Jason Berger, Tom Prochaska, Dean Cornwell, Ken Kewley, George Johanson, Jack Portland, Louis Mateo, Carson Ellis and others.
There will be Wednesday and First Thursday previews on November 1 and 2, as well as a panel discussion on "Why Drawing Matters" Sunday, November 5 at 1pm.  Gallery 114 is located at 1100 NW Glisan St.  Hours are Thursday-Sunday 12-6pm.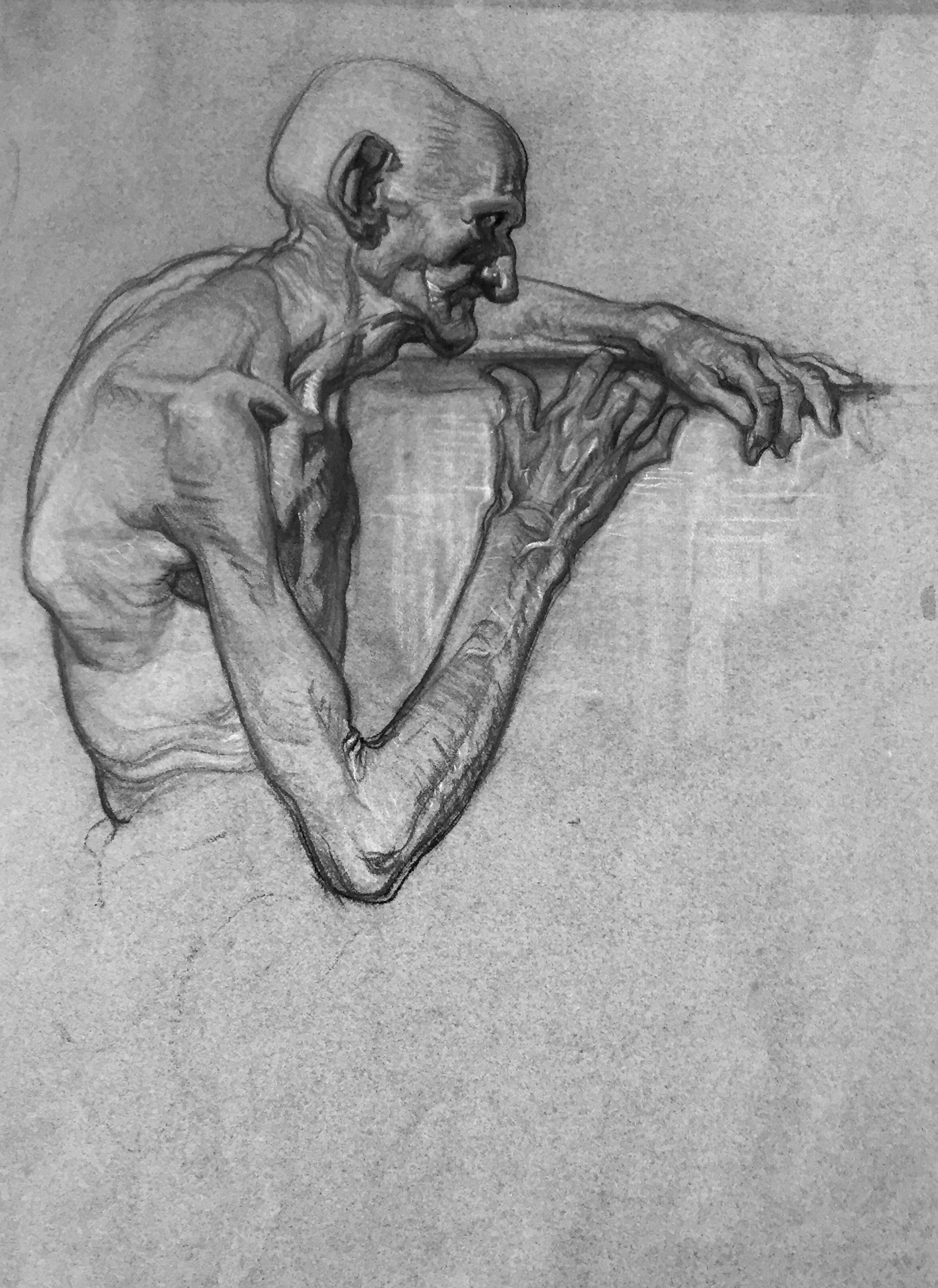 Study of an Old Man, charcoal by Dean Cornwell
In the catalog essay for the show Andres writes:
This exhibition came together because I am concerned that drawing is being increasingly defined by art departments and museum curators as just another medium, like egg tempera or Sumi ink. To define drawing by its materials alone is a mistake and a diminishment of drawing as a graphic language. Rather than focus on variety of media what is needed are deeper ways of reading and understanding this graphic language as a form of visual thinking and communication. A recent textbook on drawing ended with contemporary drawings that were exclusively photo-based, an extremely depressing conclusion because of its misguided implication that the camera defines not only what contemporary drawing looks like, but what reality looks like. I proposed this show as a way to expand the definition of drawing and delineate distinctions between different ways of seeing in many graphic media.
The drawings in this show are varied, and speak in many tongues, but have one thing in common: they encompass various and contradictory impulses—not just the perceptual, the conceptual, the illustrative, or the provisional. There are dead as well as living artists in this show, illustrators and fine artists, the young and the seasoned, but there are no drawings that are purely one mode or another. You will find mad skills on display, but neither of the purely illustrative nor the purely conceptual kind—two seemingly different modes that share a similar imperious safety zone of self-justification. I prefer the drawing that began in one mode and then went sideways into another. I prefer the drawing that needed to convey an experience so urgently it entailed gluing another piece of paper on or switching tools. Give me mess over purity any day.
Louis Mateo once said that "drawing is the bicycle and painting is the telephone" by which he meant that when you look at a bicycle you can see how it works, but when you look at a telephone, its workings are hidden. Drawing is transparent to its means whereas painting hides its process beneath the last layer. If you want to know an artist look at their drawings first. In drawing one can lie but one cannot hide. You can wrap yourself in the ironclad cloak of virtuosity but you may expose a barren heart. You can fly the flag of complex ideas but unwittingly reveal how poorly the pole sits in its graphic footing. You can spin charming stories but may discover that charm is a form of body armor. The drawings here are done by non-purists whose need to live in the visual world is greater than their need to make what might be considered a work of art. The paradox is that by embracing this need, both art and love sneak in through the window. A common love of the graphic draws these artists together. Their drawings feel to me like news.
Mark Andres is a Portland based painter represented by Augen Gallery and an award-winning filmmaker. He is currently instructor of painting at PCC Rock Creek.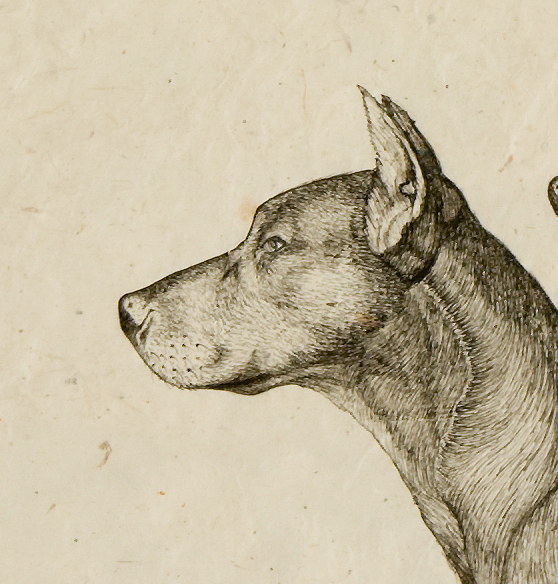 Detail of the ink drawing "Eagle with Two Dogs" by Pamela Green