Work Study
Hiring update
Due to the extended district-wide campus closure we are not hiring work study for summer or fall term. Please check back in 2021.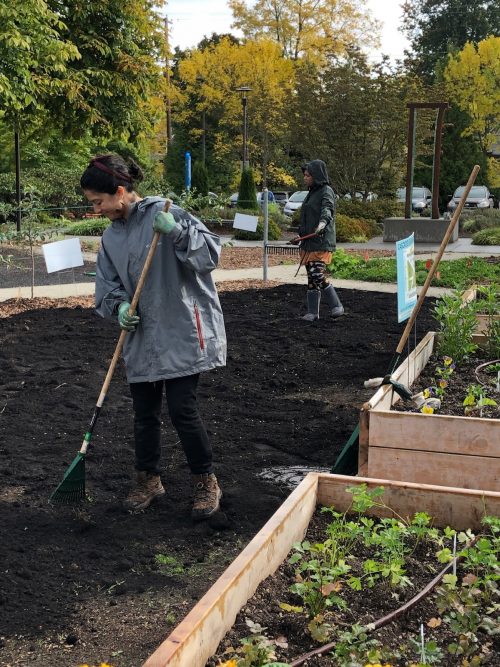 The Cascade Learning Garden is a beautiful and fun environment to work in. The Learning Garden Assistant will work both directly with the Learning Garden Coordinator and independently on a variety of year-round gardening projects. Work in the garden may include raised bed and in-ground preparation, planting, weeding, watering, harvesting, tool and supply maintenance. The Learning Garden Assistant is expected to interact with volunteers, students, and staff in the garden as well as the greater community that visits our garden. The Learning Garden Assistant will help implement both sustainability and diversity, equity, and inclusion efforts in the garden.
Qualifications
Be approved for Federal Work Study and available to work 5-10 hours per week
Work outside year-round in a variety of weather conditions
Ability to dig, bend, kneel and lift heavy objects up to 50 pounds
Experience and/or interest in gardening, food growing and outdoor work
Basic understanding of and interest in waste reduction
A passion for sustainability and food justice
Committed to applying the principles of diversity, equity, and inclusion in the learning garden
Self-motivated and self-directed individual
Demonstrated ability to think critically and problem solve as issues arise
Ability to work well with others in a group setting
Reliably arrive on time and work majority of scheduled shifts
Job duties may include
General garden upkeep including in-ground and raised bed preparation, seeding, planting, weeding, harvesting and delivery of food to Panther Pantry
Maintain a safe working environment at all times
Compost collection, processing, and education
Maintenance of garden tools
Irrigation maintenance
Distribution of flyers for learning garden events on campus
Assistance with educational and community events in the Learning Garden, including volunteer work parties and class projects
Learning garden ambassador at campus and district work team and committee meetings
Must be taking 6 credits/quarter and be approved for federal work study. We are flexible and will help you to create a work schedule that meets your learning goals and our work needs.