Design and Build Remodeling, associate degree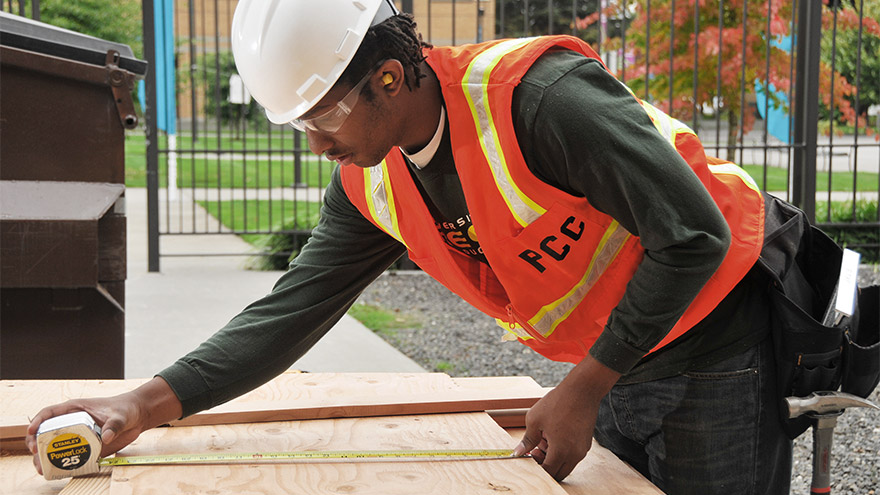 The only program of its kind in the US: our Design/Build Remodeling degree prepares you in designing, managing, and constructing kitchen and bathroom renovations. Our program has strong affiliations with local contractors and national associations including the Associated General Contractors (AGC) and the National Kitchen and Bath Association (NKBA).
You learn the hands-on skills necessary to:
Build residential construction
Specialized training in kitchen and bathroom design
Finishes selection and installation
Business practices
The Design/Build program draws on elements from all of our programs. You will take most of our hands-on classes, and then add customized value to with classes such as:
Introduction to Space Planning
Kitchen and Bathroom Design
Mechanical Systems for Kitchens and Baths
Business Principles for Constructors
We embed the curriculum of the NKBA within our program, guaranteeing we meet all of the outcomes requested by the NKBA. And, you earn a degree along with gaining the skills to compete in the industry.
Award information
Degrees and certificates by number of terms to complete

| Award | Length | Financial aid eligible | Currently accepting students? |
| --- | --- | --- | --- |
| Associate Degree: Design and Build Remodeling | 2 years | | |
Learn more about Building Construction and all 4 awards available »
What will you do?
Many of our graduates operate their own construction, remodeling, and general contracting companies while others work for successful construction companies.
A variety of companies seek our building construction technology graduates. We suggest you find work from companies affiliated with trade organizations such as the:
Associated General Contractors
Oregon Remodelers Association
National Kitchen and Bath Association
Home Builders Association
Courses
Course listing for the 2023-2024 catalog year.
Plan of Study Grid
First Term
Credits

BCT 102

Residential Printreading
3

BCT 103

Residential Materials and Methods
3

BCT 104

Construction Math §
3

BCT 106

Hand Tool/Power Tool Use and Safety
3
Second Term
ARCH 110
Introduction to Architectural Drawing
2
BCT 127
Residential Concrete
6
BCT 135
Residential Building Codes
2
COMM 215


or COMM 111

Communicating in Teams and Small Groups *,Z


or Public Speaking (COMM111=COMM111Z)

4
BCT CAD Electives
3
Third Term
BCT 117
Graphic Communication for Contractors
1
BCT 118
Introduction to Space Planning and Design
2
BCT 120
Floor Framing
3
BCT 121
Wall Framing
3
BCT 122
Roof Framing I
3
BCT CAD Electives
3
General Education: 1 course
3
Fourth Term
BCT 128
Exterior Finish
6
BCT 129
Mechanical Planning for Kitchens and Baths
4
BCT 229
Introduction to Kitchens and Baths
4
WR 227


or WR 122

Technical Writing (WR227=WR227Z) Z


or Composition II (WR122=WR122Z)

4
Fifth Term
BCT 202C
Business Principles for Construction
3
BCT 203
Interior Finish
6
BCT 219
Cabinetmaking I
6
ID 238
Advanced Kitchen and Bath Planning
3
Sixth Term
BCT 204B
Construction Estimating - Residential
3
BCT 206
Sustainable Construction Practices
3
BCT 211
Remodeling
6
BCT 244
Kitchen and Bath Cabinet Installation
2
General Education: 1 course
 
Total Credits
103
*

Could be used as General Education

§

Course cannot be substituted with another course.

Z

This course is part of Oregon Common Course Numbering. The following courses are equivalent:

COMM 111 and COMM 111Z

WR 122 and WR 122Z

WR 227 and WR 227Z
BCT 106 Tool Safety must be taken before beginning any other hands-on classes unless the instructor provides permission to take the classes concurrently.
Schedule
Given our size, many Design/Build courses are offered only once per year, so planning your courses with an advisor is important for students to complete on time. A Design/Build course planner is available from a BCT faculty member. Students typically graduate in 2-2.5 years.
Next steps
Applying to PCC is free and only takes a few minutes.Apply now

Not quite ready to apply?
We can help you get the information you need.