This content was published: January 14, 2021. Phone numbers, email addresses, and other information may have changed.
PCC's academic advising redesign features coordinated support to keep students on track to completion
Photos and Story by Amy Bader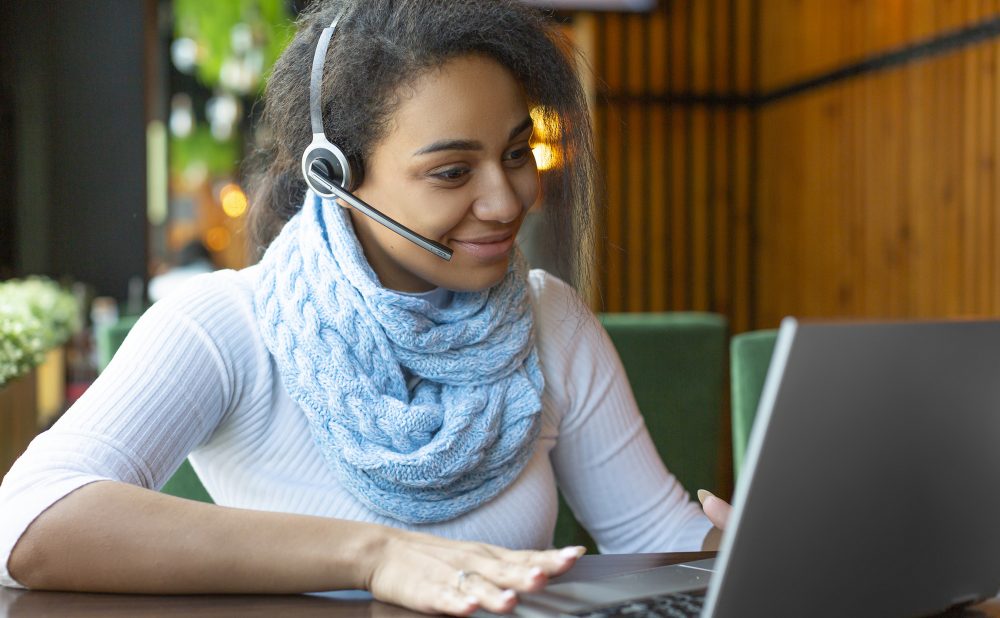 Portland Community College is gearing up to implement assigned advising for all enrolled students this winter term, as part of the academic advising redesign and the larger work of the Yes to Equitable Student Success (YESS) initiative.
The redesign's work has spanned over the course of several years, focusing on incremental improvements towards a consistent academic advising philosophy and service delivery approach. It is grounded in intentional, sustained, integrated, personalized and equitable student interventions.
The new advising model will provide students of all identities the opportunity to plan and realize their academic or career goals in an inclusive environment. It is the foundation of ongoing systems changes at PCC related to guiding and supporting students along their path as part of the YESS framework.
A dedicated team of staff and faculty have been working to identify the barriers to successful completion, and how advising can improve equitable student outcomes. After an in-depth review of the traditional advising framework and structure, the team began developing a plan to improve student success through intentional engagement and holistic support.
Academic Advising Redesign
Students can plan and realize their academic or career goals in an inclusive environment.
Each student is paired with an advisor who will ensure they are gaining access to needed resources and guidance.
An early alert system monitors indicators that gauge if a student is struggling in a course, starting a process for advisors to engage with the student and help them stay on track.
"Students are more likely to attain their education goals if they have a clear academic or career plan in place and receive personalized guidance and holistic assistance to map out their pathway and stay on track," said Jason Pinkal, associate dean of Student Development at the Cascade Campus and former project lead for the advising redesign.
The redesign's collaborative case management approach, utilizing new technology and a coordinated network of faculty and staff throughout the college, will do just that. Too often, students are required to tell their story over and over again. However, assigned advising ensures that each student has a central point of contact who will assist them on their PCC journey.
Each student will be paired with an advisor who will proactively engage with them, ensuring they are gaining access to valuable resources and guidance. Traditional advising practices assume students will independently reach out to access and navigate the variety of resources on campus. They don't consider the potential barriers and the unique lived experiences that students may bring.
"The onus was on the students to research what was available and to seek out advising services; many students were not plugged into these resources as a result," added Pinkal. "Often less than half of our students were utilizing valuable advising resources, and disproportionately less students of color."
Assigned advising will transform student assistance from a transactional model to one in which there is a trained advisor who knows the student and is tracking their progress, in collaboration with a network of other staff, faculty and student services staff.
"We know that coordinated pathways with culturally relevant and appropriate advising practices is a highly successful model, as we have seen modeled with PCC's amazing Future Connect, TRIO, and CTE programs," said Tanya Batazhan, dean of Sylvania's Math & College Success Division. "We have used these same principles and found a way to scale it up to provide holistic and coordinated supports for all our students."
Future Connect is a scholarship and support program for students who identify as first-generation or low-income. TRIO Student Support Services identify and provide services for individuals who are low-income, first-generation college students, or individuals with disabilities, while TRIO Talent Search is an outreach program designed to help students with significant financial barriers to aspire, prepare for, and enroll in the college of their choice.
Once advisors have been assigned, an early alert system will monitor emerging indicators if a student is struggling in a course, triggering a process for advisors to engage with students and help them stay on track. The system will enable communication and a unified effort across teams to provide personalized and integrated support.
Advisors have undergone extensive training to have more contextualized tools, gaining expertise in specific academic career pathways, as well as culturally responsive practices to serve the diverse needs of PCC's students. They are prepared to help them map out their goals in the most efficient way to complete their unique path.
While the implementation of the advising redesign is a significant milestone for equitable changes at the college, the YESS work teams will continue to develop and build upon the framework to ensure PCC is meeting students' needs.
"The redesign in advising and equitable systems never ends," said Academic Advising Project Manager Emmitt Wyche. "We will continue evaluations, engaging student voice and perspective, and grounding our work in equity, to make targeted and continuous improvements as we move forward."
Students can expect to hear from their assigned advisor before the end of winter term.