This content was published: July 31, 2017. Phone numbers, email addresses, and other information may have changed.
Enrolling at PCC is easy and guided Panther Tracks bolsters student success
Photos and Story by James Hill
Portland Community College has proven to be a great resource to start one's higher education journey.
It's not just because the college is less expensive than four-year universities, and offers faculty excellence and smaller classes. It's because of PCC's focus on supporting students and helping them complete their journey, reaching their academic goals: degrees and certificates.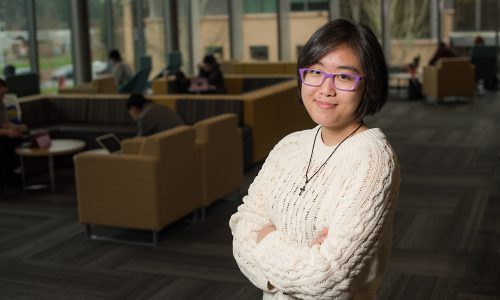 Thanks to the efforts of PCC President Mark Mitsui, the college has joined Achieving the Dream, a comprehensive, national movement focused on equitable student success. The network of higher ed institutions, coaches and advisors, state policy teams, investors and partners, are helping more than four million community college students across the country have access to better economic opportunity through education and to experience equitable success as part of that journey.
PCC, the state's largest postsecondary institution, already fares well when compared to national colleges. Community College Week, a national trade publication for two-year colleges, ranked PCC No. 16 in the nation in awarding associate degrees among all colleges and universities, and No. 9 among two-year schools. The college has consistently been in the top-20 in completion since 2012.
And once students earn their degrees they have options to seamlessly transfer to partner four-year schools. PCC has dual enrollment agreements with seven four-year universities: Marylhurst University, Portland State, Oregon State, Oregon Institute of Technology, Concordia, Western Governors and Linfield College.
"We want to help our students not only get here, but to succeed once they've arrived," said President Mitsui. "We have rededicated ourselves to creating opportunity and equitable student success to change the trajectory of our students' lives."
Admissions Process
This sounds great, but how does one get started at PCC?
First, visit the admissions page and complete the PCC online application, attend an orientation (New Student Welcome Day), plan your first term and register for classes. Once admitted, students can learn the basics of taking classes at PCC through an online orientation – about 20 minutes in length. To get off to an even better start, prospective students should visit an Orientation Center at their home campus. By doing this, a student can complete the online orientation, see their new campus, and get personalized help with advising and financial aid all in one location.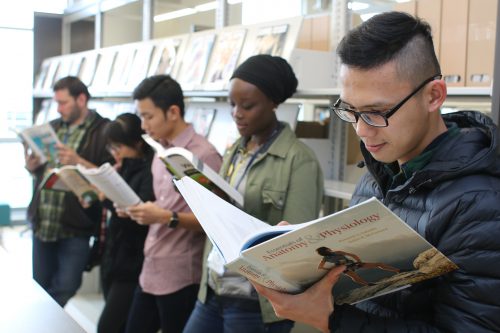 After orientation, new students should map out their first term. PCC uses their academic history in the form of grades, transcripts, or placement test results to enroll them in classes that are right for them. Finally, once this is done, students can register for classes by following the instructions at the PCC registration webpage.
Once signed up for classes and orientation requirements are fulfilled, students can use PCC's Panther Tracks to ensure they are on the right path to their goals. From new student orientations to improving study skills to applying for financial aid and scholarships, Panther Tracks keeps students on the path to success.
"There are so many resources within PCC that give us the opportunity to advance ourselves, in both personal and academic realms," said PCC's 2017 commencement speaker Moon Detering. "There's the Student Learning Center, Writing Center, Women's Resource Center, Multicultural Center, and Student Government. The more engaged and connected we are with the college, the more we have access to success."
Resources for Student Success
Money for College – Financial aid for college is available through the Department of Education. Apply for the FAFSA and get started on the financial aid application process. Also, free scholarships are available through the PCC Foundation through an application process.
Food Pantries – PCC's student government provides free food to hungry students at the Cascade Campus, Sylvania Campus and the Southeast Campus.
Low- or No-Cost Textbooks – Depending on what class sequence a student takes, they could be eligible to buy a low-cost or no-cost textbook for their course. PCC recently established an Open Educational Resource Project to tackle the skyrocketing cost of college textbooks.