This content was published: April 9, 2018. Phone numbers, email addresses, and other information may have changed.
Student leader shoulders weight of providing for own family, under-served students
Photos and Story by James Hill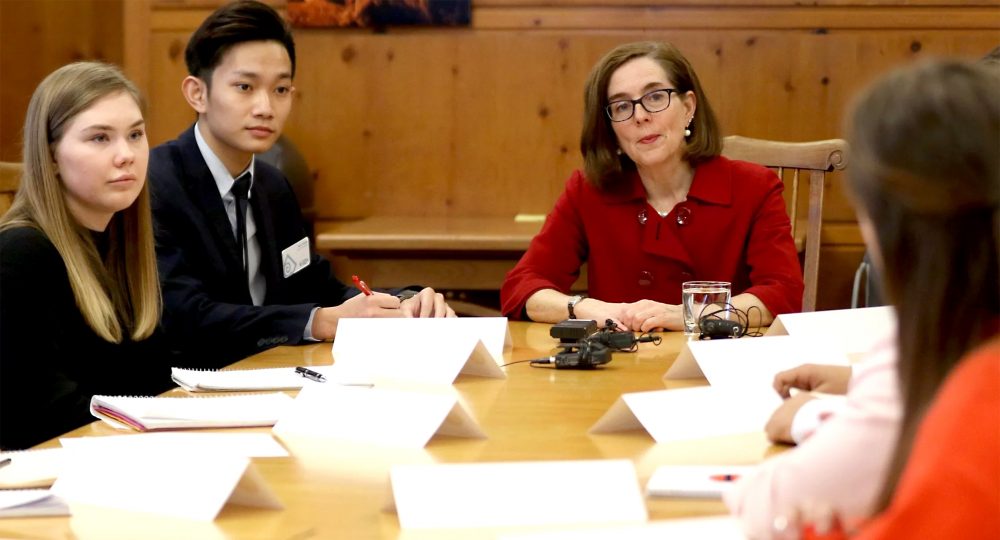 For Kien Truong, college seemed out of reach.
The cost of tuition and textbooks would be too high of an obstacle for his parents, who spoke no English and were working low-income jobs. In addition to these barriers, he and his family had just immigrated to the U.S. from Vietnam, and the thought of immersing himself in a post-secondary American institution was daunting.
"I was afraid because I would be the first person in my family to go to college," recalled the Southeast Portland resident. "We didn't have a support group, and there was culture shock. We survived on our own, but at first my dad couldn't find a job and we were running out of money. As a last option, we were planning on borrowing money from back home in Vietnam just to survive."
His father and mother would eventually find better paying jobs, but they weren't enough to support a college education. In high school, Truong and his siblings found a counselor who was Vietnamese, too, and who helped guide them on how to navigate school and find resources. Meanwhile, it was Truong who had to step up to assist his family.
"I had to know to speak English," he said. "I would always start conversations with questions on how to do this or that, in order to learn. I'm the oldest child and my parents don't speak English, so it was on me to learn how to open bank accounts, apply for food stamps and healthcare, translate bills, schedule doctor appointments, and act as guardian for my younger siblings."
Eventually his fears and financial worries melted away. When Truong had the courage to enroll at Portland Community College, his English for Speakers of Other Languages teacher at Franklin High School steered him into PCC's Future Connect Scholarship Program — a student success program that provides first-generation students with wrap-around support through academic coaching, mentoring, skill-building and scholarship assistance.
Future Connect was the launch pad he needed to take off. The 21-year-old is in his final year at PCC, earning his associate degree with a 3.7 grade point average and ready to transfer to a university to complete a bachelor's degree in international studies. When Truong isn't organizing the annual Multicultural Night (which is coming up on May 15 at the Southeast Campus) or serving the college in its district student government, he's hard at work representing all students on the PCC Board of Directors — just the second student to have ever done so. And, he has been selected to serve on the Association of Community College Trustee's Student Advisory Committee.
"I want to be a community college president someday," Truong said. "Community colleges are the bridge to help students find their academic footing. So far, it has been a great learning experience working with higher-level decision makers on the board and seeing how they work to support students. My voice gets heard, and they really do ask me what I think. I really appreciate that."
Making his Dream Come True through ATD
As an Achieving the Dream 2018 DREAM Scholar, Truong has been on a speaking tour, sharing his inspirational success story to much applause at conferences around the country, like the Association of College Unions International confab in Anaheim, Calif.
Each year, Achieving the Dream conducts a national competition among students in its network of colleges, to participate in a year-long experiential learning program that enhances leadership, critical thinking, and networking skills for those selected as Dream Scholars. Students are nominated by their institution and chosen through a competitive national application process. They are given the chance to attend and present at ATD's annual professional development conference in Nashville, Tenn.
The opportunity for Truong to be chosen as a Dream Scholar arose from PCC's membership in the ATD network. And the college has used its membership to create the Yes to Student Success (YESS) framework, which is led by vice presidents Rob Steinmetz (Student Affairs) and Katy Ho (Academic Affairs). It is an institutional strategy aimed at increasing student success through building guided pathways, enhancing support services, implementing diversity, equity and inclusion tactics, and increasing PCC's data and technology capacity.
"With the help of ATD resources, our college will be better positioned to increase student success rates, without lowering academic standards, and identify and bridge key regional workforce skills gaps so that students are prepared for success in college, work and life," said PCC President Mark Mitsui. "We're tailoring ATD's offerings to fit PCC and our needs. YESS is that framework for our aligned set of strategies, to enhance solutions that help students overcome barriers and succeed equitably."
Active in Efforts to Help Students Access College
Removing barriers to college success is what motivates Truong, who serves on the YESS steering committee. Truong immigrated to Southeast Portland after his junior year in high school, enrolling at Franklin High School with his siblings (he has a younger sister and brother).
"Coming to the U.S. was one of the most transformational moments of my life," said Truong, who is the recipient of the 2018 PCC Diversity, Equity & Inclusion Climate Impact Award. "It was a difficult transition with many struggles."
Truong was able to overcome barriers thanks to that high school guidance counselor and the wrap-around support services of Future Connect. As he succeeded, though, he became concerned with the high cost of textbooks, recognizing that their affordability is a major obstacle of many students. He joined PCC's Open Educational Resources (OER) Steering Committee in 2016 and helped organize the Textbook Affordability Campaign, where students shared stories about the impact of textbook costs on their academic journeys.
Since its start, the OER initiative has saved students more than $2.4 million in textbook costs. And as a result of his tireless work, Truong was honored with the Student Activism Honor Award by Oregon Open Educational Resources.
"This award motivated me to work harder, so that not only could I contribute to the OER movement, but also encourage other students to join me in this effort," he said.
Truong, who has worked as vice president of service with his chapter of Phi Theta Kappa, has never rested on his laurels. In addition to his OER contributions, he helped found the PCC chapter of Passion Impact, a non-profit organization devoted to encouraging and facilitating long-term student volunteering. He also serves as event coordinator for the Unity Through Diversity student club, and helped raise $2,000 to buy food and school supplies for Vietnam's Nhan Ai Orphanage last summer through the Spread the Love Project.
And mindful of his origin, Truong has always lended a helping hand to the Vietnamese Student Association, which supports international students and their navigation of college resources.
An effort, he said, that helps make college within reach for more and more students just like himself.