Do It Yourself media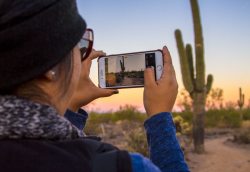 If you are feeling creative and would like to create your own media, consider using one of the following:
Consult with an Instructional Technology Specialists (ITS) about your options to create your own media. If movement is not critical, then still images, text, and/or audio may be as effective as video and easier and less expensive to create.

Consider the following questions before creating your media:
What is my objective and concept?

Topic Outline
Storyboard/ Script
Process Map (for more complex simulations)

Who is your audience?

What connection speed is the majority of your audience on?
Does your audience have access to audio?
Check the Quick Guide to Instructional Tools Standards to ensure your audience can actually watch your production on different devices, operating systems, internet connection speeds and software installations.

What is the purpose of the video?

I will use this video for a one‐time event. Suggestion: Don't waste your time to do this.
I will use this video as a lecture or demonstration tutorial more than one‐time. Yes, do it!
Is this a Screen Recording or a Patchwork Media Project?

I want to record lectures for students who missed the class or want to review later.
I want to produce a Demonstration video tutorial.
I want to produce a Simulation.

How much time can I commit to this project?

Quick and dirty‐ for volatile information, concepts, & project planning
Designing and Developing Additional Features / Presentation
Hello, Hollywood!

How do you plan to distribute the video?

Will you distribute the video on a website, blog, college network, CD‐ROM, DVD, iPod, media player, etc.? It is important to select the appropriate settings to optimize your video for the desired distribution production. Settings such as video dimensions, file size, and file format are important when creating a video. Use the presets available in the software settings to help you select the appropriate settings for the desired distribution method.
Where do I publish my media?
If you didn't originally created the video or the video has some copyright item, like music, text, etc., then check the copyright information to determine if you can even publish or use the media.
Publishing your media to a streaming server, such as YouTube or My Media inside D2L brightspace, allows the media to be delivered to the viewer at their optimal settings and in an accessible player. If you save your media inside a storage area like Google Drive or D2L Brightspace that's not really meant for streaming media storage, your students may have to download the large video file first prior to viewing it, or the viewer may need to use a certain player or plug-ins before they can view the media.
Option 1: YouTube
Create your own YouTube channel. Have access to YouTube's captioning, editing and embed tools. You manage the channel and its privacy level. You can record from a webcam directly into YouTube or upload a video. Initially a new YouTube account has a 15 minute video length limit, but you can extend that time limit by following these instructions.
Set up a YouTube account (if you don't already have one.)
Log in to your YouTube account.
Link to or embed your video on your D2L webpage.
Or have your video added to PCC's YouTube channel. Contact an Instructional Technology Specialists (ITS) to request this.
Option 2: My Media
Upload your media to My Media inside D2L Brightspace.
Send a text transcript or caption file for the media to Supada Amornchat.