Google Apps for Instructional Use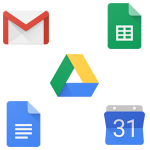 Our department provides assistance with applying Google Apps for instructional purposes. For technical support and getting started with using Google Apps (Gmail, Calendar, Drive, Sites, etc.), please contact the IT Training team via the PCC IT Service Desk. For student support for Google Apps, students can contact the Student Help Desk.
Tutorials
The paperless classroom with Google Docs
You can turn your classroom into a digitally focused environment where you will no longer have any need for papers. This is all done through the effective use of the different Google Drive features and functionality.