An Interview with Elena Villa
Faith Skowronnek
HARTS Student Assistant Faith Skowronnek recently had the opportunity to catch up with Elena Villa, PCC English Instructor at Sylvania Campus, about Flamenco dancing, teaching, the arts and humanities. Enjoy!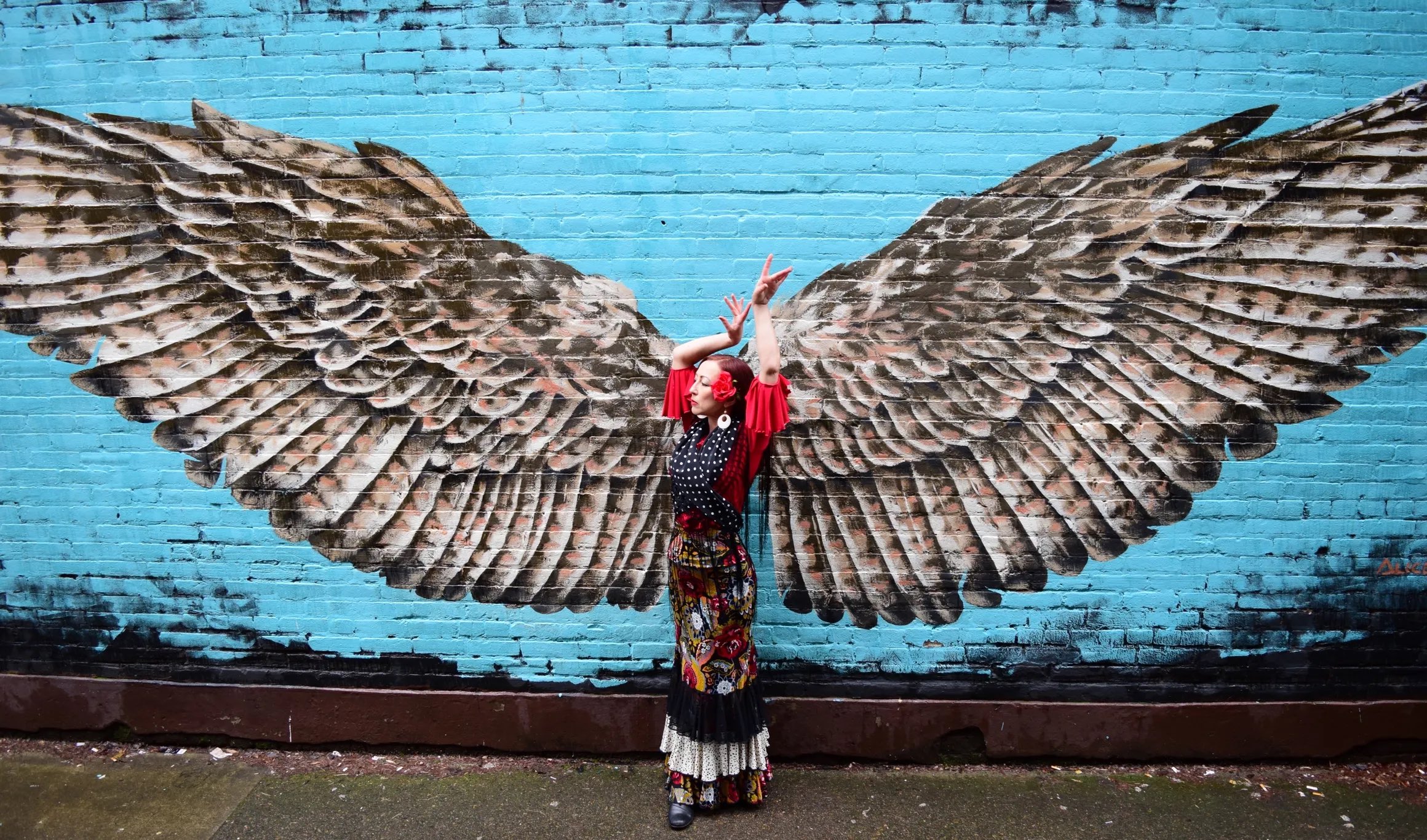 How or why did you first get involved in the humanities and arts and what do they mean to you? I remember you telling the class you were raised on the importance and power of stories; did that influence your passion for the Humanities?
I was lucky to grow up with literature, art, music, and dance within my immediate family and community, which is probably a major reason why the Humanities have been a central part of my life and career. I was always encouraged to explore the arts and to create. Both my parents have always loved to read and listen to or make music. My mom read to us at night and my dad played music and made musical instruments. My mom is a painter and both my parents were into photography and film. My brothers and I were sometimes the subjects of their art. Growing up in Big Sur, CA in the late 1970s, and not having a television for long periods of time, meant that storytelling, books, and dressing up and acting in our own improvised plays were our entertainments. When I was nine, a couple moved to our community and started teaching Arabic dance and drumming. They formed a community performance group and my parents joined. I started studying "belly dance" and had my first live performance when I was around 10 years old at a famous restaurant in Big Sur called Nepenthe. Later, I attended the Children's Experimental Theater in Carmel under the direction of Marcia Gambrell Hovick (1922-2012) and joined its Traveling Troupe, bringing theater to schools around the Monterey Bay Area.
How did you get started in Flamenco dance, you recently taught us that it has roots in Romani cultures; did a study in folklore and literature lead you to Flamenco dance or the other way around?
I saw flamenco while I was studying abroad in France in 1988-9, and when traveling to Spain during holidays. I made a promise to myself to study this art form that totally captivated me with its intensity. I started flamenco dance lessons in Santa Cruz, CA in 1991. My dad told me about a teacher he wanted me to study with and offered to pay for my first month of classes–he even came and took the class which me! He had studied flamenco guitar and was exposed to flamenco as a kid by my grandfather who was stationed in Spain with the U.S. air force. My grandfather was Mexican American and his first language was Spanish. He really connected with Spanish culture and later took my dad to see Jose Greco's Spanish dance company when they toured the U.S. I became interested in Romani literature due to a broader interest in Romani culture which I first encountered through flamenco. A number of my flamenco teachers have been Romani (or "Gitano" as they say in Spain). In graduate school I started studying representations of Romanies in western literature and completed two self-designed independent studies on Romanies and flamenco. I also wrote about this topic in both my Master's thesis at UCSC and my Ph.D. dissertation at UO.
Similarly, how does your professional dance intersect with your involvement in academics? I know you wrote your master's thesis and Ph.D. dissertation on dance in film and literature, what was that like?
Since dance and literature have both always been a big part of my life, it made sense to combine them. Dance has also helped me balance my academic studies since it is more physically and emotionally expressive. My academic exploration of dance isn't just from an anthropological standpoint but also looks at epistemological and philosophical questions about ways of knowing and the relationship between self and other, which I explore through the performer-audience connection. All of this I try to understand through the lens of feminist analysis of power relations and subject-object relations. It has been my great pleasure to also be involved in educational outreach and to be an invited lecturer in different classes sharing the art and history of flamenco. This fall 2022, some flamenco colleagues and I will be collaborating with the Portland Opera to do some outreach lecture performances in support of their production of Bizet's opera Carmen. It will be exciting! Stay tuned!
This is a purely selfish question, but how has your specialization in Women's and Gender studies impacted you or your view of the humanities? The Chalice and the Blade was one of my favorite pieces of writing we looked at last term so I'm keen to know your thoughts on similar subjects.
My specialization in Women's and Gender studies is undoubtedly a product of having a mother who is an artist, who struggled as a single parent to support us and to create art, and from being a dancer myself. I'm acutely aware that female dancers have been objectified and sexualized. I've always had a fierce conviction that women artists are important and that they are often ignored or forgotten by history. I'm deeply curious about other cultures and the experiences of people who create on the margins of the dominant culture. Feminism has been a home for me because it has given me the tools to talk about art, performance, and literature in a way that humanizes "the Other" and even questions that category altogether.
I know for a lot of students, myself included, deciding what they want to study or make a career of can feel incredibly intimidating and permanent, as someone who has more experience would you have any advice for these concerns? Did you always know you wanted to teach and study literature or was it something that evolved over time?
I see and understand the anxiety students are dealing with when it comes to educational and career choices. I recall a conversation with a student whose father wanted them to go into computer programming but they had no interest in this field and really wanted to pursue art. They were so unhappy and it made me sad that their dreams weren't being supported. I still always tell students to pursue what they are deeply drawn to do and have faith that they will find their unique path if they stay true to themselves. This can be very challenging but you can change direction and reinvent yourself if you need to. My professional life has definitely evolved over time as I grew and encountered new learning situations. I had some vague notions about changing "the system" from within when I was in high school. I don't recall that I set out to teach but this initial impulse evolved into a teaching and a dance career where I get to mentor and share my interests with students, who I also learn from. I initially planned to major in art but changed my declared major to French literature when I had the chance to study abroad. I just knew that I needed to travel and I was able to do this with scholarships and grants. I have always loved languages and reading and studying abroad set me on my path to investigate other cultures and become a comparative literature major with an emphasis in performance studies, feminist philosophy, and postcolonial studies. I took six years off after my undergraduate degree before going to graduate school. I realized that I wanted to push myself further. I tested the waters with a Masters program and then went on to a Ph.D. program. My final advice would be to find your passion and don't give up! Be diligent. Stay curious. Be open to possibilities and opportunities and put your heart and soul into your endeavors. You may not become wealthy but you will have a rich and meaningful life.
If there is anything I missed or anything you would like to include or expand on, please feel free! I only know a fraction of your experience in academics and the humanities so if there is anything else you would like to talk about that you think is worthwhile, I would love to hear it. 
I think I've taken up enough space already but I'm happy to chat with anyone who is curious about pursuing dance or literature. They can contact me via my PCC email at:
elena.villa@pcc.edu.
———————————–
Elena Villa is a lifelong dancer whose parents introduced her to Middle Eastern music and belly dance in the late 1970s. She began flamenco studies in 1991 and has pursued flamenco and belly dance with equal devotion, often seeking out intensive study with native teachers in the U.S. and abroad. Elena began teaching belly dance in 1996 and flamenco in 2001. She performs with several professional live music groups, including Flamenco Pacifico and The Bedouin Spice Orchestra of the Oregon Country Fair's legendary Caravan Stage, where she coordinates the talent. Elena travels regionally to teach regular workshops, perform in theaters and at festivals, and work in educational music and dance residencies in schools and colleges with Flamenco Pacifico. Elena pursued her love of dance academically by looking at dance through the fields of literature, cultural studies, and performance studies and has a PhD in Comparative Literature from the University of Oregon, where she taught from 1998–2012. Elena currently divides her time between teaching flamenco and belly dance, collaborating with other professional performing artists, and teaching writing, literature, and film.
Elena will be performing "Dance, Music, and the Archetype" at the Tigard Library on October 22nd at 2pm.